DCH: I know you have had records out on Blue Note before, can you tell me how you connected with them and how signing with them came about?
AA: Well, I won the Thelonious Monk International Jazz Competition. When you win that competition, the following Spring you have to give a concert at Tribeca Arts Center. When I did that, a bunch of labels came out. I think Concord, and Mack Avenue and also Blue Note. That night was one of those nights that I just sounded horrible. (laughs) I had this brilliant idea of recording the event, and I asked someone to do me a favour and they were getting into arguments with people, It was just a weird environment, and it affected my playing. So, of course, at that moment I didn't get signed to a label, which was fine by me because I was releasing my own thing.
Over the course of two years, I sort of kept in contact with Bruce Lundvall (Blue Note records) mainly through other people. People would say to me, "Bruce is asking about you." Actually, I was on tour with Walter, Marcus and Matt Brewer. We were in France when I looked at my phone and there was an email from Bruce Lundvall. It said, "We need to figure out what we need to do to sign you." I read it again, and I still had a little bit of this, "nobody's trying to sign me, they're just looking at what was out here." But out of respect for Bruce Lundvall, I decided to go to the meeting which was a normal business meeting. We were just sitting there, and because I became close friends with him later on, I know he could read that I was not going to sign with Blue Note. And he stopped in the middle of the meeting and just looked at me and said, "Look, Ambrose, here at Blue Note, YOU make the music, and our job is only to sell the music." And I said, "Okay! Now we're on! Now we can talk!" (laughs)
The thing is that I don't need to be famous. I would be doing the same thing in my garage, man. I tell people all the time. I'm not someone who gets anything from the stage for Ambrose, I give a lot and I understand that people receive a lot from me, but my personality is just not built for the stage. So anyway, with that happening, that's the reason I signed with Blue Note.
DCH: Now this new album is your fifth with Blue Note Records, right?
AA: Yeah, damn! Is it that? (laughs)
DCH: So this new album, On the Tender Spot of Every Calloused Moment, is coming out on the 12th, correct? There are 11 compositions on this new release, featuring your long time group members Sam Harris on piano, Harish Raghavan on bass, Justin Brown on drums. What was your process with this new album and how long has your current group been playing together?
AA: That came about very naturally, in my opinion. I went to school with Sam, I grew up with Justin. We've been playing together since before he was in high school.
DCH: Is he from Oakland also?
AA: He's from Richmond, but that goes back to the whole cities not having arts programs. He had to come all the way to Berkeley. And Harish I met when I was in LA at the Monk Institute. We had a regular gig every Monday. It was me, Tim Green, Gerald Clayton, Harish Raghavan, and this drummer Tim Tanner. So when I decided to have my own band, we started playing. Justin and Sam also lived in New York. They lived five blocks….no maybe 10 blocks away from each other. And Harish had a car, so we would get together and just play in Sam's bedroom or at Justin's house. Justin used to be Gerald Clayton's roommate. So yeah, it just came about naturally, but mainly because of my long-standing relationships and traditions with these guys.
DCH: And part of that is just building trust because I know a lot of what you do is improvise, right?
AA: Uhhhh (laughs)….no, it's not. Everybody thinks it is, but no, I think in my five albums that I've written, I'm trying to think…is there? Other than these little intros, I don't think we've ever put anything on an improvised record.
DCH: It's interesting, because I've talked with Kenny Garrett and these other guys who have worked with Miles, and they said he would be directing the band and calling solos. You can hear him on the records, which is interesting, you know? Listening to your records, there's some complex melodic stuff going on. You don't improvise that.
AA: If you're talking about the solos, they are improvised. I always wondered what would have happened if Miles had kept that band with Tony and Herbie. Or any of these bands. We've been playing together for damn near 10 years, you know? So now we can kind of read each other's minds and we can push and pull and challenge each other and have really specific conversations in the music. I think that that's what you're hearing. So all these melodies that are being juggled around and tossed and referred to and foreshadowed, that stuff is improvised in the solo sections.
DCH: On this new record, did you sit down and write together? How does that process work for you?
AA: I write all the music, then I bring it to them and I pretty much don't say anything about it. And from that point, people can interpret or do whatever they want.
DCH: Is the writing of the music affected by how they are playing? How does that make a difference?
AA: That's a very good question. I think in the last three projects, Live at the Vanguard is when I starting writing and hearing specifically for them. So yeah, I am writing for them.
DCH: What would be your advice to young players coming up?
AA: There are so many things, but they all sound so corny! (laughs) I would say two things. I would say that what people like Roy Hargrove, John Clayton and Ray Brown passed down to us is, "If you take care of the music, it will take care of you." If you're going to be about this music, or any music, or anything you do in life, be serious about it! Whatever your truth is, be serious. Just wake up, and get to it as if you have a 9 to 5 job, you know? Practice and research, and then the other thing I have to say are that it's 2020. We live in an age where, unfortunately for a lot of people, everyone's accessible. So if you're serious about this shit, you can go find Mark Turner's number, or whatever, and just approach them and ask questions. Our masters are still alive in this music. Can you imagine if Bach was still walking around here? (laughs)
DCH: That's for real. People don't realize that you can just message a lot of these guys. A lot of them want to teach. That's a passion, right?
AA: Yeah! But can you imagine if Bach and Beethoven were around here and you could access and talk to them? Would you talk to them or just go study what someone in a school thinks they did? (laughs) Many of these people that folks grew up idolizing and listening to are still alive, so try to reach out to them! And a lot of them are out of work and don't have that much money and as you said, a lot of them would like to teach. So, seek out these people!
DCH: That's really a piece of great advice. There's always more to learn in music and life! Ambrose, thanks so much for your time. I've enjoyed chatting with you and appreciate your generosity. I'm so looking forward to hearing the new album as are many!


Jazz In Europe Magazine – Summer 2020 Edition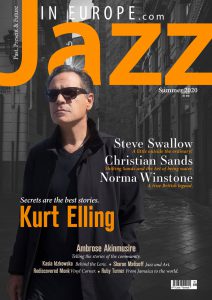 This article is an abridged version of the full interview that appears in the Summer 2020 edition of the Jazz In Europe print magazine.
Also included in this edition are interviews with Norma Winstone Steve Swallow, Ambrose Akinmusire and Ruby Turner. We take a look at some rediscovered Thelonious Monk recordings, Nigel speaks with painter the Sharon Matishoff about her work painting portraits of Jazz Icons and our photo feature for this edition features the work of Polish photographer Kasia Idzkowska.
You can purchase a copy of the magazine here.

Last modified: September 4, 2020