Update:
Back in 2020 we featured the work of photographer Kasia Idzkowska in our behind the lens series. At that time Kasia had just won first prize in the 2020 World Jazz Photo Competition for her photo of bassist Russell Hall. Today we received the great news that Kasia has won first prize in this years International Photography Awards™ in the category "event/concert" for her series "That's NYC Jazz, Babe".
The International Photography Awards™ conducts an annual competition for professional, amateur, and student photographers on a global scale, creating one of the most ambitious and comprehensive photo competitions in the photography world today. The International Photography Awards™ is a sister-effort of the Lucie Foundation, an American based non-profit, charitable foundation whose mission is to honor master photographers, discover and cultivate emerging talent, and promote the appreciation of photography worldwide. The annual programming of the Lucie Foundation is funded largely though the International Photography Awards, including the signature event, the Lucie Awards.
The team here at Jazz In Europe would like to congratulate Kasia on this honor that in our opinion is we deserved. Below you can read our 2020 feature on Kasia and here work, enjoy – Ed.


This editions photo feature shines the spotlight on Polish photographer Kasia Idzkowska. Active since 2016 as a music photographer, Kasia was recently awarded first prize in the 2020 World Jazz Photo Competition for her photo of bassist Russell Hall. In addition to her work as a photographer, Kasia is also involved in promoting jazz within her native Poland, contributes to the Polish magazine JazzPress and is the host of the popular podcast series titled. That's NYC Jazz, Babe".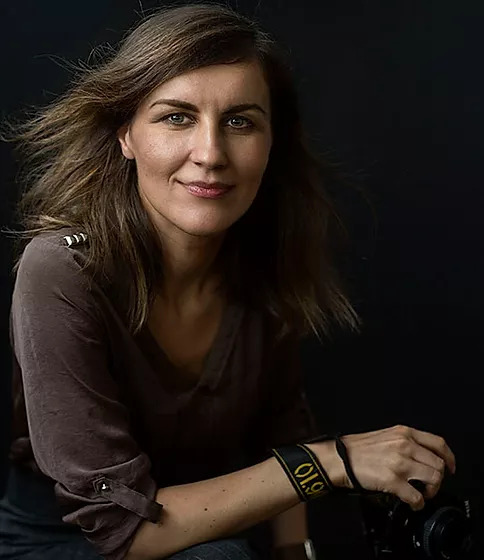 Kasia began her career in photography after graduating from the prestigious Warsaw School of Photography. In 2016, an invitation to shoot a concert at Smalls Jazz Club in New York sparked her interest in jazz photography and from this moment on jazz became her main focus of activity. When speaking about that evening she recalls "I published the photos from that night on social media and they ended up reaching a wide audience. The natural result was that more and more artists began to invite me to their concerts to take photos, I think they liked my reportage style. I've always strived to take a fresh photographic look at the jazz scene and I think a lot of the musicians liked what I was doing." Since this time as she so aptly puts it "Jazz became the soundtrack for my work."
When I first saw Kasia's portfolio I was immediately struck by the individuality of her style and the way she captures a sense of spontaneity in her images. I asked her if she could speak a little about the concept behind her work and how she differentiates herself from her contemporaries. She explained "My best photos tend to capture backstage moments, mainly shoot in the New York City jazz clubs. I like to document those behind the scenes moments that the audience doesn't normally see. I believe they best reflects the character of the musicians over the run of the mill concert photos, I think they're are more emotional. Many of the photographs I see around the scene are in my mind quite repetitive, most portraits are very similar, it's only the location that differs. I am looking for something more personal. I'm interested in documenting that real moment that reflects the true atmosphere of that particular space and time."
Most of Kasia's non-commissioned work forms part of her ongoing project titled "That's Jazz Babe". This project has a wide scope that allows her to move in any direction she wishes, such as her regular podcast focusing on the New York scene, photo exhibitions and currently she is compiling a photo book featuring her jazz photography. Kasia resides in Warsaw, Poland however spends a great deal of her time in New York City. Her relationship with New York is of cause one of the key pillars of the "That's Jazz Babe" project and this can be seen throughout her body of work.
I was interested to know what Kasia considered the key success factor to be in maintaining an ongoing project while at the same time keeping it fresh. She explained "when you work on long term project it's important to live in that specific place, you have to know the people and establish relationships. If you display a warm attitude and get close to the people they will open their soul for you. You have to love people and not be afraid to get close to them. They won't bite! It's then that you can express what you feel and capture the right sentiment in one single frame. The other great thing when you're working with musicians is that they always tend to show up, after all, they all need good pictures."
As I mentioned above, Kasia has a very unique style and a look through her online portfolio will certainly underscore this. Heavily influenced by the work of French photographer Henri Cartier-Bresson, Kasia's images are a true representation of one singular moment in time. I asked about her thoughts on what makes a great composition. She replied, "It's those fractions of a second that determine the great shots, capturing a fleeting moment, the blink of an eye and then enclosing it "in frame". I try to capture those unique emotions and the interaction between the musician and the audience. I want to show how music affects the artist and the world surrounding them. My compositions are multi-layered, I try to capture the whole story in one frame. I hope that when people look at my photos they can almost feel the rhythm.
I asked Kasia what plans she has coming up. "I've spent many years now developing my identity as an artist and focusing on photography. I have many wishes and plans related to my artistic development. The most important thing for me is to live creatively and be willing to try new things and enjoy it every way you can. You need to enjoy your life and love whatever you are doing.
I want to focus on future projects and organize the jazz concerts in Warsaw for NYC jazz musicians. I also want to develop my skills in video production. Above all, I want to publish a photography album summarizing my jazz activity.
I have so many dreams…
Last modified: September 18, 2022