Over the last few years, we have seen several new releases from iconic artists of rediscovered or lost recordings. Resonance Records have brought several amazing recordings to the market from artists such as Bill Evans, Wes Montgomery and the recent set of Nat King Cole recordings. Of course, we've had Coltrane's "Both Directions At Once" on Impulse Records and many others. Well, 2020 seems like a good year for Thelonious Monk fans with two rediscovered masters being released on vinyl for the first time.
Both of these masters stem from live concert recordings and both have interesting backstories. The first of these two releases is already available and released on Tidal Waves Music in association with the VRT (Flemish Radio and Television organization) and Bozar (Centre for Fine Arts Brussels). The second release will appear on Impulse Records and presents a live concert recorded at a High School in Palo Alto (California). This album will be available on July 31st this year, however, pre-orders are now available.
So for this edition of the Vinyl Corner, I will give you a taste of what you can expect from these two unique releases and a hint at the back story. The full details on both of these releases are available on the Jazz In Europe website.
Thelonious Monk 'Palais Des
Beaux-Arts 1963'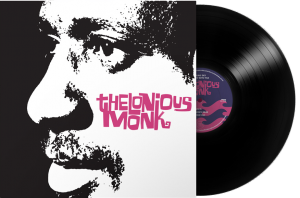 In 1963 Monk was at the top of his game. With his steady quartet of veteran collaborators, he had landed himself a new contract with Columbia and recorded 2 milestone albums for them (Monk's Dream and Criss-Cross). Soon after Monk toured Europe to promote his freshly recorded material and he brought his critically acclaimed line-up with him: Charlie Rouse on saxophone, John Ore on double bass, and Frankie Dunlop on drums.
The 1963 concert presented on this album consists of unearthed Belgian concert recordings from that tour. The album is released as a deluxe 180g vinyl edition (strictly limited to 2000 copies worldwide) with obi strip. Also included is an exact reproduction of the original concert poster from 1963. The show consisted of 2 parts, both recorded by the national Belgian broadcast company BRT/RTB who at the time had the best recording-equipment on the market. The set unearthed here (the BRT recordings) consists of tracks from the Columbia albums which have now become omnipresent Jazz standards.

Monk took the stage in his unique style with a grey wool Papakha as his hat choice. It was the first time Thelonious Monk played the prestigious Palais des Beaux-Arts venue in Brussels to an enthusiastic crowd of Belgian Jazz fans, in fact, a full house! The quartet delivers their set with true tight mastership (mixed with Monk's trademark improvisational avant-garde flair) and leaving room for a jaw-dropping minute long drum solo mid-set. All this and as an encore, the famous Monk solo rendition of the classic song Just a Gigolo make this a must-have for any self-respecting Jazz aficionado.
For this concert, the quartet was paid $1,600 (79,787 Belgium Francs), in today's money this is equivalent to +/- €16,000. Not bad when you think that, in the same period, a top classical string quartet or a renowned guest conductor of the Belgian National Orchestra would have earned about 12,000 Belgium Franc for a concert in that same period.
This release is the product of ongoing labour of love from a dedicated professional team of archivists and musical technicians who have spent 10 years carefully restoring and cleaning decades of Belgian audiovisual culture, bringing these audio-gems from their vaults in Brussels into the world and preserving them for future generations.
It should be noted that also during this 1963 tour, a concert in Copenhagen was also recorded and released on Gearbox Records in September 2018. This was a special limited edition with only 500 copies pressed. No longer available you may have to look to the second-hand market to score a copy of this one.
Thelonious Monk The Palo Alto
High School Concert (1968)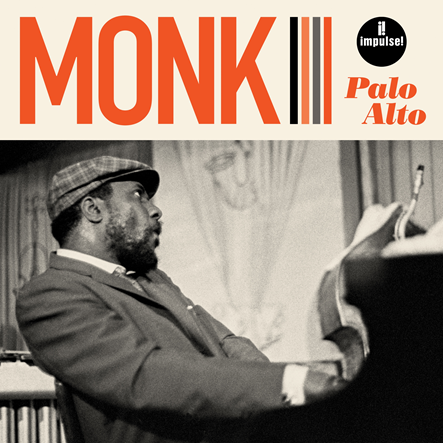 In the autumn of 1968, a sixteen-year-old high school student named Danny Scher had a dream to invite legendary jazz pianist and composer Thelonious Monk and his all-star quartet to perform a concert at his local high school in Palo Alto, CA. In a series of twists and turns and against a backdrop of racial tension and political volatility, the concert took place.
1968 was a tumultuous year in America, marked by the shocking shocking assassinations of Martin Luther King, Jr. and Robert F. Kennedy, unsettling revelations about the Vietnam War, and protests and unrest throughout the country. Palo Alto and the primarily African-American neighbouring town of East Palo Alto were no different. This was the stage for sixteen-year-old high school student Danny Scher, a jazzhead with an idealistic bent for concert promotion to invite legendary jazz pianist and composer Thelonious Monk and his all-star quartet to perform a concert at his local high school in Palo Alto, CA. In a series of twists and turns and against a backdrop of racial tension and political volatility, the concert took place.
Scher, who later on became a well-known promoter who worked with legendary San Francisco rock impresario Bill Graham, said recently "I always looked at music as a way to put issues on hold or up to a mirror, whether they be political or social. On October 27, 1968, there was a truce between Palo Alto and East Palo Alto. And that is what music does."
In 1968, Thelonious Monk was in many ways at the pinnacle of his career – his quartet was at its best musically, and he was still riding high in the public eye after he appeared on the cover of  TIME Magazine a couple of years prior. However, behind the scenes finances were rough and his health was in bad shape. When he got a call in the middle of his three-week run at the Jazz Workshop in San Francisco, he listened to the teen on the other end of the receiver. Perhaps he was moved by the young promoter's gumption.
On October 27, 1968, Thelonious Monk and his quartet – Charlie Rouse (tenor sax), Larry Gales (bass), and Ben Riley (drums) – climbed out of the Scher family van, walking past a rainy parking lot full of surprised Palo Alto and East Palo Alto residents, into Palo Alto High School's auditorium and delivered a stellar, energetic and historic 47-minute set.
Included in the mix is Monk's lyrical love song "Ruby, My Dear" (Rouse boldly blowing the melody with Monk comping in his unique oblique way then taking the lead with a dazzling solo); the dynamic and spirited "Well, You Needn't" taken for a 13-minute ride with solos by all members; the pianist's captivating solo reading of "Don't Blame Me" by Jimmy McHugh; an epic dance through "Blue Monk"; and a playful charge through "Epistrophy." The show ends with a truncated encore of Monk slowly striding through the 1925 Tin Pan Alley hit tune by Rudy Vallee, "I Love You Sweetheart of All My Dreams" and after a standing ovation saying his goodbye because they had to leave to make their San Francisco date that evening.
The concert was quite impressively recorded by Palo Alto High School's janitor, and the tape sat in the attic of Scher's family home for years. When he contacted T.S. Monk to release it, they chose legendary label Impulse! Records, the label home of John Coltrane, known as "the house that Trane built." The relationship between Thelonious Monk and John Coltrane is well documented and historic, so it is particularly appropriate that almost forty years after his death, Monk finally makes his Impulse! debut with Palo Alto.


Jazz In Europe Magazine – Summer 2020 Edition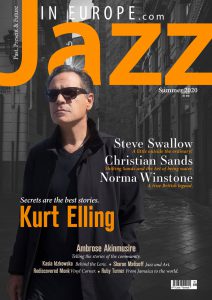 This article is an abridged version of the full interview that appears in the Summer 2020 edition of the Jazz In Europe print magazine.
Also included in this edition are interviews with Norma Winstone, Steve Swallow, Ambrose Akinmusire, Ruby Turner and Christian Sands. We take a look at some rediscovered Thelonious Monk recordings, Nigel J. speaks with the painter Sharon Matishoff about her work painting portraits of Jazz Icons and our photo feature for this edition features the work of Polish photographer Kasia Idzkowska.
You can purchase a copy of the magazine here.

Last modified: September 28, 2020