Jazz In Europe Magazine
Spring 2020
Welcome to our Spring 2020 edition or should we say our "Lockdown" edition. The magazine comes to you a little later than expected, we have also felt the brunt of the pandemic with key staff members out of the running due to the virus. However, the magazine is here and I would like to personally thank all those who have pitched in and assisted with the production, we could not have done it without you.
In this edition, Fiona Ross penned our lead story; an interview with vocalist Cyrille Aimèe. Cyrille is very open about working with Broadway legend Stephan Sondheim and touches on a great deal more along the way.
Earlier this month saw the 50th anniversary of the release of Bitches Brew. We take a look at the legendary album's impact. Dave Holland, speaks with Darrell Craig Harris and, of course, also speaks about Bitches Brew.
We also hear from Ray Gelato, one of the UK's to jazz entertainers. Erminia Yardley gets the back story. Award-winning pianist, composer and producer, Jason Miles speaks with Jan Veldman and we have a label feature that takes a look at ArtistShare Records. Jan Fritz, introduces his "Vinyl Corner series and interviews Sem van Gelder, founder of the Dutch "Vinyl Temple" Swing Master while Tony Ozuna presents us with a look at the Czech jazz scene from it's origins behind the Iron Curtain to the present day.
This edition's photo feature "Behind the Lens" focuses on the work of the British photographer William Ellis and his "OneLP" project.
I hope you enjoy our 7th edition of the Jazz In Europe magazine. – Andrew Read: Publisher.
Order your Print Version Here.

To give you a taste of what you'll discover in the magazine we've also published abridged versions of the articles here on the website. Of course, the full interviews, articles and imagery can be read and enjoyed in the print version.

Product Description:
The "Jazz In Europe" magazine is produced quarterly and is available as a full-colour glossy publication. The magazine features interviews with European and International jazz musicians as well as interesting articles related to the world of jazz.
The magazine is perfect bound (glued spine) and printed on 100 grams gloss paper with the cover on 350-gram gloss card. And sealed in clear plastic for protection. The magazine is ordered online via our Jazz In Europe webshop. Delivered direct to your door. Order NOW!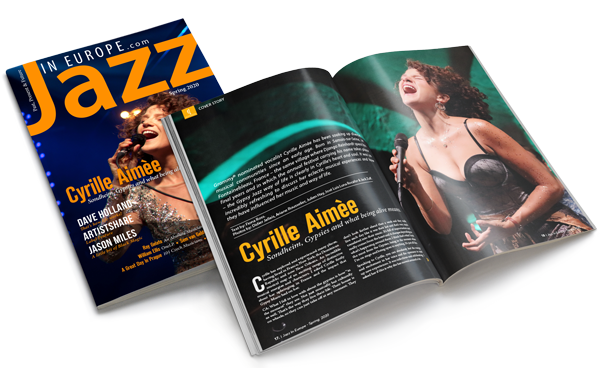 Order Your Copy Here.



If you would like to subscribe or purchase any of the back issues (where available) you can do this via our Webshop page. You'll find this in the main menu or if you want just click the "Visit Webshop" button below:

​
Last modified: May 6, 2020