Perhaps one of the better aspects of being a music journalist is discovering new talent. Leading on from this point, recently I received a pre-release link of the debut album from Dutch based bassist Nick Kerkhoff, an artist that until then I had not heard of. Titled 'Here and Now' the album features nine original tracks, written and arranged by Kerkhoff and is available on both CD, Vinyl and of course, all the obligatory streaming platforms. In addition to Nick on Bass Guitar the the quartet is filled out with Jesse Schilderink on Sax, Emanuele Pellegrini on Piano and George Panaite on Drums.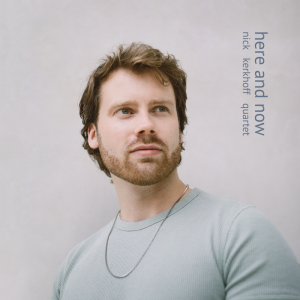 Not being previously aware of Nick, a quick Google search brought me to his website where I discovered that he graduated from the ArtEZ Conservatory in the Netherlands (I've seen a number of excellent musicians emerge from this institution) and consciously decided to jump straight into the role of bandleader instead of taking the more common route of first cutting your teeth in the roll of a sideman. In the accompanying press release Nick explained "Over the years I've worked hard at developing my own style and I've focused a great deal on composing. I like working as a side-man but my main focus is my own music". After listening to the album I can only say that Nick's decision to walk his own path was a wise one.
The album leads off with the title track "Here and Now" and immediately establishes the tone of the album. Featuring a strong straight eight groove the track gives room to both Kerkhoff and saxophonist Jesse Schilderink to explore the harmony with a pair of well constructed solo's demonstrating both musicians virtuosity. The following track 'Almada' is proceeded by a short bass intro and was inspired by a vocalist that Nick had met at a jam session. Originally conceived as a vocal piece with the vocalist in mind, the two never saw each other again and the composition was left on the shelf. When choosing the material for the album the track was reworked with the bass now taking the melodic role. The track has a decidedly 80's feel and features strong solo work from Kerkhoff and pianist Emanuele Pellegrini.
While I enjoyed this album in it's totality, there are in my mind a few stand out tracks including 'Could have been you' (and it's short reprise) and the closing track 'The Voice of a New Generation'.
Could have been you opens with a series of block chords leading to a haunting melody played passionately by Schilderink on Sax and giving way to Nick's opening solo. Once again Nick displays a great sense of melody here yet, In my opinion the effect on the bass was a bit overdone however, this does not at all detract from the melodic beauty in any way. Appearing later on the album is a short reprise of this track that I found highly interesting. It took me a while to release that the theme was the same however the time signature and tempo in accompaniment was altered, a very interesting yet subtle effect.
The album closes out with perhaps my favorite track on the album 'The Voice of a New Generation'. This up tempo track is largely a feature for saxophonist Jesse Schilderink and drummer George Panaite and grooves from start to finish.
If this is Nick's first trip around the block as a band leader then we can be assured that we will be hearing a great deal more from this young musician in the years to come. I recommend this album highly.
Track Listing:
1. Here and Now (8:57) | 2. Intro (1:39) | 3. Almada (6:22) | 4. Last Train Home (5:28) | 5. Could Have Been You (7:20) | 6. Siluae (6:32) | 7. Could Have Been You (Reprise) (1:06) | 8. Leaves (4:50) | 9. The Voice of a New Generation (4:20)
Line-Up:
Saxophones: Jesse Schilderink | Piano: Emanuele Pellegrini | Bass: Nick Kerkhoff | Drums: George Panaite
Release Date: 14 May 2021
Format: CD | LP | Digital
Label: Self Release


New Release Spotify Playlist
The Jazz In Europe New Release playlist features tracks from the new releases featured on Jazz In Europe. Updated weekly, this playlist is the perfect place to discover new music from the leading jazz musicians currently on the scene. We hope you enjoy this selection.
The best way to keep up to date with all the latest releases is to follow us on Spotify. Just click the button below.
Last modified: July 13, 2021