The Rudy Van Gelder Studio, the legendary recording studio home to hundreds of jazz icons from John Coltrane to Herbie Hancock, has announced the launch of "Live from Van Gelder Studio," a new virtual music series that will stream live from the website VanGelder.live
The series will debut on Saturday, November 14th at 9 PM EST in the U.S.A. and will be re-broadcast on November 15 at 8:00 pm CET for European viewers. The inaugural program will feature an all-star quartet who will pay tribute to jazz great Hank Mobley, whose most beloved recordings turn 60 this year. Performers include bassist Ron Carter, tenor saxophonist Joe Lovano, pianist Isaiah J. Thompson, and drummer Kenny Washington, along with some surprise guest performers.
Having Ron Carter kick off the series is more than appropriate, according to the Guinness World Records he is recognized as the most recorded jazz bassist in history and many of these recordings have taken place in the Van Gelder Studio. Having Ron anchor this first-ever live event from the studio makes quite a statement.
The "Live from Van Gelder Studio" has been created and produced by a team of jazz industry veterans including Don Sickler and Maureen Sickler. Don produced many Van Gelder-recorded artists including Joe Henderson, Freddie Hubbard and Cindy Blackman Santana and his wife Maureen was the long-time assistant engineer for Van Gelder, who now carries on the traditions forged in their 30+ year collaboration. Also working on the Series is Phil Coady, producer of The Ultimate Blue Train and Sam Kaufman, who as a talent agent worked with Van Gelder-recorded artists including Ray Charles, Pharaoh Sanders, and Jason Moran.
"If there is one thing that 2020 has taught us, it's that innovation is required," says creator, producer, and musician Don Sickler. "One of the unfortunate outcomes of the pandemic is how it has affected musicians, many of whom earn their living playing live. This series will allow us to open up our doors again and for the first time, give a global audience a behind the scenes peek at our famed sound. One you can hear and see."
The series is designed to pay homage to the unmatched legacy of Rudy Van Gelder, who launched his recording career from his parent's living room in Hackensack, NJ recording the most significant jazz artists of the day including Thelonious Monk, Miles Davis and Clifford Brown, to name a few. Van Gelder dreamed, planned and built his renowned Englewood Cliffs, NJ studio from scratch, innovating at every turn. That studio opened in 1959 and is still actively recording today.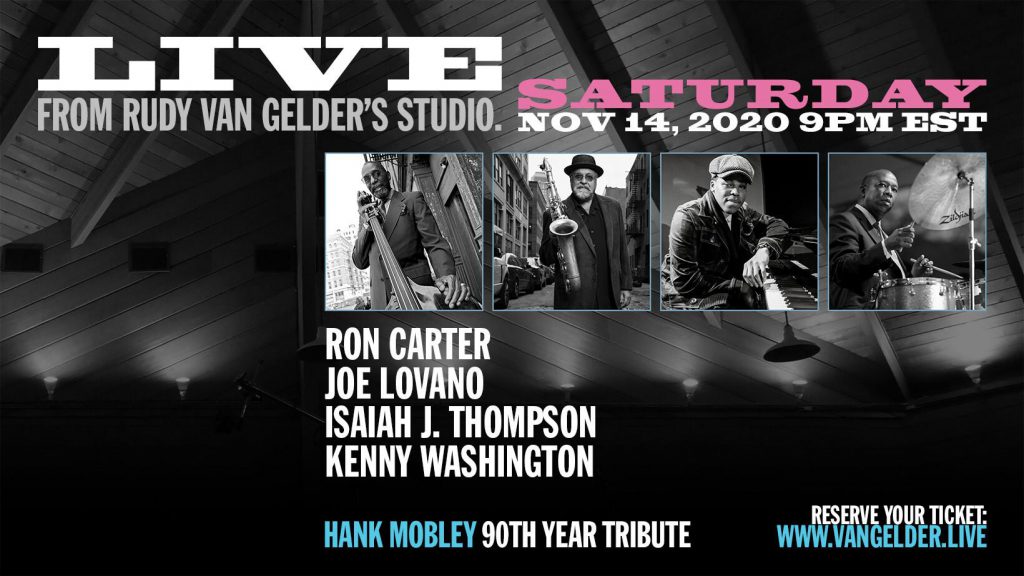 Sounds captured in the studio can be heard every moment of every day in any corner of the globe. A working piece of art in acoustics, improvisation and physical beauty, Van Gelder Studio is a historic landmark. From its architectural roots to the artists that have recorded under its roof, the space is a stunning Mid-Century Modern trove of treasures. Its beautiful cathedral-like ceiling of Pacific Northwest timber has rarely been seen outside the small circle of important artists who have recorded there which includes Duke Ellington, Ray Charles, John Coltrane, Hank Mobley, Sonny Rollins and so many more great jazz artists.
Performances will be live-streamed using a new technology built from the ground up that is true to the Rudy Van Gelder sound. It will allow audiences to fully experience the unique studio and its sound in their homes. Upcoming experiences will be crafted to make the audience and musicians feel like they are at an actual live performance.
"Live from Van Gelder Studio" is expected to continue through 2021 with a 10-show immersive and interactive program. The series will feature talent from original seminal recordings joined by multi-generational artists who will pay tribute to important records that were originally put to tape within the four walls of the studio. 2021 shows will be announced soon.
Tickets for the premiere performance can be purchased directly for $15 here at Van Gelder Live
Last modified: November 17, 2020