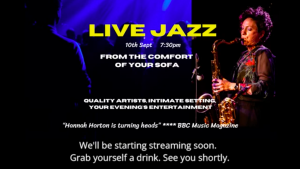 During COVID Lockdowns, one of the ways that musicians came up with to carry on playing music for an audience was live-streamed concerts. Having to play for a silent public certainly hasn't been an easy task for performers and a lot of people have found this way of performing quite questionable. I've personally watched a few Instagram and YouTube livestreams and – perhaps as a musician myself – I've always admired and supported people who have decided to perform online.
Some of these virtual gigs that I've seen, however, have suffered from the difficulties that the medium presents – from musicians giggling through awkward embarrassment due to lack of applause to having no report with the "absent" audience. What joy, then, to see that none of this happened watching jazz saxophone star Hannah Horton's live-streamed concert "Jazz On A Summer's Evening", from her series "Jazz at the Cottage".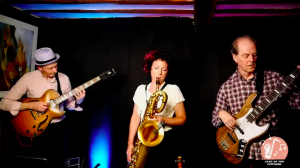 The show started with Horton literally opening the door of her Cottage to the audience, welcoming us with a contagious smile. Her excitement was tangible and captivating and set the mood for the whole evening. It really felt like you're walking into an intimate jazz club, with the best seats in the house and a VIP, "meet the band" type of experience. Horton's livestreams are monthly and this time she shared the Cottage's stage with Louis Thorne on guitar and Rob Statham on bass. Horton has a proper entourage of people – her "backstage crew" – not only to manage the live chat option (which was buzzing from the start!) but also for audio, video and even live applause, which certainly helps to negate any awkwardness that might have been and keeps the events looking and sounding their best.
As an added bonus, the band takes requests before the show. This time around they opened with the Jobim tune "Wave", immediately setting the tone for the rest of the gig – energy through the roof!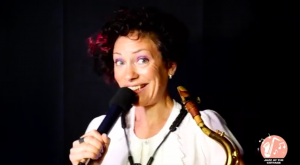 Horton's sax was quiet at first, however, as she had forgotten to turn on her microphone but she and her team handled it like pros. She even took a second solo after the problem was solved to make sure that we could hear her. She then switches saxophone from tenor to baritone for the second tune of the night – Wes Montgomery's "Full House", proving her virtuosic ability as well as her fabulous band leading skills. It's a delight to watch her use her whole body to cue her bandmate's solos, even if there is a certain telepathy between her and Statham: after 18 years of playing together that comes as no surprise, however.
After this tune it was great to hear her chatting with us as well as responding to things that people have written in the live chat. Here again, Horton proves that she knows exactly how to run an online gig in a smooth, professional and above all engaging way. The following tune was a gorgeous baritone ballad that was written by Horton in memory of Wayne Shorter, entitled "Remembering Mr Gone" – this was a new arrangement as the previous version had only been played once by her quintet, featuring multi-award winning saxophonist Tony Kofi. The band then played another request – "Take Five" by Brubeck – and then a lively, happily contagious version of Sonny Rollins's calypso classic "St Thomas", featuring yet another virtuosic solo from Horton and a humorous trading moment with the other musicians.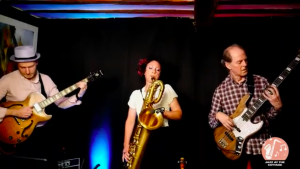 "Cheesecake" by Dexter Gordon was up next, which she takes on on baritone, despite the tune being written for Tenor, which features Thorne on guitar mimicking an organ through the use of an fx pedal. Horton then again took the opportunity to chat with the audience, thanking us for being present.The final two tunes of the set are Chick Corea's "Sea Journey" and a mash up of "Listen Here" by Eddie Harris and "Mercy Mercy Mercy" by Canonball Adderley, which Horton arranged. The former will be on her next album (a live recording from Pizza Express jazz club in January) and the finale being a fabulous way to round off the evening.
As per every online concert that I've attended, I wasn't really sure what to expect from Horton's Jazz at the Cottage and I certainly was curious as I'd heard of these sessions before. This was definitely a different live streaming gig from the ones that I have attended so far.There were a few details that made a huge difference to me: the beautiful setting of the event, the level of professionalism not only from the band, but the backstage crew as well and the way in which Horton took care of the audience as if we were in the room; not to mention the high level of the music, of course! The hour flew by, making me want more and leaving me with something to look forward to next month.
Her performance this evening was the livestream ideal – purchase your ticket, click the YouTube link in the ticket confirmation email, get your favourite drink and nibbles, sit back, relax and enjoy Horton and her guests performing only the highest quality jazz.
Visit Jazz at the Cottage here to book tickets for future events.
Screenshots taken by Germana La Sorsa
Last modified: September 19, 2023