Today is International Jazz Day and each year we choose one of the 100's of events to feature here on Jazz In Europe. Once again due to the ongoing Covid restrictions the majority of the events will be virtual events with concerts either being streamed or broadcast online.
For this years International Jazz Day we want to highlight a concert that will be streamed from the Bimhuis, Amsterdam's premiere jazz venue. The concert features the Jazz Orchestra of the Concertgebouw!
Tonight at 8:00pm CET Bimhuis TV will broadcast a unique concert in which the orchestra will perform music by the American composer, arranger and pianist Jim McNeely for the first time. The set list includes Trying to Smile, a brand new piece written especially for them. The new piece is part of the Virtual Artist in Residence project that Jazz Orchestra of the Concertgebouw started together with McNeely. An album full of new compositions will be released this fall, but viewers can enjoy an exclusive preview of the material tonight. Further on the set list, pieces by McNeely like Off the Cuff, with a solo by star pianist Peter Beets, and three other pieces that will undoubtedly be recognized by fans of the big band tradition.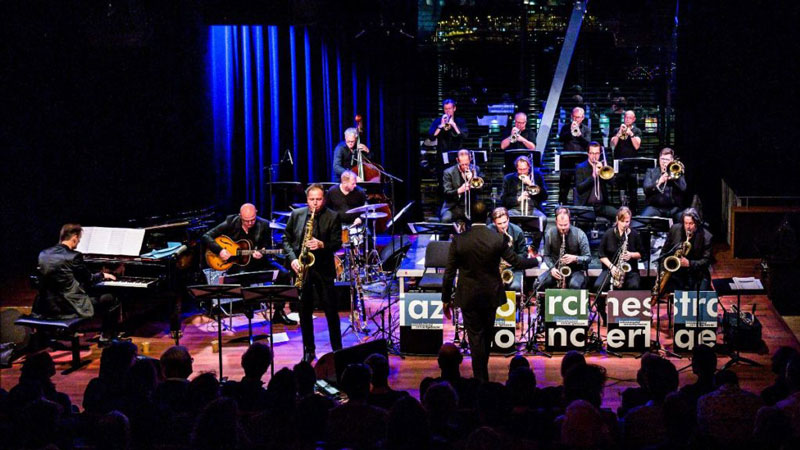 The collaboration with McNeely is not new; in 2019, the conductor and the orchestra already toured through the Netherlands with the acclaimed saxophonist Joshua Redman. That collaboration gave birth to more and in 2020 the idea to appoint McNeely as Virtual Composer in Residence was born.
The concert will air tonight at 8:00pm CET and is free to view here on the BimhuisTV website.
Leading up to this event we presented another series of the highly popular 'Curtain Calls' where Arlette Hovinga went behind the scenes at the Jazz Orchestra of the Concertgebouw while preparing for this event. You can see this video series here.
Last modified: May 3, 2021