Bassist Michael Janisch is one of those unstoppable musicians that seems to thrive on having his fingers firmly planted in a multitude of pies. As a U.S. expat living in London, Michael has built a Trans-Atlantic career as a sideman, bandleader, producer and label owner that would be enough to cause even the most die-hard workaholic's head to spin. Shortly after the release of his 6th album as a leader, titled "Worlds Collide", Jazz In Europe caught up with him to find out more.


Editors Note:
This article is an abridged version of the article. The full article appears in the Autumn 2019 edition of the
Jazz In Europe Magazine.
Purchase The Print Magazine here.

Originally from the Midwest of the United States, Janisch started his journey in music at a young age playing the piano, and by the age of ten, he had gravitated to the bass guitar. His love of music carried through to his Junior High School years however in Senior High his love of sports and specifically American Football and Track and Field gradually became his main focus. Michael explained "The junior high I attended had a great music program but the senior high didn't push me as much. Looking back, I think if I had the right coaching, I probably would have stayed with music. On the other hand, around that time my younger brother had passed away in a horrific farming accident, and in retrospect, I think the grief I dealt with during this extremely difficult time as a teenager was for me best served by releasing aggression. So I started to focus more and more on sport and ended up being recruited on a sports scholarship to attend Minnesota State University. By the time I was eighteen I had stopped playing bass completely."
Michael recalled that approximately halfway through his college career, an accident involving a 320-pound linesman connecting full speed with his hamstring put paid to any chance of a professional sports career. He went on to say "I remember still being on crutches when I had my yearly assessment with the coach and I can remember him saying, well Michael, even though you're great for the team and you are doing well, we're pulling your Scholarship! I remember my eyes watered up and I felt like my entire world was falling down on me.
I remember a day or two later I was walking down the street feeling sorry for myself when I heard a drummer practising in the Performing Arts building. I just walked in, sat down and started watching him. I was all decked out in football gear, not the pads but the hoodie and the guy just looked at me thinking, why is this jock with crutches looking at me? He probably thought I was going to beat him up. I just said to him, "I used to play bass and was digging' what you were playing". We started talking and after a while, he said, hey man, next time why don't you bring your bass. Right at that moment, a light went on in my head and I thought – Oh my God, of course, I can still play bass. Literally, at that moment my passion for sports switched back to music."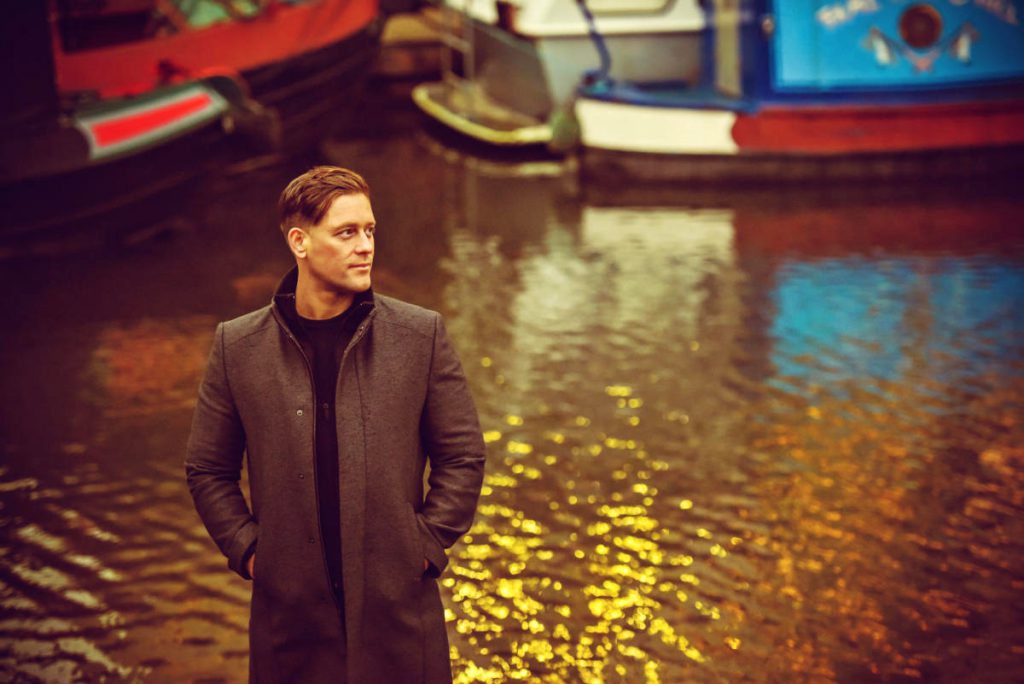 Michael spent a year finishing up his history degree and moved back to Wisconsin to enrol in the music department at the La Crosse University. He spent most of his time woodshedding in an attic apartment. "I just went crazy, I hardly socialised, there were days when I logged 16 hours of practice." After graduating he packed his bags and headed to Boston on a full scholarship to study at Berklee. "I enjoyed my time at Berklee and especially the people I met, we were all in the same boat and there was a lot of amazing things going on. The one thing you can say about Berklee is that it was a great stomping ground to jam all the time and be immersed in that cacophony of young talent. I went from being a big fish in a small pond to being a very small fish in a large pond. It was a great wake-up call and very inspiring."
After graduating from Berklee Michael moved to New York but soon after, with some Berklee friends, he decided to take a "gap year" out by securing a job on a cruise ship where he spent the next seven months cruising the Caribbean and playing jazz standards in the ship's atrium. "It was very well paid and we spent the days on the beach and the evenings playing standards, it was an amazing experience, especially at that age. It was a perfect way to relax after the intensity of Berklee and before making the full time move to NYC. The point for mentioning all this is that I met my (now) wife, who was managing the spa on the ship. After both our contracts had finished we went back to New York however, the shock of being back in the middle of a New York winter after spending time in the Caribbean really got to me. I remember going to a gig at Fat Cats just a few days after getting back, the band was great but there were about 14 people in the room. It was bitterly cold outside and to be honest, I just wasn't feeling it. After about a month Sarah had to go back to London and I thought, why not! I packed my stuff and headed over with the plan of spending a year checking out the scene in London and travelling around Europe."
As things go, this didn't pan out as expected and instead of travelling Europe, after just a few weeks in London Michael was asked to play bass on a large tour with a young pop/jazz artist called Chantz Powell. Michael explained that he was originally from New Orleans and had just been picked up by Universal. This provided Michael with the opportunity to tour the UK in style until artistic differences between the producers and management led to Chantz being dropped from the label. In this period Michael was able to build his network and after two years in the UK, he was doing close on 250 dates per year. Michael continued to maintain a frantic schedule of gigging as a sideman for the following few years until in 2010 he decided the time was right to release his first recording as a leader.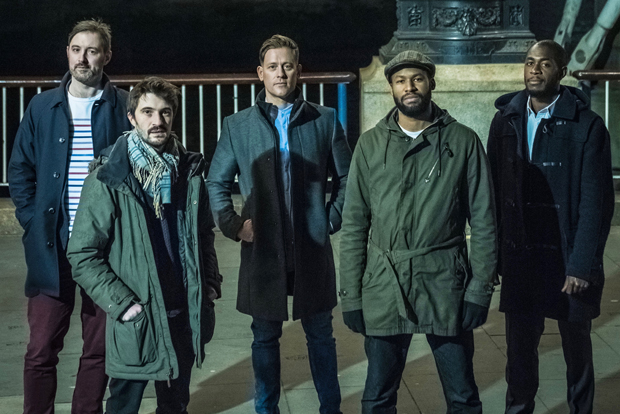 This event turned out to be a major milestone in Michael's career. The album titled "Purpose Built" not only established him as a bandleader but also provided him with the impetus to found his label Whirlwind Recordings. I asked Michael why he decided to self-release and on top of this to also start the label? "Well, when I had the album mastered and was ready to go I started shopping around to some of the labels. The deals on offer were shocking, to say the least. Being the sort of impulsive guy that I am, I went to an accountant, registered a limited Company and Whirlwind Recordings was born." It didn't take long for Michael to expand the catalogue, largely in these early days with recordings from his friends and colleagues, however now, almost ten years on, the label boasts an impressive catalogue with over 130 releases from many of the jazz worlds top artists. Michael explained "when we first started the catalogue grew slowly, however as time went on and we started to become known as a serious label the catalogue just exploded. It's been quite a ride and in January next year we celebrate 10 years."
With the release of Michael's 6th album as a leader (or co-leader) titled "Worlds Collide" this autumn, Michael has diverged somewhat stylistically from his last release titled "Paradigm Shift" and released in 2015. I asked Michael about this and why there was a gap of almost five years between releases. "Well, I'm still very busy doing different projects either as a sideman or co-leader and this means there is probably more time between solo releases than there should be. In the time between records, I feel like I'm still developing so it makes sense that different influences are going to creep into the compositions. I'm never complacent, I'm playing all the time and also producing a great deal for the label so I think it's sort of unconscious, I don't consciously go – OK the next album has to be different, it's more of a natural progression of my development as a musician and composer."
The majority of 'Worlds Collide" was recorded toward the end of 2017 in Abbey Road studios in London with an additional session in early 2019 and features a line-up of hand-selected players from both the USA and the UK. The interesting thing is that Michael has now put together a regular band of UK based players, different to those on the album, to tour the material. When I asked Michael about his thoughts behind this strategy he replied "Having done the last few albums with musicians who all have their own projects and are so busy, I wanted to have a band that would function as a band. With the other projects I've done, it was almost impossible to organise tours let alone trying to organise a rehearsal. I felt stuck! I did most of the recordings back in 2017 and at that time I had the resources to fly the guys in, but I was very clear, right from the start, this would be a one-off recording. In a way, it was sort of a project recording and I tended to see it as a farewell to the all-star recordings I had done in the past."
Once the album was in the can Michael started thinking about his touring ensemble. "I spent close to a year thinking about this, I wanted to have players who were able to commit to the project and I think with the line-up as it is we're in great shape. I'm looking forward to seeing how it all develops as a band."
Michaels new touring band consists of Nathaniel Facey on alto saxophone, George Crowley on tenor saxophone, Rick Simpson on piano/keys, and Shane Forbes on drums. The band made it's première late last month with a series of dates in Scotland, Birmingham with the official launch of the "Worlds Collide" album at the Kings Place in London.
I asked Michael what his vision was for the new band moving forward. He explained "I'm looking forward working with a stable line-up and developing it as a band. I know it's a bit of a risk as far as booking gigs go, often the festivals look at booking bands either with all-star line-ups or bands that have well-known sidemen when the leaders' profile is not that well known. To be honest I'm not that worried about it. I know for sure that we'll be doing a new album with this band in the near future and we already have some live shows on the books. I'm also working on some dates in the USA and hope to be able to announce these soon. We'll certainly be doing the rounds here in the UK and Europe later this year and into 2020."
During our conversation we also spoke a great deal about the label and with Whirlwind's 10th anniversary coming up in 2020, I can say without doubt there is a lot planned. Not wanting to let the proverbial "cat out of the bag" you can read about this in our up-coming label feature on Whirlwind Recordings in the "Winter" edition of this publication. With all this said, I'm sure we will be hearing a great deal more from Michael Janisch in the coming year.


Jazz In Europe Magazine – Autumn 2019 Edition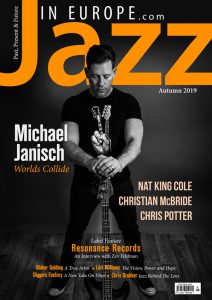 This article is an abridged version of the full interview that appears in the Autumn 2019 edition of the Jazz In Europe print magazine. Also included in this edition are interviews with Michael Janisch, Chris Potter, Christian McBride and Lori Williams.
We have a label feature on Resonance Records, Zev Feldman speaks about the label, it's history and their new Nat King Cole "Hittin' The Ramp" project. We also have a great article on the Diggers Factory, an innovative French company offering a great service to Indie artists wanting to release vinyl.
We also speak to author Will Friedwald and take a look at the legacy of Nat King Cole. This editions photo feature focuses on New Jersey based photographer Chris Drukker. You can purchase a copy of the magazine here.

Purchase This Article as a downloadable PDF for just €1.25  

Text by: Andrew Read | Photos by: Carl Hyde, Nathan Johnson & Monika Jakubowska
Last modified: January 31, 2020