Since its foundation in 2008, award-winning Los Angeles based label Resonance Records has carved out a stellar reputation for its historical releases. Releases by artists such as Bill Evans, Wes Montgomery, Jaco Pastorious and Eric Dolphy to name just a small selection, have not only garnered the label a great deal of respect within the industry, the recordings themselves have brought important material (the majority not previously released) to jazz fans around the globe. On the eve of perhaps their most ambitious project to date, "Nat King Cole: Hittin' the Ramp", I had the pleasure to speak with Resonance co-founder Zev Feldman to talk about the label and in particular the Nat King Cole project.


Editors Note: This article is an abridged version of the article that appears in the Autumn 2019 edition of the Jazz In Europe Magazine. The Magazine is available here.

Andrew Read: Hi Zev, Thank you for taking the time to speak with us. Before we get into speaking about the Nat King Cole project, I'd like to speak a bit about Resonance Records in general. Can you tell us about how the label came into existence?
Zev Feldman: George Klabin started the label in 2008 as a division of his non-profit foundation called Rising Jazz Stars. As a side note, Resonance celebrated its 10th-anniversary last year. The label came into being from the vision and generosity of George, who began his career as a recording engineer in New York City back in the 1960s.
Originally the focus was on helping living artists who were having a difficult time getting their music released and distributed. George's mission was to discover the rising jazz stars of tomorrow. Over the last 10 years, it's been an extraordinary journey for the label, especially as we've expanded and grown in the archival and historical releases arena.
Now our mission is also to preserve these important jazz recordings, while still focusing on new talent as well. In fact, 2019 has been a great representation of what we do best – we began the year with the CD edition of wildly acclaimed Eric Dolphy "Musical Prophet", followed by the Resonance debut by the trombone and vocal powerhouse Aubrey Logan, "Where the Sunshine Is Expensive". We also released the 3rd Resonance album by UK vocalist Polly Gibbons, "All I Can Do" and two Record Store Day releases in April – Bill Evans "Evans in England" and Wes Montgomery "Back on Indiana Avenue: The Carroll DeCamp Recordings".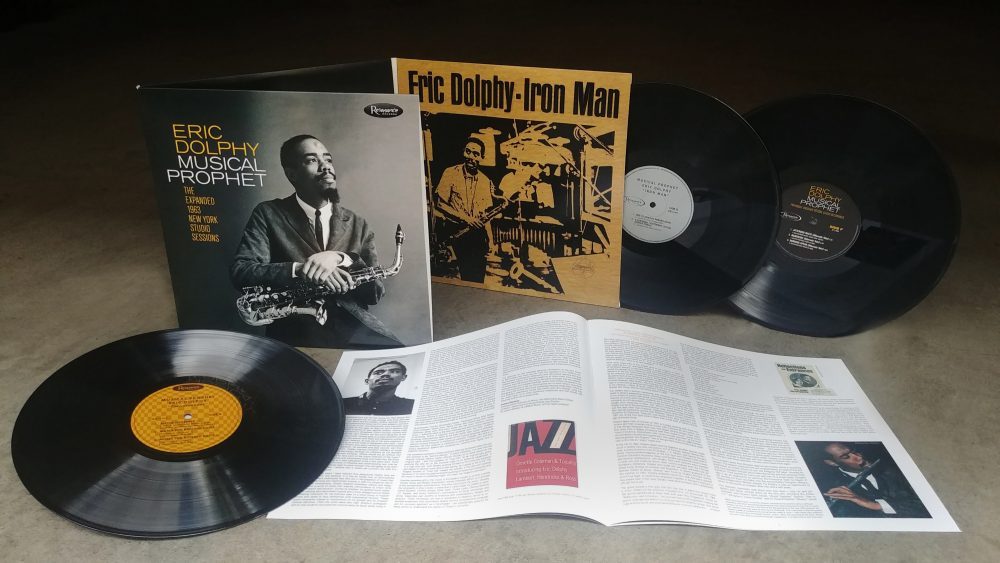 AR: The label has a stellar reputation for producing top-quality historical releases. Are there any particular projects that stand out for you?
ZF: All of the releases are like my children in many ways and each one has special meaning. I learn so much and gain a deeper appreciation of the musicians with each release. On a personal level, the ones that stand out to me the most are Larry Young "In Paris", Wes Montgomery "Echoes of Indiana Avenue", Bill Evans "Some Other Time" and Shirley Horn "Live at the 4 Queens". These are all really great examples of very personal projects that I'm proud to be a part of. When it's an artist you really appreciate and are a huge fan, you go the distance to make it as great as possible.
AR: Over the years Resonance has produced many amazing historical releases yet none so expansive as the Nat King Cole project "Hittin' the Ramp." Can you tell us about this project, what it encompasses and its significance?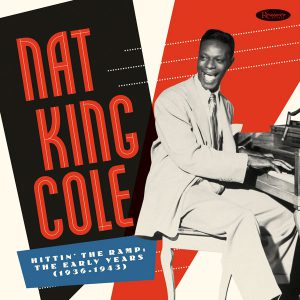 ZF: Nat King Cole "Hittin' the Ramp: The Early Years (1936-1943)" is a very important release for Resonance and the Nat King Cole family. It's the first-ever comprehensive collection of recordings made before he arrived at Capitol Records. It's especially important from a historical perspective because it shines a spotlight on Nat's incredible piano playing, which doesn't get called out as often as it should. He's truly one of the greatest jazz pianists of all time, right alongside the likes of Earl "Fatha" Hines and Art Tatum.
Our project documents that key period before he became a world-renowned superstar. It's a 7 CD and limited-edition 10 LP 180-gram boxed set that includes an assortment of never-before-issued recordings, some of them seeing their first-ever commercial releases, with rarities culled from transcription discs and private collector copies. There are over 180 meticulously restored tracks, 8 and a half hours of music, with an extensive 56-page booklet including rare photographs, essays by acclaimed author and co-producer on the project Will Friedwald. Guitarist Nick Rossi writes an essay about Oscar Moore. There are also interviews and testimonies from Johnny Mathis, Tony Bennett, Quincy Jones, Harry Belafonte, John Pizzarelli, Freddy Cole and many others.
AR: What was the origin of the project and how did it come about?
ZF: In March of 2018, I was contacted by author Will Friedwald (See previous article – ed), who was working on a Nat King Cole book called "Straighten Up and Fly Right!" (forthcoming on Oxford University Press) and he began explaining this project to me as a potential endeavour we could work on together. We've worked together in the past, with Will writing liner notes on other projects. I was interested and excited by what he was telling me, as I've felt that Nat has never been really recognised as the great pianist he was. The focus has always been on his vocals. So I felt this was an opportunity to right another wrong for the annals of jazz history.
AR: You worked closely with the Nat King Cole estate on the project. What role did the estate play in the production?
ZF: The Nat King Cole Estate gave us the blessing and encouragement to release this project, led by Seth Berg of South Bay Entertainment, who has had a long-standing relationship with the Cole family. I've gotten to know Seth over the past couple of years and this project came about at just the perfect time.
AR: The project has been put together in collaboration with an amazing team of experts. Can you tell us a little about the rest of the team behind the project?
ZF: The team is made up of myself, the Resonance co-president and founder George Klabin, Seth Berg and a trio of true Nat King Cole experts and aficionados — author Will Friedwald, engineer Matt Lutthans and researcher/discographer Jordan Taylor. I've talked a bit about everyone already except Matt and Jordan.
Matt has worked in music recording in Seattle since 1988 and now works at Cohearent Audio in North Hills, CA, and The Mastering Lab in Salina, KS. He's a huge fan of Nat King Cole and was instrumental in obtaining and restoring all the rare material that's found in our collection. Jordan is also a huge Nat King Cole fan, and has done extensive research and compiled discographies for other Nat King Cole projects on other labels. They are the A-team when it comes to everything Nat King Cole! There are a number of other important folks who were involved as well, which my co-producer and engineer Matt Lutthans will get into when we speak about the technical aspect of the project.
AR: With 2019 being the centenary of Nat's birth, was releasing this project to coincide with this a conscious decision?
ZF: Absolutely. The 100th anniversary of Nat King Cole's birth is a major cultural event for the whole world and everyone on the team thought this would be a great time to do this particular project. By the way, next year is the 90th anniversary of the birth of Bill Evans. Stay tuned for more info!
AR: Thanks Zev for taking the time to speak to me about this. I appreciate it greatly.
Resonance Records will release Nat King Cole "Hittin' the Ramp: The Early Years (1936-1943)" on the 1st of November 2019. The set will be available as a Deluxe 7-CD/10-LP Package and includes an extensive booklet with interviews and statements by Johnny Mathis, Tony Bennett, Quincy Jones, Harry Belafonte, Freddy Cole and Others!
More information can be found at the Resonance Records website: www.resonancerecords.org.


Jazz In Europe Magazine – Autumn 2019 Edition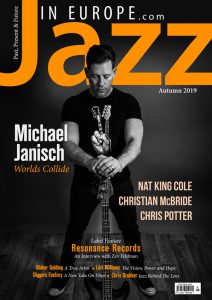 This article is an abridged version of the full interview that appears in the Autumn 2019 edition of the Jazz In Europe print magazine. Also included in this edition are interviews with Michael Janisch, Chris Potter, Christian McBride and Lori Williams.
We have a label feature on Resonance Records, Zev Feldman speaks about the label, it's history and their new Nat King Cole "Hittin' The Ramp" project. We also have a great article on the Diggers Factory, an innovative French company offering a great service to indie artists wanting to release vinyl.
We also speak to author Will Friedwald and take a look at the legacy of Nat King Cole. This editions photo feature focuses on New Jersey based photographer Chris Drukker. You can purchase a copy of the magazine here.

Test by: Andrew Read | Photos Courtesy of Resonance Records.
Last modified: April 26, 2020