Born in Chicago; Chris Potter has emerged as one of the leading jazz saxophonists to date. After moving to New York to attend college, Chris became a frequent face on the local jazz scene and from 1989, played with the iconic Red Rodney at just 18 years old. Since then, Chris has made himself known as an established composer and arranger. Saxophone virtuoso Dave Liebman described him as, "one of the best musicians around." Chris has also won numerous awards and honours such as Tenor Saxophonist of the Year 2013 and 2019 by the Jazz Journalists Association and also nominated for a Grammy Award for Best Jazz Instrumental Award, featuring on Joanne Brackeen's album, Pink Elephant Magic.


Editors Note: This article is an abridged version of the article that appears in the Autumn 2019 edition of the Jazz In Europe Magazine. The Magazine is available here.

This year Chris released his most recent album titled 'Circuits', which came out in February on Edition Records. I had the pleasure of spending some time talking with Chris about his latest album and catching up on his other projects. During his career, Chris has played in a variety of settings from small group work to working alongside a large orchestra, and 'Circuits' represents what Chris has wanted to produce for a long time with exceptional appearances from Eric Harland, James Francies and Linley Marthe.
The idea behind the album name and cover was simple. Chris named his first tune 'Circuits' and then realised that it would be a good name for the overall project, taking this word and using it in different connotations. As Chris described, "it was a bit tongue in cheek about it being electric." The central theme was like a circuit board but also the interpretation of the word itself as an energy connection that goes full circle; this was the meaning that Chris liked. The album focuses on using electronics and integrating them with the saxophone, such as a harmoniser and digital delay. Chris then spoke about how there was a partial influence from Eddie Harris' album 'Silver Cycles' in the creation of 'Circuits'.
Chris knew that he wanted to create a project that was funk orientated as well as using electronics. In the summer of 2017, he called on his friend Eric Harland who plays the drums on the album and Eric suggested that he should collaborate with James Francies. After playing together for a few weeks on tour in Europe, Chris decided to record the material that he performed with James and Eric. We then spoke about how Linley the bass player came to join the group. Chris knew of Linley from a few years back, but Eric had played with him more recently. During the album recording, Linley happened to be in the States so Chris made sure he would feature on the album.
I asked Chris about the chemistry between the musicians and how vital it is for the success of any album, such as 'Circuits'. Chris explained the importance of having a strong voice but also using that voice in conjunction with other people. Music challenges everything that you do, the craft of being able to play an instrument well, a familiarity of ways to approach the music so you're not repeating yourself all the time and looking at it from a multitude of creative angles. The human interaction is the most special aspect of jazz and how everyone reacts with their different personalities.
When speaking about the album and the approach to it, Chris said, "it's important when you're creating an album or putting together a set of music to have enough common language in a way that it hangs together, but also enough variety that it is like a journey that the listener goes along and does not stay in one sonic area."
As our conversation about 'Circuits' came to a close I was interested to hear a little more from Chris about his partnership with Zakir Hussain and Dave Holland in the group, Crosscurrents Trio. The trio has been a recent success and will be releasing an album in early October entitled 'Good Hope'. The group will also be touring throughout Europe after its release. Chris had been a fan of Zakir for many years but never expected to share a stage with him. He then went on to explain how Zakir has it all and is a complete master of the tabla. Having an amazing groove as well as living in the United States listening to jazz and other kinds of music. His approach to music was also something that Chris admired, a very open perspective which he thought was very unusual bearing in mind his classical training and background, but also, he knows how to loosen up, listen and react.
The group originally came together from a project that Zakir had formed for a collection of concerts at the San Francisco Jazz Center. He asked Chris and Dave to be a part of it as well as a number of talented Indian musicians. The original group was far larger with the majority being Indian virtuosos however they were all familiar with the jazz language. I asked Chris whether 'Good Hope' celebrates Indian Classical music and Western Jazz together and he replied saying, "I wrote it well before I met Zakir, firstly I thought of it as a South African groove thinking of the Cape of Good Hope, so I guess that goes to show how all these rhythmic worlds live alongside each other. You could think of it as a South African groove, an Indian groove, you could think of it as a jazz perspective, it's all just human rhythm at the end of the day." Chris continued his talk by explaining the similarities between Indian Classical music and Western Jazz, "the big thing is the concept of improvisation, which is not really in Western classical music anymore but is a huge part of the Indian Classical tradition. There are all these signals that are being given by an Indian Classical musician in the middle of improvisation that are cues to go to this section or another which I suppose is similar in jazz to a shout chorus."

Having had the opportunity to perform with musicians such as Red Rodney, Paul Motian, Steve Swallow, Dave Holland, John Scofield, Herbie Hancock, McCoy Tyner and Pat Metheny, Chris says that he has been extremely fortunate to learn and be inspired by a generation of world-class performers. Chris added, "To get to know them and to understand how they see themselves and how they came up in music and what the scene was like when they started, it's such a rich history that music has and such a rich culture behind it and the ultimate meaning of why it's important is really kind of about this musical community that exists. It's just a bunch of people that want to make something beautiful but may or may not sell a tonne, but they believe in it and it's important, it reflects everything about how they think of life."
It was such a lovely experience chatting with Chris Potter talking about projects past and present as well as his background. As I look back on our conversation, there were many subjects discussed. We spoke about the importance of record companies as well as studios, how musicians should encapsulate the music of today and even a mini-lesson in the art of composition.
Chris will be touring with the Crosscurrents Trio later in the year throughout Europe including Germany, Italy, France, Spain and the UK. For more information on tour dates please visit their website. Their album 'Good Hope' will be released on 11 October 2019 on Edition Records.
Chris Potter's 'Circuits' is now available on Edition Records. More information on Chris Potter can be found on his website.


Jazz In Europe Magazine – Autumn 2019 Edition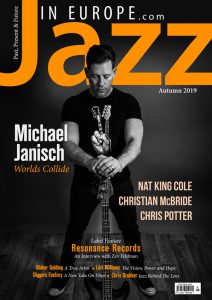 This article is an abridged version of the full interview that appears in the Autumn 2019 edition of the Jazz In Europe print magazine. Also included in this edition are interviews with Michael Janisch, Binker Golding, Christian McBride and Lori Williams.
We have a label feature on Resonance Records, Zev Feldman speaks about the label, it's history and their new Nat King Cole "Hittin' The Ramp" project. We also have a great article on the Diggers Factory, an innovative French company offering a great service to indie artists wanting to release vinyl.
We also speak to author Will Friedwald and take a look at the legacy of Nat King Cole. This editions photo feature focuses on New Jersey based photographer Chris Drukker. You can purchase a copy of the magazine here.

Test by: Thomas Fletcher | Photos by: Dave Stapelton.
Last modified: January 31, 2020