As a fellow bass player, it was my pleasure to have the opportunity to chat with Christian McBride, an artist I deeply admire. To set the scene allow me to give you an overview of his career thus far. As a Six-time Grammy®-winning bassist Christian can be likened to a force of nature powered by a relentless energy and a boundless love of swing. Since arriving on the music scene his developmental path has been full of key milestones and this continues as McBride's path now blazes into its third decade. The Philadelphia native has become one of the most requested, most recorded, and most respected figures in the music world today. We discussed a wide range of topics, so read on…


Editors Note: This article is an abridged version of the article that appears in the Autumn 2019 edition of the Jazz In Europe Magazine. The Magazine is available here.

Darrell Craig Harris: Hi Christian, it's very nice to meet you. I understand that you are from Philly, but now live in New Jersey correct?
CMB: Yes, from Philly. I now live in Montclair, New Jersey, right outside of New York.
DCH: Tell me about growing up in Philadelphia, obviously Philly is a very well-known musical city. Did you have musicians in your family?
CMB: Yes, my dad and my great uncle were musicians. They were both bass players.
DCH: A family of bass players, that's awesome! When did your love of music and Jazz start?
CMB: Well all through high school. While I was studying Jazz, I was also studying a lot of Classical music. I was playing in many ensembles; Temple University had a Community Youth Orchestra and they also had a Youth Chamber Orchestra. There was also the Philadelphia Youth Orchestra, which was pretty much a breeding ground for great symphonic and orchestral players. I was taking private lessons with a man named Neal Courtney who was the associate principal bassist for the Philadelphia Orchestra, so my classical skills were pretty sharp at that point or at least were sharp enough where I thought I maybe could get into Juilliard. My thought was that I would go to college to further my Classical studies and then learn Jazz the old fashion way. I would go to jam sessions, I'd get together with people and learn the old school way. At that time I'm not sure that I felt like I needed a classroom type of jazz education, I liked the idea of doing it the community or "folk" way.
DCH: I believe at this time you were not only playing for Bobby Watson but also starting to pick up gigs playing with other musicians, right?
CMB: Yes, most rhythm section players are always juggling a number of gigs. I was playing with Bobby Watson but also working with Roy Hargrove and I also started playing with Freddy Hubbard. Freddy was my first steady gig playing with an actual superstar. Freddy Hubbard's rhythm section was Benny Green, myself and Carl Allen. When Freddy wasn't working Benny took that rhythm section and started his own trio and that's how The Benny Green Trio started.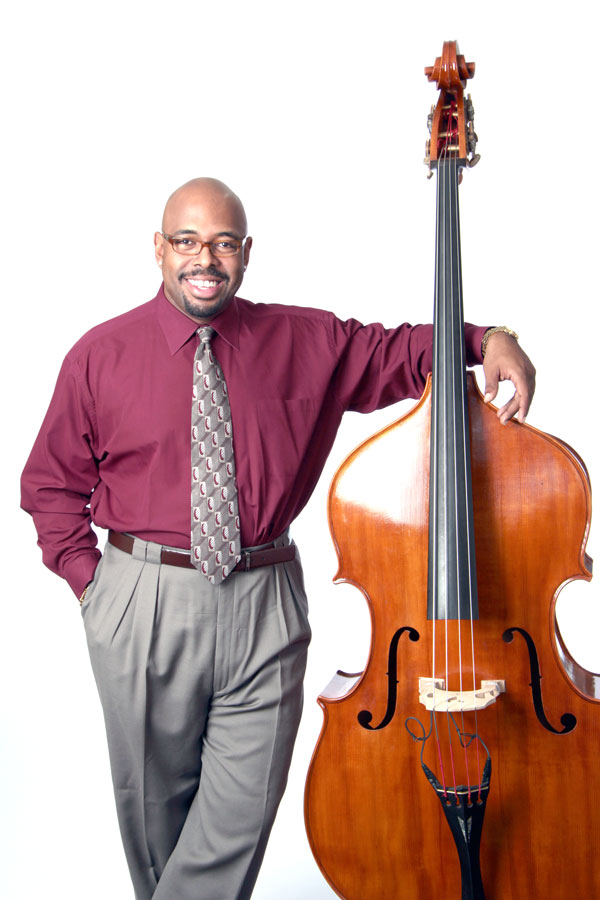 DCH: Tell me about working with Freddy Hubbard, specifically at that young age, what was that like for someone who was just starting out their career?
CMB: It was scary and challenging. He was quite unpredictable musically and in other aspects. You know, I was eighteen when I first started working with him and just tried to keep my eyes and ears open. I learned early in life how to assess situations.
DCH: You tell a story that Freddie would sometimes call tunes you hadn't played before and about how important it is for young players to learn the great American songbook. How did you get your head around those tunes when you first started playing?
CMB: I just played them. A lot of gigs that younger musicians do when they get on the scene are in cafés, bars, restaurant and it's those gigs where you practice standards. I would play little gigs with Benny Green and we would play this little Chinese restaurant up on the Eastside. We would do that gig and just shed a bunch of standards. Bradley's was probably the one place in New York where I learned the most. It was one of the few Jazz clubs where the bonified legends would hang and where all the up and coming cats would go and hang. Roy Hargrove and I would do a gig with guys like John Hicks or Gary Bartz, and Hank Jones and Tommy Flanagan would be sitting in the audience. Imagine as a young comedian performing in a comedy club you'd see Eddie Murphy sitting in the audience and watching you, checking you out! I got my real education at that place. You'd play a set like that and then at the end of the set these guys like Ray Drummond or David Williams might pull you aside and say "hey Christian come here, you know on the 8th bar you were supposed to play B flat 7 and they'd start schooling you on things you can't learn in class or from books.
DCH: What I really like about you is your versatility in being able to jump from electric to double bass. Did you start on the electric first and then go to double bass and did you always have in your mind that you would do both?
CMB: Yes, again my reasoning was more pragmatic. I wanted to work, I wanted to play with anyone that needed a bass player. I always wanted to keep my chops up, and as it turned out I'm not really playing a lot of electric but it was important to be able to do both! Once the 90s and 2000s started to progress, I started playing a lot more electric bass. I did gigs with George Duke, George Benson and I did a record with Questlove, "The Philadelphia Experiment". QL of all people always makes me pour-out with laughter. Every time we are together, he says, "You still got these Jazz people fooled, thinking that you are a Jazz guy. You guys think that Christian is this Wynton Marsalis or Ray Brown protégé but like I know who he really is, cause I grew up with him (laughs) he's really a funk guy!" But man he's so amazing and such a good guy, I couldn't be happier how his career has gone for him, he's such a good guy!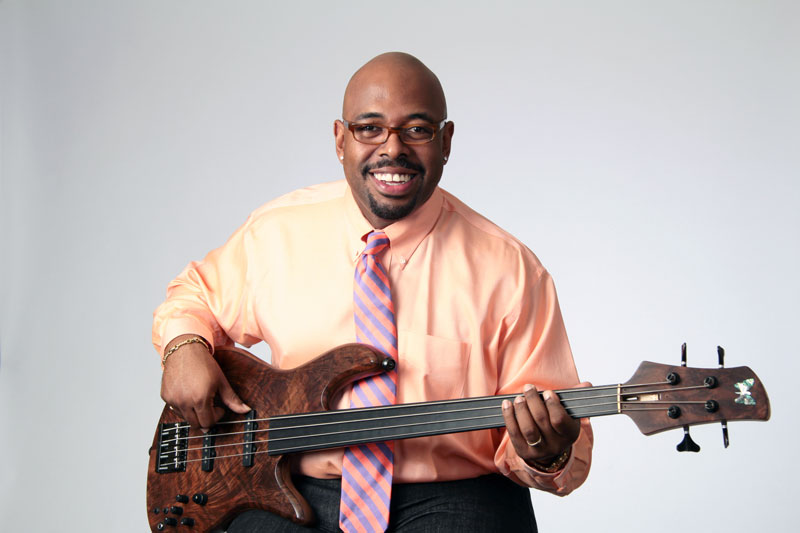 DCH: You made the transition to start playing with more Pop musicians, how did that come about? Was it something that was organic or was it something you really worked towards?
CMB: No, it was all organic. Sometime in the late 1990s, I did a recording with Chris Botti, I didn't know the other people in the band were also members of Sting's band. By the end of the 90s, I was a pretty active NY session guy and I knew most of the other session musicians. I could hear they all had British accents and they were all great musicians, I thought who are these guys. So, we did this recording session and I'm thinking, "Where did Chris find these guys?" Then maybe nine months later, Chris called me for another session and it was the same guys. I thought I need to figure out who these people are, trying not to look like an idiot, I found out on the down low that Chris had basically borrowed Sting's touring band for the sessions. You see, I had forgotten Chris had been touring with Sting on the "Brand New Day" album, so then it all made sense. The story I heard was Sting had mentioned he didn't want to play the bass on his next album, he wanted it to be an acoustic bass. Chris jumped up and said, "I know the guy you need to call." That is how I got the gig.
DCH: It seems like you have a real passion for teaching, so tell me a little bit about that.
CMB: I am not even sure I have a passion for teaching really, what I have a passion for is people. I really love hanging with people and hearing their stories. That came directly from my mom. Growing up listening to records with her she would give a whole narration about when this record first came out, she would give us these brilliant stories! She was the best storyteller ever, she was really teaching me! It really taught me to listen to music! Every record I would listen to I'd want to know the background behind it. It is a way of learning.
DCH: In 2016, you were named Artistic Director of The Newport Jazz festival. During your career, you've held a number of similar positions. What's your motivation with those types of positions?
CMB: I like to put musicians together who don't normally get to play together. I enjoy these curatorial positions because not only do I get to dream, but I also get to talk to other musicians and find out what their dreams and goals are and see if we can make that happen!
DCH: I know you are going to be on tour in October with Chick Corea. You've had a long ongoing relationship with Chick what do you like about playing with him and how did that come about?
CMB: I admire him so much, I mean, we all admire him really, Chick is so prolific. He literally has not lost a step, physically, mentally and musically. He has always maintained such a high level of excellence, it's important to not take him for granted, he is one of those rare titans. Working with him is always a joy. I'm always looking forward to playing his music, at his core he is still just an everyday working musician. I remember one time on the bus heading to some gig, he said uh "man you know it's a shame that no one calls me for recording sessions any more" I looked at him and said, what? (Laughs) He said, "I miss just playing dates as a sideman, guys would just call me up to play piano or for a recording session." I said, Chick I'm not so sure you should make that public, I think your phone would go on tilt!
DCH: He has launched so many legendary careers it's pretty amazing when you add it all up! The trio environment, is that something you prefer?
CMB: I don't have a preference. It is whatever satisfies the hunger at that moment.
DCH: How did the "Christian McBride Situation" come together? Is it a set group of band members?
CMB: Well actually it was a total emergency that put that group together! Two guys from my regular band couldn't make the gig and I was at the Monterey Jazz Festival and needed a band and like quickly! So I had to look around in the performance schedule at the festival and really see who might be available during the time I was supposed to be on stage. I couldn't find a drummer and I knew DJ Logic's around so he'll be the drummer. Patrice Rushen was also here, and I asked her to play piano and keyboards. I already had Ron Blake playing the sax for me. So, I thought let's just make something happen!
DCH: So is the "Situation" now a set group of musicians?
CMB: Well, DJ Logic, Patrice and Ron Blake have always been the core, but since then I have added Alison Williams on vocals and a second dj DJ Jahi Sundance who is the son of the great saxophonist Oliver Lake!
DCH: What's your next recording project and when will it be released?
CMB: I have a new Big Band album coming out in February 2020. It is something that we actually recorded four years ago. It's a studio recording and called The Movement Revisited!
DCH: You've been doing some artist development and production work under the umbrella of Mack Avenue? How is that for you?
CMB: Well, the reason I got involved with this is that I got asked to work with some other artists, and then it just seemed to make sense to create a production umbrella. So I'm hoping to be able to get some of these now independent artists released eventually under my umbrella so those recordings see the light of day!
DCH: How is it for you being in the role of producer!
CMB: I am still getting used to it. It seemed like the next logically step. I just did a production recording with a great guitarist by the name of Dan Wilson. He plays in my Sin City Trio. He did an amazing job, It should be out in the late winter. It's through Mack Avenue / Brother Mister label.
DCH: Thanks so much for your time Christian, it is so appreciated!
CMB: Thank you! My pleasure!


Jazz In Europe Magazine – Autumn 2019 Edition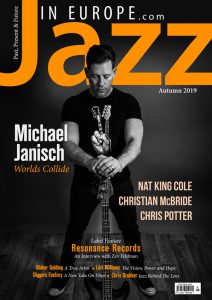 This article is an abridged version of the full interview that appears in the Autumn 2019 edition of the Jazz In Europe print magazine. Also included in this edition are interviews with Michael Janisch, Chris Potter, Christian McBride and Lori Williams.
We have a label feature on Resonance Records, Zev Feldman speaks about the label, it's history and their new Nat King Cole "Hittin' The Ramp" project. We also have a great article on the Diggers Factory, an innovative French company offering a great service to indie artists wanting to release vinyl.
We also speak to author Will Friedwald and take a look at the legacy of Nat King Cole. This editions photo feature focuses on New Jersey based photographer Chris Drukker. You can purchase a copy of the magazine here.

Test by: Darrell Craig Harris | Photos by: R. Andrew Lepley.
Last modified: January 31, 2020