Paul started his career as I mentioned at the start of this article as a drummer and quickly notched up some impressive credits on the New York session scene. In those formative years, Paul was extremely grateful to be given the chance to work on studio dates with the likes of Joe Farrell and Ron Carter to name a few. I asked Paul to tell us a little about those early days and what impact that had on him as a young musician.
"In regard to Ron Carter and Joe Farrell, I don't want it to be construed as if they called ME to play on their records. I was around 20 and in NY playing drums trying to make my way, and in both cases found myself on record dates with producers who had brought us together. Great experiences though and I learned so much from both.
"I can't remember the artist when I played with Ron, but we recorded at Plaza Sound upstairs in Radio City Music Hall. What I DO remember is how honoured I felt to play with him and how focused he was wanting to get everything just right. It wasn't a jazz recording and I wasn't sure what to expect when he'd get there. He was congenial and a total pro. Here I was playing with one of my heroes who carried so much gravitas approaching the music in a workmanlike way. I learned so much from that experience. The importance of always being a professional, bring your best, and that you're only as good as you are right now. I also understood that if you accept a gig then treat it with respect. By the way, the ONLY time Ron asserted any of his station was to ask for heat! I was freezing my ass off. It's a big room and it was cold, but I wasn't about to make any demands. (Thank you Mr. Carter!!).
"My session with Joe Farrell was also at Plaza. I'd been listening to his record "Outback" like a thousand times. What a great record and then here I am on a session with him! I don't remember the artist but the producer was Genya Ravan, and Meco Monardo was the arranger. You can't go on a session with self doubts, but I had some butterflies. I was just telling myself, be a pro, take care of business and don't say anything stupid! Meco had written this really cool drum thing for like a 4 bar transition. A sort of half time thing built into a double time pattern, and I nailed it. On a break for playback, Joe comes walking over to the drum booth and I'm hoping he doesn't ask me something like "So what's your real instrument?" He leaned over the booth and said, "Where you from? Nice job. I like the way you play. Nice feel. Solid time." No solo he ever played had more impact on me than that brief acknowledgement. I could feel the nerves retreat and the blood returning.
"See in both these cases I learned about the humanity and kindness and the weight of encouragement by ones you hold in such high regard, the ones who continually raise the bar. I did a lot of really nice sessions at Plaza Sound. Great engineer there was Rob Freeman, and I'm sure he was recommending me if asked. I remember one date with Sivuca (what a beautiful soul and musician) him asking to have the music brought closer so that "My eyes can eat the paper." I learned a lot from those experiences."
With our time fast coming to an end, I was interested to know what's next for Paul Jost. "Hopefully more of the same and more often. I LOVE all the things I'm doing in NY and if I can digress for just a minute. When I was playing for Billy Eckstine, he Bobby Tucker and I would go to the cafeteria between shows and man the stories they would tell. You know, I'm sitting there with encyclopedias of jazz! B would tell stories of the days when he'd finish a set and then go down the street to catch Sarah Vaughn and then they'd go here and there to catch so and so, and so and so was playing with so and so. Know what I mean? In a way, I would fall in love with that romanticism and that time.
"In hearing B's stories I catch myself now in 2019 going into NY on a Sunday morning to North Square and catch a great singer like Roz Corral with Yotam Silberstein or Ed Cherry and Harvie S, then walk 2 blocks to Smalls and catch Marianne Solivan singin' her ass off with Josh Richman, Matt Parrish and Vince Ector. Leave there and walk a block to the 55 Bar and catch Vic Juris and Jay Anderson. All this free. Might be a drink minimum, but c'mon. I'm hearing one great thing after the other and leave town filled to overflowing with inspiration (and Mezzrow, Village Vanguard and more are all within a block or two). And 5-10 years from now when I'm mentioning some of those musicians names, the people I'm talking to will be eyes wide open and saying "Wow! You would catch ___ for free?
"I'm living the same life B was talking about, living the dream and knowing the romance of what we do, and I'm a long way away from a young lion any more. There are more days behind me than in front. But it's all here and still vital and filled with creativity and life and possibilities."
"So what's up for me? I want to continue to embrace life, create music with sensitive musicians, vibrate the cord we share, be relevant, stay aware, know the love of my family and friends and present something positive to the audiences I'm waiting to meet."
Simple Life was released in the USA on the 29th of March with the Physical release in Europe set for 15 November. The Album is now available on all the major platforms, you can buy or stream the album here.


Editors Note: This interview with Paul Jost is an abridged version of the full Interview published  in the Spring edition of the Jazz In Europe Magazine. You can either view the magazine online or order your hard copy at the link below.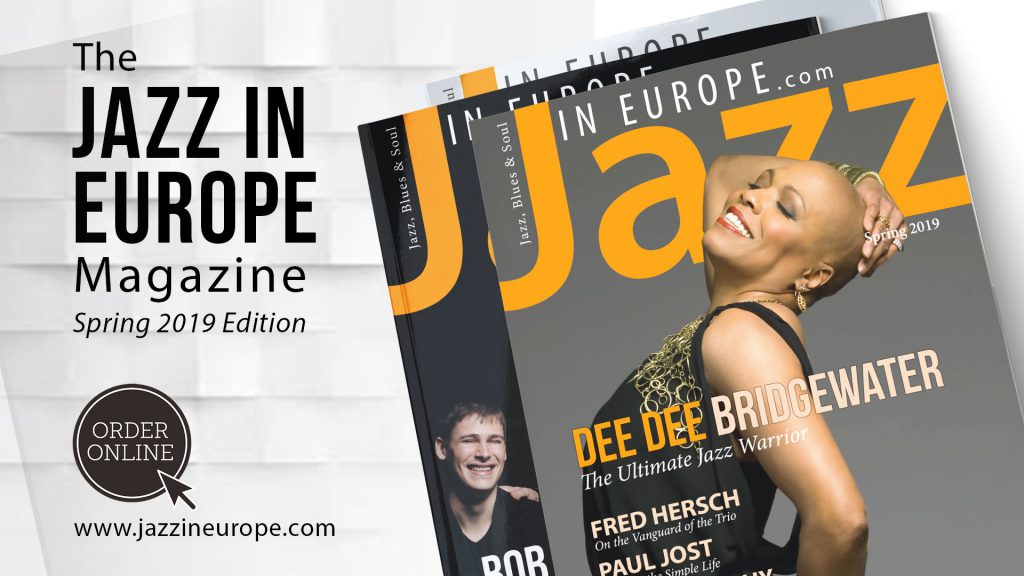 Last modified: July 25, 2019