Last week the official European edition of vocalist Paul Jost's "Simple Life" album was released by Belgium based label Jammincolors. Released earlier this year in the United States Simple life has garnered high rotation airplay and rave reviews (See Jan Veldman's review on this platform). Simple Life is Jost's second release as a leader following up on his 2015 début, "Breaking Through". The line-up for the new album features Jost's working quartet along with guest artist Joe Locke.
To celebrate the release Paul will perform a select number of concerts in Europe starting on the 26th of this month at the Sunset-Sunside in Paris. While in Europe Paul will also do a number of media performances including a live spot on London's JazzFM on the 29th. For the tour, Paul will perform with his long term pianist Jim Ridl with the quartet filled out with ex-pat bassist Reggie Washington and Dutch drummer Yoran Vroom.
In addition to the Paris performance, Paul will also grace the stage at L'Osons Jazz Club in the Lurs (Haute Provence, France) on the 30th of November and the iconic Brussels venue, L'Archiduc on the first of December.
Paul Jost Quartet – Live at the Blue Note (NYC)
When describing Paul Jost, two words come to mind "passionate storyteller". To Paul, each lyric offers a message, a story, and he conveys his own interpretation of those stories through his arrangements and the honesty in his performance. Paul is a multi-instrumentalist, composer and arranger whose vocal style makes him a standout.
After a long career as an instrumentalist and sideman having recorded and performed with Billy Eckstine, Mark Murphy, Dr. John, Bucky Pizzarelli, Joe Farrell, Ron Carter, Ann Hampton Calloway, Sylvia Sims and George Mesterhazy to name just a few, Paul launched his solo vocal career in 2014 with the release of his debut vocal album "Breaking Through" that Included "Book Faded Brown," a composition he wrote that was recorded by The Band, Rick Danko and Carl Perkins.
Paul has been performing worldwide with recent tours in South Korea, Ireland and at JazzAhead, the international jazz expo and conference, in Bremen, Germany. Back home in the U.S, Paul is a regular on the New York Club scene performing at clubs such as the 55 Bar, The Blue Note, Dizzy's Coca Cola Club, Mezzrow and Kitano to name just a few. He can be seen regularly on Festival stages including recent performances at Xerox Rochester International Jazz Festival, the Exit Zero Jazz Festival and the Pittsburgh International Jazz Festival as well as guesting with colleagues including Joe Locke, Orin Evans and Houston Person.
Concert Dates:
26 November – Sunset-Sunside, Paris
29 November – JazzFM, London
30 November – L'Osons Jazz Club, Lurs
01 December – L'Archiduc, Brussels
The European edition of Simple Life is available at all major European stores as well as the usual Streaming and Download platforms. More information here.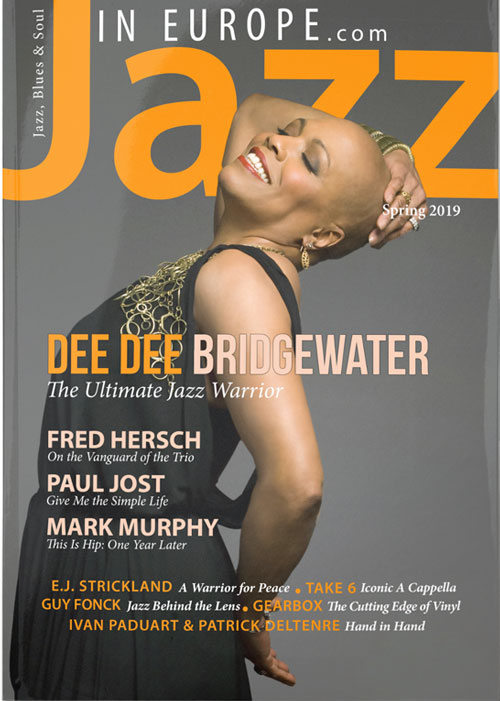 Editors Note: An extensive interview with Paul Jost can be found in the Spring 2019 edition of the Jazz In Europe Magazine.
Also featured in this edition are interviews with Dee Dee Bridgewater, Fred Hersch, E.J. Strickland, Ivan Paduart & Patrick Deltenre and Take 6. This edition's photo feature focuses on Luxembourg based photographer Guy Fonck. Peter Jones gives us a historical perspective on vocalist Mark Murphy and Erminia Yardley has a label feature on Gearbox Records.
Back issues are available here.

Last modified: April 25, 2020