Interview by: Darrel Craig Harris | Studio photo's by Jimmy Katz | Live photo's by Carl Hyde.
Kenny Garrett is a Grammy award winning saxophonist originally from Detroit Michigan who started his career at the young age of 18 years old as a touring member of Duke Ellington band. He has had a legendary career which included being a member of the Miles Davis band for over five years. Achieving a Grammy-winning record with Chic Corea in 2010 and numerous recordings with many household names in the jazz world! His impressive solo career and many Down Beat readers poll awards have cemented his legacy as one of the greats!
Darrel Craig Harris: Hi Kenny how are you doing today? You're in New Jersey correct?
Kenny Garrett: Great, Yes that's correct!
DCH: Even though you're on the East coast now, I understand that you grew up in Detroit in the '60s and early '70s, what was that like for you growing up in the home of Motown records with all of that music coming out of there? Did it have an influence on you musically?
KG: Well, I would definitely say that I enjoyed listening to the music of Motown, but you know I was listening to everything! I met people, actual jazz musicians who were playing with Motown, and a year before I went to my high school (McKenzie High in Detroit) James Jamerson jr. ( Motown bassist) was actually in the band there and graduated from McKenzie before I came there the next semester! So a lot of those guys and their fathers that were there I definitely met.
DCH: The interesting back story with Motown records, was that Barry Gordy rounded up a bunch of great jazz musicians from that had been playing in the various clubs in Detroit that could read music and recruited them to play in Motown records studio house band.
KG: Well yes, and I think that's what made the Motown music so powerful because they were jazz musicians! If you think about Stevie Wonder, to me Stevie is a jazz musician. We don't say that he's a jazz musician, but if you listen to his music and his chord progressions you can hear that he studied with a lot of those Motown guys meaning he hung around and was influenced by them not really formally studied you know. A lot of that music if you listen to it, it was on such a high level!
I mean I was listening to Junior Walker not too long, the tune was called "These Eyes" I was like this guy is playing the same melody but the production was a mother! I was like wow man, so you start understanding that man these guys were about writing songs and there was a lot of musicians so they had more information to draw from.
So guys like Stevie Wonder, the people that I've known that have been around or played with say that he's often playing Giant Steps for his soundcheck's.
DCH: Let's jump to you getting your first big break as a young 18-year-old musician going on the road with the Duke Ellington Orchestra conducted at that time by Mercer Ellington, what was that experience like coming just out of high school?
KG: Well, it was really a learning experience, you know coming right out of high school. Of course, I knew about the Ellington band, but to actually play the music and learn about guys like Johnny Hodges who I have so much respect for and who had a beautiful sound. In Duke's band there were so many different personalities that he could use as tools for his writing, but I think the main for me is that I was able to sit under two of Johnny Hodges protégés, one was Norris Turner and the other was Harold Minerve and those guys really taught me so much. They were both playing like Johnny Hodge, but with different approaches to it.
Harold Minerve I actually had the longest opportunity with, because he was playing he was playing lead alto (sax) when I joined the band, so it was just a great time and Like I said I was learning to blend with 18 other musicians, not just the sax section but with the entire band you know! Cause I had played with big bands in Detroit, but that was on a professional level!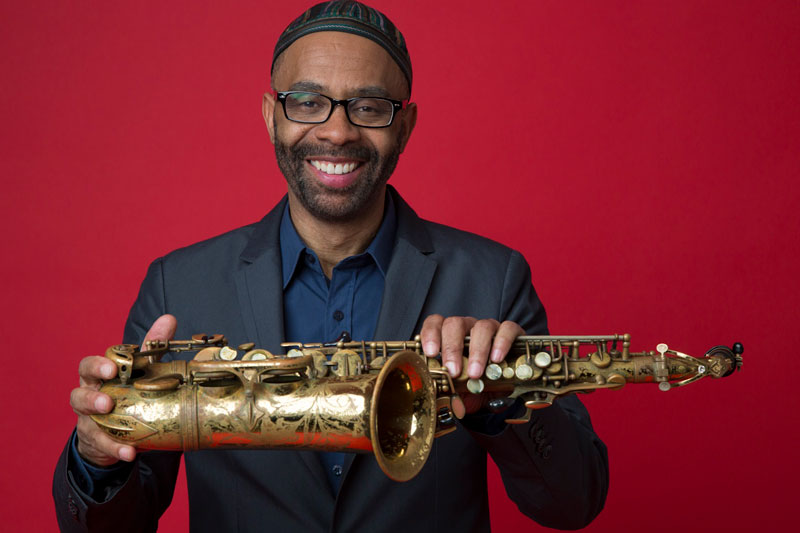 DCH: I would imagine, that many of the musicians in that band had been there for several years at that point?
KG: Well, there was Chuck Connors who had been there for a while, there was Dick Love, Harold Minerve had played with Duke, but the special thing for me was that I got a chance to play with Cootie Williams who had come out of retirement and I really learned a lot from him because I sat right across from him on the bus you know, so it was a great experience for me for my three and a half years with the Ellington band.
Well you know that was a big band, so on the road, we had to room with people and there was a guy by the name of John Waldo sr. who use to tell me stories all the time, one was that he use to teach Wynton (Marsalis) and this is before Wynton showed up on the scene, so he would talk about Wynton and also his brother Brandford all the time because he had taught both of them. So I learned a lot from him also just by sharing a room with him, he knew a lot about classical music and he was always playing classical music and I would try to play the classical tunes along with him so I really learned a lot! It was such a blessing to have that as my first experience coming out as a young player.
DCH: That's really the great thing about being on the road at such a young age with these really experienced older guys, you're learning both about music but also about life which is such a valuable thing.
KG: Yes, and you know growing up I had some great teachers back in Detroit like Marcus Belgrave (trumpet) who was a Pillar of the community who taught people like Geri Allen, Bob Hurst, Rodney Whitaker so all these people came through him, and then there was my high school band director who was Bill Wiggins I mean he taught me so much and he allowed me to go to his shows to see how he would sight read the music and just show me different things. So there was a lot of great musicians in Detroit! There was just so much great music that came from there and so many different styles.
DCH: After Ellington band what was your next move?
KG: So, after the Ellington band I move to New York and I was playing with different big bands like Lionel Hampton, Frank Foster big band, played with the Ellington band still subbing you know, really whatever I could do at the time just to survive.
DCH: What was your transition into becoming a bandleader, and heading up your own projects?
KG: Well you know that came years later, I mean I was writing and working in New York and I had a lot of great experiences I mean the first one after the Ellington band was working with Dannie Richmond doing the music of Charles Mingus, and I had met Freddie Hubbard through Marcus Belgrave and that was great! Freddie was still playing at his apex, he was still playing on a high level and I mean for me to hear that and stand next to him every night I really had to get my stuff together you know!
Also, I knew about Woody Shaw because my roommates in New York played with Woody so I had a chance to hear that music every time they were playing in New York, even just from tapes and things so I was hearing that music all the time. Then eventually on my first solo CD "Introducing Kenny Garrett" (1984 Criss Cross label), I was able to call Woody Shaw to play on my first CD, so I really learned a lot!
DCH: Something that I really noticed listening to your music over the years on your various albums is that you really seem to draw from a lot of different influences musically, obviously straight-ahead jazz is there but also many other things in that mix, is that something that's always been there for you?
KG: Actually my high school band director Bill Wiggins used to always say the C7, which is a chord that is the same all around the world as you know because you're also a musician. You know, my mom use to listen to Motown my stepfather was listening to people like Joe Henderson, Stanley Turrentine, Maceo Parker so I was really listening to all kinds of different music growing up so my thing was just never like you had to just play one style it was all just music!
If you think about jazz historically, it was music that appealed generally to a select group of people who liked and listened to jazz but now that it's in schools its had much more exposure but it's still like that in a way. I always say as a musician I want people to hear my music and be exposed to people, obviously not reaching as many people as someone like Beyoncé but of course, we would like for people to know who we are!
So for me, I like to do music that I like and in turn, you hope that people like that cause I listen to a lot of different genres. I mean I listen to every kind of music possible because I'm drawn to finding the spiritual stream in the music you know it might come from Gospel or whatever but I'm looking for that stream! I just love music and to be a good melody is a good melody, so that's just how I live you know.
Studio photo's by Jimmy Katz | Live photo's by Carl Hyde.
CONTINUED ON NEXT PAGE
Last modified: July 11, 2019