KENNY GARRETT INTERVIEW – PAGE 2
DCH: I know you like to bring in different players on your albums with different backgrounds, how important is that collaboration with other musicians? Do you feel that influences your music when your writing and recording?
KG: I encourage musicians and I'm looking for people that have their individual voice and the potential to go some direction and who are open! At least you know in the same spiritual direction and hearing the same way I hear it. The musicians who are playing with me now include Vernell Brown jr. (pianist) from Las Vegas, he's one of this guys that's really an unsung hero, a lot of people don't know about him but he's got something special when you listen to him play.
I also have Ronald Bruner playing with me, Chris Dave, Chester Brown, I mean so many drummers have played but it's because they all have something that's a little different and in turn I'm able to show them the different influences that I've had and hopefully, in turn, they can find their direction through that in the end.
The thing about the younger guys like Brian Blade (drummer) I heard him and liked the way he plays, I brought him on the road to Japan with me and he recorded with me, so after a while, other guys start saying well I would like that opportunity so that's what happens! All the new guys are out there doing their thing, and at some point, they come through my band and I feel proud about that! That can't get to Miles (Davis) but they can get to Kenny Garrett, and I try to expose them to the music and be true to it because if we are playing straight ahead then I want it to be authentic. If we are playing R&B I want it to be authentic, and the musicians when they play with me they also know that they are not handcuffed! The younger players need an opportunity to express themselves without anybody getting in the way, I've been blessed with patience and I wait and let them develop, then once they get to that point then everybody's looking for them! Then you have to start over again and get another younger guy. It's not like the older guys couldn't do it, but the younger guys are really hungry to play.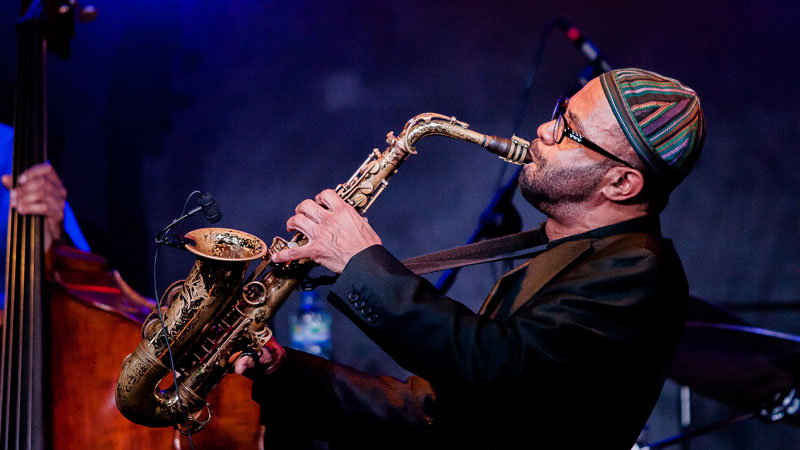 DCH: I know you've been asked this question many times in your career, but tell me about your time With Miles and how that long term gig for you come about?
KG: There are actually two stories to it, but I'll tell you the first story of how I understood it. Miles was looking for an alto player and there's a great tenor player from Maryland named Gary Commis and we were auditioning for this French film and he said well Miles is looking for an alto player are you interested? I was like of course, it's Miles Davis!
So a couple of days later he gave me Miles number and I called him and Miles wasn't there but his valet picked up the phone and a couple of days later Miles called me back. I had sent him some music I had done with Art Blakey, OTB, and some other R&B stuff I was doing when he called me back he said it sounded like I was wearing Sonny Stitt's dirty drawers haha! (Kenny says it again imitating Miles' voice)
Basically, I was just going to go out with Miles for a couple of days because at the time I was still playing with Art Blakey, and that ended up being about five and a half years with Miles and that was, of course, a great experience! I mean every night I got a chance to hear Miles play, and there's no better teacher than hearing that! We had this thing we use to do like a call and response, he didn't tell me to do it he would play a lick and I would play it back and that became part of the show! I heard him telling Herbie (Hancock) one time (Kenny imitates Mike's voice) "yeah he's playing all my notes and the wrong ones too" haha! I didn't think he hit any wrong notes, everything he played was beautiful to me!
And you know that like the African tradition, passing the information down he was teaching the language every night all these years on stage so that was a great experience. I got a lot from a lot of different people but five and a half years with Miles he just had a beautiful sound and great melodies.
DCH: You also toured and recorded with Chick Corea winning a Grammy in 2010 with the Five Peace band ( Chick Corea, John McLaughlin, Kenny Garrett, Christian McBride and Vinnie Colaiuta. How did you originally meet Chick?
KG: I used to see him when I played with Miles because he had the electric band at that time and we would cross paths, we also did the music of Bud Powell album together (Chick Corea and Friends-Remembering Bud Powell) there's so much music that we've done together over the years.
Chick and I have this thing about music, for a long time I would call him, and I would play something and he would play it back. Chick I just like the challenge of playing his music. To play it and still be able to bring my voice and I think that's what he's looking for, he wants me to do that, change things around because he's always looking for another way to approach music. I've had a great friendship with Chick over the years!
DCH: You've won a Grammy, received several other Grammy nominations and numerous Down Beat magazine readers poll awards over the years, what's your feeling on these types of awards?
KG: Well you know, it's an acknowledgement to receive the Down Beat awards and to see that people like what I'm doing. I think every musician wants to be acknowledged whether you're R&B or Hip Hop, you want people to know that you exist, and sometimes in this music, we don't get that and we recognize that we won't get that, but still, we play it because we want to play the music! I like playing R&B but playing great jazz is a little bit more complicated!
And when we get to that level, it's still a challenge. I always think about all the greats like Charley Parker, John Coltrane, Sonny Rollins, Joe Henderson they set the precedent, these guys are such a force – wow! As we go along we learn to play but it's still that level that these guys reached. So they continue to inspire me to try to get better.
DCH: Kenny, thanks so much for being so generous with your stories and sharing your time with us, we look forward to seeing you out on the road and to hearing your new recordings!
KG: I appreciate it, Thank you

You can catch Kenny Garrett in Europe in March and July this year at the following venues. For additional European dates keep an eye out on Kenny's website.
March Concert Dates.
Saturday, March 09, 2019
Maison des Arts
Thonon, France
Wednesday, March 13, to Saturday, March 16, 2019
Ronnie Scotts
London, UK
Monday, March 18, 2019
Szczecin Jazz Festival
Szczecin, Poland
July Concert Dates
Monday, July 01, 2019
JazzFestival
Nova Gorica, Slovenia
Friday, July 05, 2019
Domaine de Fontblanche
Vitrolles, France
Saturday, July 20, 2019
Malta Jazz Festival
La Vallette, Malta
Studio photo's by Jimmy Katz | Live photo's by Carl Hyde.
Last modified: April 29, 2020