It can be overwhelming to realize how much water surrounds us, affects us and impacts our lives. It's an element vital to survival yet can be utterly devastating; it can be placid and beautiful or torrential and violent. It's ubiquitous – flowing at the turn of a faucet, comprising 70% of our own bodies – yet somehow intangible, able to change the form or assume the shape of its surroundings.
On his new album, Be Water, pianist Christian Sands takes inspiration from water's tranquillity and power, and muses on the possibilities offered by echoing its fluidity and malleability. Through ten gorgeous and thrilling pieces, Sands alternately conjures the serenity of a sun-dappled lake and the drama of a relentless thunderstorm. Just embarking on his 30s, Sands has already enjoyed a remarkable career trajectory, touring and recording with Christian McBride's Inside Straight and Trio, as well as collaborating with the likes of Gregory Porter and Ulysses Owens.
The vividly expressionistic recording finds Sands with his core trio of longtime bassist Yasushi Nakamura and drummer Clarence Penn, with brilliant contributions from guitarist Marvin Sewell, saxophonist Marcus Strickland, trumpeter Sean Jones and trombonist Steve Davis. On one piece the ensemble is also supplemented by a string quartet featuring Sara Caswell, Tomoko Akaboshi, Benni von Gutzeit and Eleanor Norton.
Be Water is Sands' fourth release (including a five-track digital-only EP as an extension of his debut album Reach) for Mack Avenue Music Group. The album takes its title from the philosophy of martial arts master and movie star Bruce Lee (by way of screenwriter Stirling Silliphant, who distilled his thoughts for the screen). Lee's voice appears on both halves of Sands' title track offering this profound advice: "Empty your mind. Be formless, shapeless, like water. If you put water into a cup, it becomes the cup; you put water into a bottle, it becomes the bottle… Water can flow, or it can crash. Be water, my friend." (Bruce Lee inspirational quote)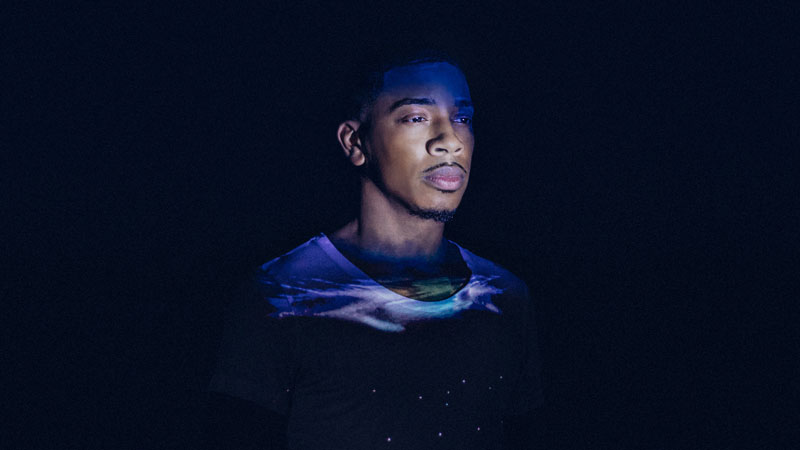 Lee was an early idol for Sands, who grew up watching his classic films with his father and skillfully studied a variety of martial arts himself – until the notion of breaking boards and cinder blocks with his hands seemed ill-advised for a promising young pianist. Lee's teachings re-entered Sands' thoughts during his two-year residency with Jazz at Lincoln Center in Shanghai, China, which opened up new worlds of culture and philosophy to him. Those pursuits led him to the writings of Sufi master Hazrat Inayat Khan on the mysticism of sound and music.
"I was trying to practice being more open, more free, more flexible than I usually am," Sands explains. "Through that, I started to have this awareness of just how much water was all around me. As I was touring it seemed to be raining every day; I actually had to change a few dates because of a hurricane. I even started seeing a new doctor who told me I needed to drink more water [laughs]. It seemed to be some kind of a divine message to pay attention to water."
In case the pianist wasn't receiving that message, it was delivered in an even more direct and moving form one day following a performance in Hawaii. "I was driving back to the airport and had a little bit of time to kill," Sands recalls. "We decided to stop along the way at this very beautiful park. We were sitting by the water and a huge sea turtle swam slowly up to me. He came very close and peeked his head out as if to say, 'This is the essence of what you need to be writing about.'"
Point taken, Sands began composing his most wide-ranging and ambitious set of compositions to date. The introductory track takes form gradually, with the glacial pace and implacable momentum of a rising tide. The simple sounds of lapping waves flow into a dawning melody on arco bass, slowly but forcefully surging to a gripping crescendo as more instrumentalists join in. The piece was modelled on the impactful openings of another of Sands' major influences, filmmaker Quentin Tarantino.
The rollicking "Sonar" takes the concept of navigating via sound as a metaphor for the way in which we relate to our surroundings, echoing off of and situating ourselves within a larger picture. Lee's words usher in the chorale-like "Be Water I," with its interwoven horn lines over Penn's shifting tempos. Its companion piece, "Be Water II," is an elegant dance between the trio and the string quartet, arranged by Sands' Manhattan School of Music classmate Miho Hazama.
Propelled by Penn's driving rhythm, "Crash" depicts the impact of waves on the shore, or the collisions among people. The scintillating "Drive" peers within, imagining personal ambition with the unstoppable force of the ocean and summoning ferocious solos from Strickland and Sewell. The amorphous "Steam" finds water taking its most elusive form, evaporating into thin air before one's very eyes; the piece offers the trio at its most abstract yet always maintaining a perfect tension between its three diverging and reconvening poles.
The cyclical nature of water, its ability to flow staggering distances or gather in the clouds only to fall back to earth, sparked the choice of the album's sole non-original, a gospel-tinged take on Steve Winwood's "Can't Find My Way Home" (originally recorded by the supergroup Blind Faith). The wistful pairing of Sewell's luxuriant guitar and Sands' evanescent touch evoke the calmness of a wave-free lake on "Still." The fanfare-like "Outro" playfully reverses the "Intro," ending the album on a cinematically celebratory note.
The music of Be Water flows with the mesmerizing tranquillity and awesome power of its namesake. On his most conceptually ambitious album to date, Christian Sands takes heed of Bruce Lee's wisdom and truly allows his creativity to transform and assume a dazzling variety of forms.
Track-Listing:
1. Intro 3:40 | 2. Sonar 7:12 | 3. Be Water I 5:57 | 4. Crash 6:03 | 5. Drive 8:16 | 6. Steam 7:42 | 7. Can't Find My Way Home 7:13 | 8. Be Water II 5:59 | 9. Still 9:02 | 10. Outro 3:23
Line-Up:
Christian Sands: piano (all tracks); keyboards (1); voice (1); Fender Rhodes (1, 2, 3, 10); Hammond B2 (5)
Yasushi Nakamura: bass (all tracks)
Clarence Penn: drums (all tracks)
Marvin Sewell: guitars [Telecaster T57, National Resophonic Guitar Style O, Lowden model S-10 acoustic guitar, Custom Slide guitar] (1, 5, 9, 10)
Marcus Strickland: tenor saxophone, bass clarinet (3, 5, 10)
Sean Jones: trumpet, flugelhorn (3, 10)
Steve Davis: trombone (3, 10)
String Quartet (8): Sara Caswell – violin 1, Tomoko Akaboshi – violin 2, Benni von Gutzeit – viola, Eleanor Norton – cello
Release Date: 17 July 2020
Format: CD | Vinyl | Digital
Label: Mack Avenue


New Release Spotify Playlist
The Jazz In Europe New Release playlist features tracks from the new releases featured on Jazz In Europe. Updated weekly, this playlist is the perfect place to discover new music from the leading jazz musicians currently on the scene. We hope you enjoy this selection.
The best way to keep up to date with all the latest releases is to follow us on Spotify. Just click the button below.
Last modified: October 5, 2020