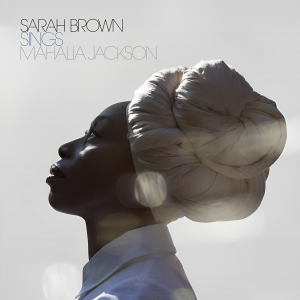 My first interaction with Sarah Brown was wonderfully charming, backstage at the Cheltenham Jazz Festival. Sitting in a security cabin to the side of The Jazz Arena, Sarah seemed nervous, anticipating her evening performance and first gig of the tour. Through her tribute to Mahalia Jackson ('Sarah Brown Sings Mahalia Jackson'), Sarah was making her debut as a solo artist, shifting away from her career solely as a background vocalist. She spoke about taking that 6ft leap from the backing microphones to standing front and centre, a step that is never easy to prepare for. Our conversation was brief, but I was fascinated by Sarah's story and couldn't help but get her contact details to speak further, a few days after the show.
Sarah began to open up about her feelings, when on stage and at the album signing which followed. The sense of pride that came with sharing Mahalia's music with the Cheltenham Jazz Festival was huge – but this came with the fear of wholeheartedly putting herself into the spotlight, whilst still carrying the troubles of her past.
It was difficult. I was extremely nervous. I was becoming overly conscious about whether I was reaching the audience… whether they liked it or not. I struggled to connect as I couldn't hear myself very well and I felt preoccupied with my thoughts…Mahalia is why I did this. I faced my fear. The fear was created by various sources – born and sewn in me – I was in a volatile home and became a fearful child. My family life was in a drought with a fear for me. My mother was very caring and showed such kindness and love. My father was at times happy, dancing and partying but he would get angry… I carried this fear throughout my life…
Sarah Brown has been labelled as one of the 'most prolific and in-demand vocalists in the world', with appearances on records with Pink Floyd, George Michael, Stevie Wonder, Quincy Jones, Duran Duran and Simple Minds. She received her vocal training from a young age, from within the church, singing along to the likes of Sister Rosetta Tharpe and of course, Mahalia Jackson. Sarah was later invited to join The Inspirational Choir of the Pentecostal First Born Church of the Living God, commencing her career as a touring vocalist. The choir was the first ever to be signed to a major label, CBS Records, where they released their debut album in 1985, 'Sweet Inspiration', and went on to sing for the Queen and different venues around the world.
The very important skill that I learned from the choir was just knowing how to listen to the voice you're working with and placing my tone with their tone.
It was compelling to hear about this move from learning to sing with others, blending into the background and not sticking out, to finding her own unique voice. The way a musician approaches performing changes when they have to lead the show which can result in additional anxiety.
The pressure changes from impressing the main vocalist to now having to impress the audience… It's a big step at a later stage of my career, but I had to make it happen. I call it 'stepping into the fear'. A big fear surrounds women in the industry and a lot of stereotyping comes with it. Feeling this pressure leads to my anxiety and gets in the way of me fully engaging with this whole journey. My nervousness becomes heightened by being a woman in this industry. Whatever comes with being on the front line, you have to deal with it. There is less support for women to become solo artists. I've been singing for thirty-five to forty years, and it's always been a male-dominated industry: male-dominated studio sessions, male producers, sound engineers, studio staff… Many of them had an ego about them.
 With a career extending across multiple industries and genres, Sarah detected slight differences in how she was treated as a female backing vocalist by other musical professionals. These seemingly misogynistic attitudes developed at each juncture of her career, becoming more intense at points.
In the pop world, people seemed more arrogant. But there was a friendliness that came with the blues. I guess different attitudes come with each genre. It has been a difficult journey. I haven't felt completely encouraged as a backing singer as your creativity at points feels invalid. I've been patronised and talked down to, those antagonistic attitudes don't even give you a chance. I've been told that I'm 'just a backing singer'… And it's not always the artist that makes me feel this way, but the team around them.  At points, it feels very unsafe… I've seen other backing singers being manhandled in sound check. The tour bus has been an uncomfortable environment too. Once, I was one of two women on a bus of twelve men. I've walked in on pornography playing on the TV in the kitchen… I felt trapped at points and my bunk felt like a coffin. Being hit on by main artists put me in a difficult position. There was that fear that you will lose your job by responding in any way. I felt like the artist had power over me. As a female, I felt frightened and easily disposable.
Perhaps this feeling of being easily disposable does not only come with being a woman in the industry but a backing singer where the threat of being replaced on a job is always present.
I was one of two backing singers in the studio, recording an album. The musicians in the band negotiated a good deal for themselves on how much they were getting paid for the session. There was no talk of how much the backing singers would earn. We got someone to represent us and ask about the money. Us two singers were reprimanded, and I was shouted at: 'Don't you ever compare yourself to one of these musicians. You're just a backing singer! Get out of the studio!' I was screamed at in front of all my colleagues.  I didn't feel safe to venture out of the box. Every experience was one of trepidation.
As well as the challenges posed by misogynistic and hostile attitudes, Sarah discussed how she found herself coming up against her female colleagues on a regular basis. This competitive nature can further corrupt the way women experience these industries, discouraging cooperation and kindness, and encouraging an 'every person for themselves' approach.
As women, our biggest challenge can be ourselves. Feeling put up against other women in the industry because it seems that there aren't as many of us.
But it was clear that Sarah noticed a definitive change in her musical spirit since going solo. One thing she mentioned was her sense of control over her own career and musical decisions, something that can positively establish an artist.
I feel like I have to be the sexy backing singer. Just being a good singer didn't feel like enough. Now it's about the singing first! I am so grateful for all the musicians I have around me, particularly Colin Goode. He encouraged me to do the album. Before I was blocked out by fear and for years I didn't approach him. I also really acknowledge the male support that I've had, it's like the other side of what we know to be true. Simple Minds have been nothing but wonderful to me, allowing me to feature all the time. It's what I needed! They're always telling me: 'Sarah you're a singer, not just a backing singer.' After facing up to my fear, I'm singing the best I've ever sung. It's the best present I could've ever given to myself.  The album became more beautiful when I accepted all the things that held me back. My touring experience is so much better.
I don't want to do something just to make money. I walk away from this first solo album with a sense of integrity. And now I feel safe, in control, doing my own thing. I can be honest with the people around me. I feel like I'm able to do this because of Mahalia Jackson.
This article first appeared in the Women in Jazz Media July 2023 magazine
Last modified: August 25, 2023