Italian singer songwriter Luchi releases her new album 'Alien Girl' on February 11th after a hugely successful album launch event at Pizza Express Live, London.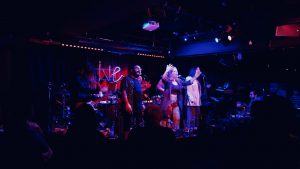 Originally from Italy, Luchi moved to London a few years ago to study at the Institute of Contemporary Music Performance, with a passion for collaborating with international artists and my goodness, she did just that. I first saw her perform at The Bedford  which boasts a history of performances from stars including Ed Sheeran and Eddie Izzard, not long after she had moved over here, and she was outstanding. Confident, energetic and clearly ready to take on the world and I have been excitedly following her career ever since. There is something very special about Luchi's energy – genuine, passionate and determind.
Her music is described as 'Soul to the core, R&B in the stomach, Jazz as a spray of perfume and Gospel all around, Vintage Pop'. This is the perfect way to describe her sound and I especially love 'jazz as a spray of perfume' as Luchi is not a jazz artist in many ways but there is definitely a huge influence there and her vocals undeniably have an Amy Winehouse feel about them. The songs on the new album have all been written by Luchi but arranged and produced with her brilliant group of musicians: Charles Bioul, Tom Gilbertson and Federico Marchi, with one song co-written by Porteous. The wide range of influences in her music are clear but she undoubtedly, has her own style.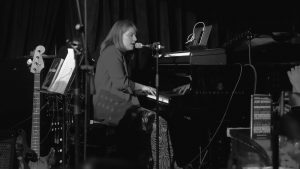 The album launch event was a fantastic night. A packed house and the energy of everyone there – audience and the band – was something very special. We were treated to a wonderful set with a mixture of very catchy, no choice but to groove tracks, along with a beautiful rendition of "A me che sono il mio primo amore" performed by Luichi on the piano. There were some complicated arrangements on a couple of songs and the musicians were incredibly tight and highly skilled and they certainly sounded like they have been peforming together professionally for many years. Tom Gilbertson (drums), Charles Bioul (bass), Evin Durkin (guitar), Adrian Valia (piano), Danny Guillen Tejera (percussion) and Francesca Guerra and Davide Ventimiglia (backing vocals) gave us a full and energetic sound and their chemistry – and musicianship – was addictive – and they clearly loved every minute of the night and this passion and joy transferred to the audience. Although this is clearly a team effort, Luchi was the shining star in this evening and not only was her performance outstanding but her song writing skills show maturity and honesty. Definitely one I am very excited to follow and support.
'Alien Girl' is released on February 11th. Pre-order here
Luchi on Facebook
Luchi on Instagram
Luchi Website
Photos by Fiona Ross
Last modified: February 7, 2022