In March of this year, we published our first magazine for International Women's day with the support of many of our partners.  We reached out and asked our partners to highlight the women who inspired them, for a series called 'Women Who Inspire'. Author and Editor in Chief of Kind of Jazz, Matthew Ruddick spoke to us about Irene Serra: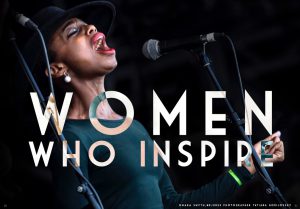 'There are so many women, past and present, who have brought joy through their music, or inspiration through their passion towards jazz, as managers, photographers, writers and promoters. I decided to limit myself to modern musicians and would like to highlight the work of Irene Serra. I first discovered Irene through her band ISQ – the Irene Serra Quartet. I fell in live with their second album, Too, and had the chance to interview both Irene and Richard to discuss the album and their influences. Irene discussed the various pop influences that feed into her writing, as well as jazz, and you can hear that in her compositions, which cross over into pop or even dance territory. I love the fact that she is open to so many new influences, and I'm excited to hear the remix version of the band's last album, Requiem For The Faithful 2.0: The Remixes, which is out this summer. I think that Irene, like many of the new jazz artists that I admire, seeks to bring jazz to a new, wider audience, and I hope that when the world opens up again, these endeavours will pay off for her and the band. But most of all, I love the personal element that Irene brings to her songwriting; when she writes, it feels like she bares her soul, and you can hear that in her singing, too'
We are thrilled to have ISQ – Irene Serra Quartet – playing for our 'Women Who Inspire' series at this year's EFG London Jazz Festival, supported by Kind of Jazz.
As part of our short series, we invited team member and fellow jazz artist, Esther Bennett to put five questions to some of the artists performing at this year's EFG London Jazz Festival as part of our Women in Jazz Media event at Toulouse Lautrec.
What does Jazz and being a Jazz Artist mean to you?
Jazz to me has always meant freedom. There's that famous quote from the incredible Nina Simone about freedom: I'll tell you what freedom is to me. No fear." This basically sums up what jazz means to me. I can still remember the deep, visceral feeling of improvising for the first time in my life. I lived for four years in Milan when I was a teenager and I had just started studying with a fantastic Italian jazz singer called Tiziana Ghiglioni. I think I improvised on "Honeysuckle Rose" and we can safely assume it must have been pretty terrible! But what I can so vividly remember is that feeling of freedom and what an awesome experience it was. And that was it, I had the jazz bug. Naturally my focus changed over time and I realised I wanted to both sing standards and learn my craft as a jazz vocalist, but I also wanted to write original material that kept an improvisational approach to the music. And that's how ISQ came about. Next year will be 10 years since we released the first album in 2012. That's madness!
What musical influences and experiences do you think shaped the artist you are today?
I grew up in Copenhagen, Denmark, and the international school I attended had an excellent music department which really nurtured my love for performing and encouraged me to study music throughout my childhood. I was really drawn to storytelling through song and performed in quite a few musicals when I was younger. That gave way to Jazz in my teenage years as I realised that a lot of the great musical songs that I was singing could also be performed with much more freedom and artistry as jazz standards.  Scandinavia has a great music scene, a lot of very distinctive artists and bands that I admire. I do have a soft spot for Nordic jazz as it really evokes the spirit and atmosphere of living in those countries. One of my favourite bands is E.S.T., they were a massive influence on me. Their music was so beautifully crafted, harmonically evocative with incredible melodies and space for improvisation. When I heard them for the first time, it made me realise that it was possible to combine my love of songwriting with improvisation. They were one of the main inspirations when Richard Sadler and I decided to form ISQ.
What non-musical influences and experiences do you think shaped the artist you are today?
Growing up in Denmark and attending international schools was an incredible experience but quite eye-opening at the same time. My family is southern Italian (I'm half Sicilian and half-Sardinian) so growing up in a Scandinavian culture and then experiencing the contrast of Italian society when we would visit Southern Italy for the holidays was in many respects quite brusquely formative. Denmark was a much more open-minded country, especially in regard to women's rights, whereas unfortunately Italy has quite a long way to go before we catch up. The Berlusconi era did us no favours. But the warmth and passion of the Italians and Italy are second-to-none and I must admit there was a part of me when growing up that yearned for that Mediterranean way of life. I did end up living in Milan for 4 years during high school, so I experienced Italian culture firsthand and I always felt like there were these two very different sides to me that struggled to co-exist. Which I suppose is why London was so appealing, besides its fantastic music scene. I came to study music at university and never left. London welcomes everyone (jazz freaks like me included!) and is the place I call home. You find so many different communities living in London and get to experience so many cultures in this huge melting-pot of a city, so it was really the first place I lived in where I felt I fit in.  A third of all Londoners are foreign-born and, although obviously not perfect, I think this city is one of the most successful examples of multiculturalism in the world. It shows the fantastic things that can be achieved when we see our differences as beautiful things to share and embrace. So yes, being a Londoner has definitely helped shape the artist I am today.
What do you think is important about the existence and work of WIJM and how do you think it will affect and benefit the jazz world?
When I first discovered Women in Jazz Media, it was a breath of fresh air to see how inclusive the coverage was, shining a light on so many different women working in a jazz capacity. I was especially impressed to see a lot of attention given to the wonderful female musicians who have really pioneered this movement and are still active on the scene today, tirelessly creating and performing incredible music. Imagine how difficult it must have been as a woman to work in the jazz field 30 or 40 years ago?! So, my hat off to the wonderful women who pushed through all those barriers and persisted in their creative journey. These days, although there is so much more awareness of women in jazz, I feel that the focus can be quite ageist and definitely not skewed towards the older generation of female jazz artists. It's ironic really because ageism and sexism go hand in hand! It's fundamental to understand the importance of seeing and hearing the voices of female jazz artists in their 60's and 70's alongside the voices of the new generation. Another unique aspect of Women in Jazz Media is that it encompasses so many different areas of the jazz world. Besides female musicians, it also promotes female journalists, writers, photographers, promoters and educators. The truth of the matter is, if we really want to strive toward true equality, we need more female voices in all areas of jazz.
What are you going to be performing for us on your WIJM London Jazz festival night?
Richard (Sadler – double bass player of ISQ) and I are in the middle of writing new material for our next album so we will definitely be premiering some of those new songs! It's always great to gauge the audience reaction when playing new material and also gives us a chance as a band to really get a feel for the songs before we go into the recording studio. You can also expect many ISQ classics (!) as I like to call them, so a mix of music from our first three albums. We will also be playing one tune from the remix album' 'Requiem For the Faithful 2.0: the Remixes', that we released during lockdown. It's literally the only tune from that album that we can perform live! And maybe a cover…? You're going to have to come to the gig and find out!
To find out more about Irene Serra: ISQ website
To book tickets for the EFG London Jazz Festival: Ticket Link
Last modified: November 4, 2021