A 12th century cathedral in the heart of Scotland's capital city, Edinburgh, will be the scene of an ambitious online project next month featuring the Scottish National Jazz Orchestra in collaboration with Russian artist Maria Rud.
Streamed over four nights, from May 12 to 15, Where Rivers Meet celebrates four giants of jazz's New Thing movement and will see Maria Rud using the interior of the imposing St Giles' Cathedral as a "canvas" for her characteristically rich, soulful images as she responds spontaneously to the orchestra.
The latest activity in SNJO's 25th anniversary celebrations, Where Rivers Meet combines the visionary ideas of Albert Ayler, Ornette Coleman, Dewey Redman and Anthony Braxton with the arranging talents of American pianist-composer Geoffrey Keezer, SNJO founder-director, Tommy Smith, saxophonist Paul Towndrow and pianist Paul Harrison. Four suites of music inspired by Ayler, Coleman, Redman and Braxton have been devised to feature Smith (tenor saxophone) and long-time SNJO members Towndrow (alto saxophone), Konrad Wiszniewski (tenor saxophone) and Martin Kershaw (alto saxophone) as soloists.
"These concerta are all about expression, the deepest emotion of our inner voice," says Smith. "To reach that space where we summon heart and spirit, the soloists must bare their souls – that was the challenge and the achievement of much of the best of the free jazz of the 1960s and beyond. And that's what we're after here."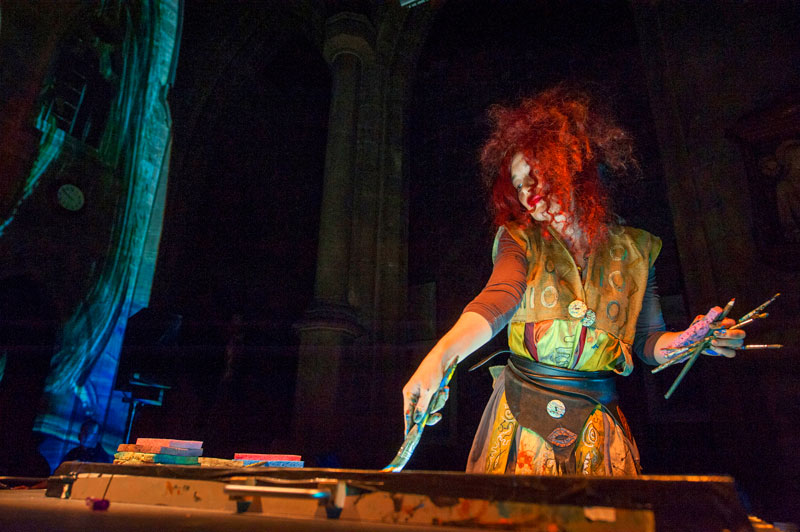 The seeds of Where Rivers Meet were sown when Smith met Maria Rud at an event in the National Museum of Scotland, not far from St Giles' Cathedral, in 2012. Rud, discovering Smith's passion for the visual arts, as shown by his 1995 quartet recording, Azure, which was inspired by the Catalan painter, printmaker and sculptor Joan Miró, suggested that they might one day work together.
Nine years later, they are adding to the SNJO's extensive body of internationally regarded work, which includes the New York recording American Adventure and a revision of Scottish saxophone legend Bobby Wellins' Culloden Moor Suite, with a piece that resonantly captures the meeting of music, art and the architecture of Edinburgh's oldest cathedral.
"Where Rivers Meet is one of the most creatively challenging projects I've worked on to date," says Maria Rud, whose previous collaborations have included The AniMotion Show, which she developed with percussionist Evelyn Glennie and which has now toured in the U.S., China and Europe. "The depth and the improvisational nature of the music awakens new imagery. To collaborate with Tommy Smith and SNJO in St. Giles' Cathedral with its interior as a "canvas" is a great creative privilege."
Where Rivers Meet is available online from 12 – 15 May at 7.30 pm each night.
To buy tickets and watch online visit: livestream.snjo.co.uk
Featured Image by Derek Clark, Maria Rud photo by Douglas Robertson
Last modified: April 28, 2021