Welcome to our lunchtime lockdown series. Here at Jazz in Europe, we wanted to take some time and speak to artists in the Jazz industry, all across the world, about how life is during this unexpected and challenging moment in time. As you all know, gigs and events have been cancelled everywhere and for many musicians, this is their only income. However, everyone is pulling together to support each other and as dark, as the time may seem, it has also become a time for inspiration. We are all in this together and perhaps by sharing experiences, we will realise we are not alone and can overcome these challenges – and what better way to do this, than through Jazz.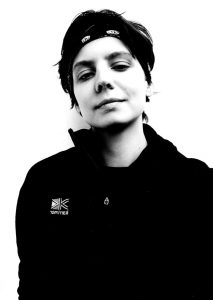 Award-winning artist Lara Jones is becoming quite the force to be reckoned with. She describes herself as a saxophonist, improviser, composer and collaborator and creates immersive, meditative soundscapes with saxophone and electronics. As well as being a solo artist in her own right, she works with many musicians and collectives including being a member of the inspirational J Frisco. Her new album 'Enso' has just recently been released and she says it was 'inspired by train journeys I have taken over the past year, I've been collecting field recordings of these journeys and they are the basis of each track on the album'. The title is in reference to the Zen practice, where the Enso circle represents a state of mind where everything and nothing exists. Lara's album was selected for an exclusive premiere as part of the Manchester online jazz Festival last week.
How is life for you at the moment?
Life is okay, I mean as okay as it can be for anyone in this strange time we are living in. I would have struggled to answer this a few weeks ago but the longer lockdown goes on for, the more I'm settling into this new way of living and trying to make the best of the situation we all face. 
No live gigs or studio work at the moment for most people, so what are you doing musically?
Luckily in February, I recorded my album at a residency in mid-Wales called Capel Y Graig that is run by an amazing woman called Avi Allen. So I've been spending this time editing and mixing the album together, I've just released it (May 22nd) and have been looking forward to finally sharing it all with the world! I've been using this time to learn as many production skills as I can, it's something I've been working on over the past 6/7months and now feels like a good opportunity to hone some of these skills. I'm also working on this album as a wider project for a commission which will turn my music into an interactive installation in train stations; so I've been taking some headspace to think about how I might achieve this.
I should add here, that Lara has just been selected for the Jerwood Arts Jazz Encounters Fellowship which is going to support her in her quest to create immersive interactive installations in a train station. I cannot wait.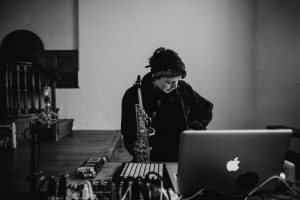 Any particular challenges?
Mostly I'm really missing gigging, I feel that I need to be on a stage somewhere making a lot of noise with my saxophone. Gigging has been my outlet for years and I feel quite lost without that, I'm not sure where to channel the energy and missing sharing it with my bandmates in J Frisco & Beyond Albedo.  Of course, there are the obvious practical issues of losing out financially with all the work that's been cancelled and a change in how we live & work with school closures. It's definitely taken some adjustment for me, especially because the country hadn't been prepared for it but I feel really lucky that I'm in a safe and loving environment.
 
Any positives you have personally found during this time?
I think it's forced me to slow down which I think in some ways can be a positive and it gives you a chance to reflect and plan for how you might change things for the future. I've found it encouraging to see local communities coming together too, we're definitely closer to our neighbourhood and we've been taking time to volunteer and help those in need. It's good to take time to reflect on how you use your time. I also feel incredibly lucky that I get this time with my fiance and little boy, we're usually all so busy and we all spend a lot of time away from home, it's a good chance to all be together.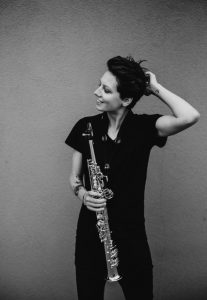 The best way for everyone to support you?
I'd say give my twitter a follow and have a look at my album release. There's a live track on Bandcamp currently if you fancy checking it out which is under the name Lara Jones – Saxophone. My bands are J Frisco, Beyond Albedo & This Is Not Jazz which also has releases on Bandcamp, any support is greatly appreciated in this time but more anything I'd say people spending time with your music is the best thing you can do for musicians.
Any words of wisdom for people stuck at home?
I guess I'd say to people that it's okay to have a lot of ups and downs during this time because it's not a usual kind of time. Nobody has an answer on how to cope with it all but just keep making something happen every day and help out your local communities. There are loads of people that need people right now, if you're bored and lonely then offer your time to those that need it and if you're a carer know that's it okay to find it hard, it is hard but keep going, this isn't the way forever and what you're doing is a brilliant thing and if you're somebody in need don't hesitate to ask for help, there are good people out there and you're not alone.  On a practical level, it's really helped us to make a schedule, I think for some it could be easy to lose track of time so I'd try and schedule your Monday-Friday whether that's with work, childcare, practice, home life, exercise, cooking, whatever it is I'd keep to a schedule, get up at the same time every day and make something of your day… and if you're really stuck do some DIY!
Artist: Lara Jones Music   Spotify – Twitter – Facebook & Bandcamp
Senior writer: Fiona Ross
Photo credits: Jess Rose + Selfie
Last modified: June 10, 2020