It came as a huge shock to the world of jazz when the news broke of the passing of trumpeter Roy Hargrove last November. I recall the day after Roy died speaking with Reggie Washington a longtime friend and band-mate of Roy's. We were both in a state of disbelief.
Earlier this month I asked Reggie if he felt like writing a piece on Roy, no guidelines, word count or any other restrictions, just write what you feel you want to say. Reggie agreed and you can read his piece below. I hope you enjoy reading this heartfelt account and Reggie's open letter to Roy. – Andrew Read

I first heard about Roy through my brother Kenny Washington talking about this young blood trumpeter that could play the HELL out of a ballad on the Flugelhorn! We first met in Europe in 1991 when I was on tour with Steve Coleman & 5 Elements.
The next few times we "met" he didn't know me from a hole in the ground. His Quintet was killing it at the time and he was thinking of nothing but the music!
We got to know each other during a recording session at Systems 2 studios in Brooklyn with Steve Coleman. The first thing I admired about him was his rapid absorption of music and could quickly cop a feel for what was going on. I later found out that's what he admired about me.
We played on the same festival stages in the '90s when he would sit-in with us. I was touring with Branford Marsalis & Buckshot LeFonque and he recorded on the first Buckshot LeFonque album. There also were countless jam session stages that we shared.
Remembering the 2002 "Hardgroove" session at Electric Lady Studios in New York, it was a huge musical jamboree of unique & killing musicians from every musical flavor recording together (at different times) for 2 weeks. I recorded with so many great folks in a 5-day period just to stay up with Roy's crazy recording pace. I got an education from everywhere. And gave a little too.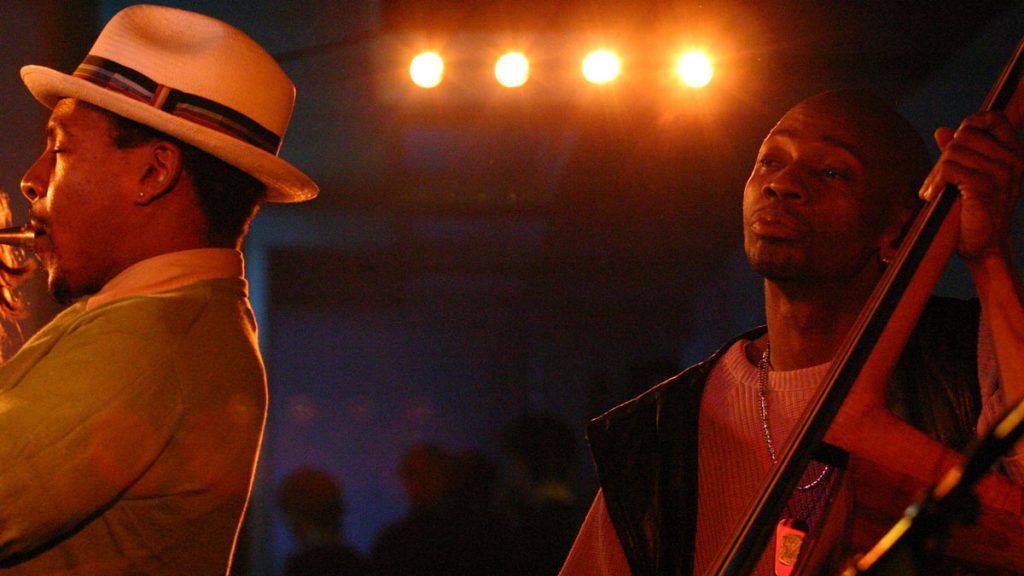 RH Factor was, is and will always be a Family. It gets that way when you're On-the-Road together for 2 years non-stop creating a vibe. Just like a family; we had our ups & downs, our highs & lows during the time and dealt with it to make music from the soul. Folks can believe in that! In RH Factor, Roy was a member of the band and not just the leader. He could count on us and he let everybody have a chance to shine on-stage.
ALL the stage performances were truly special moments (and some very unusual ones), but there was this place in the tune "The Joint" where it was always that "special moment" for Roy & I. It happened more often than not where at this one spot I'd sing the trumpet part with Roy every night.
He'd look at me & sing "Oooooooooooohhhhh" instead of play! It always brought the music to a new high!
The everlasting thing I learned from Roy is you have to leave EVERYTHING you've got (heart, guts & soul) on the stage! Every gig!
Play for the music… Always!
An open "thank you" letter to Roy
Dear Brutha Grove,
We didn't get a chance to say goodbye after the "RH" tour when we hit the McDonald's for an after-gig late night snack in Japan in September 2017. I don't normally eat "McD's", but I thought it was cool to hang out with the Hargrove Brothers (You & Brian a/k/a "Theory") and my stomach would eventually forgive me.
I had no idea that it would be the last time we would see each other. If I knew, I would've talked and laughed about our countless "touring adventures", the many Worldwide jam session runs we made which became your mission to share the music with everyone on every level! You were a musical ambassador of the highest order.
I can only now thank you for creating the groundbreaking band RH Factor. In 1995, I can still remember you talking about wanting to do the same kind "Buckshot LeFonque joint like Branford was doing"! I'm glad you followed through with your dream.
I especially wanted to thank you for asking me to be a part of RH Factor family. Because of this musical journey, we were able to travel the world meeting so many special people and sharing the music, saving souls and changing people's lives. In essence, you are responsible for changing my life. Because of you, two "by-chance" meetings occurred.

The 1st was during our RH Factor Summer 2003 European tour; which brought us to Blue Note Jazz Festival in Ghent, Belgium where during an interview, we did an impromptu "rap & beat-box" routine for a Belgian music journalist (Jempi Samyn). The 2nd we fast forward to 2005 in New York City where I met the same journalist and a cute young lady on 157th Street at 4:30 am coming home from a gig! Since that meeting, the journalist has become a close friend and the cute young lady (now my wife) brought unconditional love back into my life and together Stefany and I created a family!
The musical journey with you set me on the spiritual & musical path (as a leader) I follow today. Unfortunately, I didn't realize this until after you transitioned. I wanted to thank you for being a musical visionary and sharing this vision with us! It was a fertile ground where the band grew as musicians/artists and perfected a uniquely "Hardgroove" sound & vibe!
Thank you again Brutha for the musical education by example. I'll keep screaming your message. Play for the music… Always!
Sending up some love to you… & give a few pieces to Jef Lee for me.
Rest well…
Holla… Reggie Regg


Editors Note: In February this year Reggie will play a number of concerts with his new quartet "Vintage New Acoustic". The band features the same line-up as on the album of the same name recently released on the Jammincolors label. Concert dates are as follows:
09 Feb – Jazz Club Minden – Minden, Germany
11 Feb – Club Telex – Ghent, Belgium
12 Feb – New Morning – Paris, France
13 Feb – Opderschmelz – Dudelange, Luxembourg
More information can be found on Reggie's website.
Photo Credit: © Jempi Samyn
Last modified: March 2, 2019