Legendary Drummer Jimmy Cobb Still Swinging After All These Years 'Remembering U'  features guest appearance by the late trumpeter Roy Hargrove.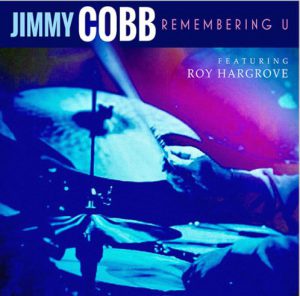 A consummate accompanist, unerring timekeeper, outstanding soloist and dynamic leader in his own right, revered drummer Jimmy Cobb showcases his inimitable touch on ballads and his irrepressibly swinging ride cymbal pulse on Remembering U. Accompanied by his working trio of Japanese pianist Tadataka Unno and Italian bassist Paolo Benedettini, Cobb's latest stands as a tribute to those people who have been a part of his long journey in jazz and are no longer with us. Special guests include tenor saxophonist Javon Jackson and the late trumpeter Roy Hargrove in one of his last studio sessions. The recording also marks the final session of legendary engineer Rudy Van Gelder, who presided over classic sessions for the Blue Note, Prestige and Impulse! labels. (Cobb remembers playing on a Van Gelder session in the mid-1950s when the fledgeling engineer was operating out of his parents home in Hackensack, New Jersey.)
On Remembering U, 2009 NEA Jazz Masters Award winner Cobb proves beyond a shadow of a doubt that, at age 90, he is indeed still swinging after all these years.
Cobb's expansive list of recording credits over seven decades reads like a Who's Who in Jazz. Among the countless sessions he participated in since the mid '50s are such landmark recordings as Miles Davis' Kind of Blue, Sketches of Spain, Porgy & Bess and Sorcerer, John Coltrane's Giant Steps and Coltrane Jazz, Wes Montgomery's Full House, Boss Guitar and Smokin' at the Half Note as well as potent sessions with Freddie Hubbard, Stan Getz, Bobby Timmons, Cannonball Adderley, Sarah Vaughan, Sonny Stitt and a string of acclaimed trio recordings with pianist Wynton Kelly and bassist Paul Chambers. On Remembering U, his 12th as a leader and first for his own Jimmy Cobb World label, Cobb and his versatile crew display remarkable chemistry on 12 tracks.
Direct New Album Purchase: Remembering U + Album Release Party at Dizzy's Club on November 25th
Track Listing Writer(s)
Eleanor: Jimmy Cobb
Pistachio: Alfred "PeeWee" Ellis / Eleana Tee
Man In The Mirror: Glenn Ballard / Siedah Garrett
Remembering U: Jimmy Cobb
JC's AC: Tadataka Unno / Paolo Benedettini
Composition 101: Jimmy Cobb
I Just Can't Stop Loving You: Michael Jackson
Willow Weep For Me: Ann Ronell
W.K.: Jimmy Cobb
Cedar's Rainbow: Tadataka Unno
I Don't Wanna Be Kissed (By Anyone But You): Jack Elliott / Harold Spina
Cobb's Belle: Jimmy Cobb / Dave Mathews
Recorded 20, 21 and 28 June 2016 at Van Gelder Studios, Englewood Cliffs, NJ.
Personnel:
Trio:
Jimmy Cobb – drums (on all songs)
Paolo Benedettini – bass (on all songs)
Tadataka Unno – piano (on all songs)
Special Guests:
Roy Hargrove – trumpet/flugelhorn (on "Eleanor", "JC's AC", "Willow Weep For Me")
Javon Jackson – tenor saxophone (on "Eleanor")
Executive Producers
Jimmy Cobb / Eleana Tee
Producer – Serena Cobb
Associate Producer(s)
Paolo Benedettini / Tadataka Unno
Recording Engineer-
Rudy Van Gelder
Mixing Engineer(s)
Maureen Sickler / Don Sickler
Mastering Engineer
Katsu Naito
Senior writer: Scott H. Thompson is an internationally published jazz writer
Photo credits: Giuseppe Iazzolino
Last modified: September 21, 2019