Editors note: Next to our regular series of album reviews written by the Jazz In Europe review team, we have introduced the idea of "Peer Reviews". We asked Leo Sidran – a musician, composer, performer and producer. Leo co-produced the Oscar-winning song "Al Otro Lado Del Rio" for the soundtrack to the movie The Motorcycle Diaries. Leo kindly provided us with his thoughts on Paola Vera's recent album "ADDICTED".
In the final moments of Paola Vera's album Addicted, she sings "Now that I've found you time stands still, every day feels new." There is stillness, hope, and a sense of transformation. This is who she is today, in this moment. New love blossoms. New life emerges.
But before arriving in this quiet cathartic space, she has traveled across culture and language, through a kind of tumult that is not unfamiliar to anyone with a dream in their heart, but particularly those of us who strive for creative expression.
As Paola writes in her liner notes, "since my last album I have moved to a new country, learned a new language, and had the chance to fall hopelessly in love (several times) – all forming part of my journey which you will hear and experience more about on this album."
Indeed.
Listening to Addicted one gets the sense of this journey playing out in real time. Though this album was recorded in the French countryside that Paola now calls home, it was not so long ago that she was a jazz, r&b and pop singer living in London, a regular fixture on several scenes, fitting in the cracks between genres.
Vera is an accomplished pianist, singer, teacher and songwriter who was raised on a rich variety of music. She moves easily across a large vocal range, sometimes dipping down into a rich chest often reserved for gospel singers, sometimes meeting us in a light whisper, and other times belting. Her piano playing never overshadows the voice but is always impeccable and supportive.
Like so many artists of her generation, her challenge has always been to find an original point of view that captures all of her various influences and inspirations. And that process can be painful.  
The album opens with a suite of songs that address that challenge and explore the edges her artistic life in London. Nostalgia ("One last time"), romance ("Get out my face"), work ("If things were easy"), hope ("One day"), and faith ("More than meets the eye") are all in play. It's uphill both ways, and she toes the line between exasperation and optimism. But there is a sense of opening and of expectation in these songs.
Musically she walks the line here as well, between pop ballads, soul jams, and jazz sophistication. Always leaning one way or the other, but never straying too far from the essential elements of piano, bass and drums. At the heart of it these are songs, independent of category or genre.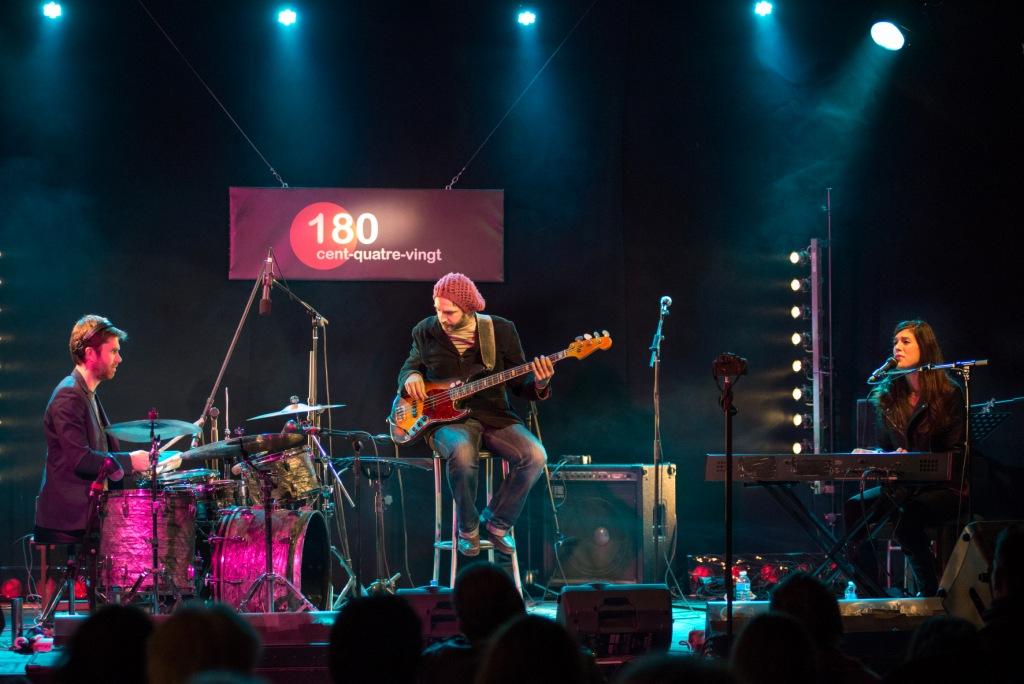 Then a moment of reckoning arrives on the album. She finds new love but she's not ready to give up her struggle. The Gospel tinged "Fight Or Surrender" is a turning point.
She writes, "I'll give myself to you when you lose yourself too." She may be singing to a lover, or maybe to the listener. In either case, Adrien Camaret's blistering guitar solo is worth waiting for.
Now the wheels are on the tracks. The artist has found a new muse and a new sense of confidence, and nowhere is this reflected more than in the title track "Addicted". It's funky, dirty and a little nasty too. This is where she hits her stride. It captures both the London soul sound that delivered her here, but also the organic simplicity of the French country life she now lives. The sound is supported nicely by drummer (and producer) Emmanuel Feramus' organic groove and bassist Antoine Arroyo's crunchy pocket.
Perhaps my favorite moment on the album is one of the more restrained "Home". The simple, direct and elegant song captures Vera at her most unadorned. Underneath it all, she may truly be a torch singer. The melody is both familiar and somewhat surprising; this is exactly how I think of Paola. And as a special bonus the great British trumpeter Quentin Collins makes his lush appearance here as well.
But just as in real life, moments of peace are often followed by chaos. After the calm comes the storm, and wherever you go there you jolly well are. Paola finds herself back in the "Rat Race" waiting for a guiding light. She sings, "Years have past but still no sign. I've been searching far and wide only to find you've been there all along." I choose to believe she's singing to her best self here.
Ultimately we arrive at that moment of stillness and peace in which the dust settles in the rear view and the armor is dropped. That brings us back to "Now That I Found You" in which real peace is achieved in beautiful simplicity.
The journey is ongoing for Paola Vera, and wherever she goes next, one can only hope she will continue to take us with her.
Text: Leo Sidran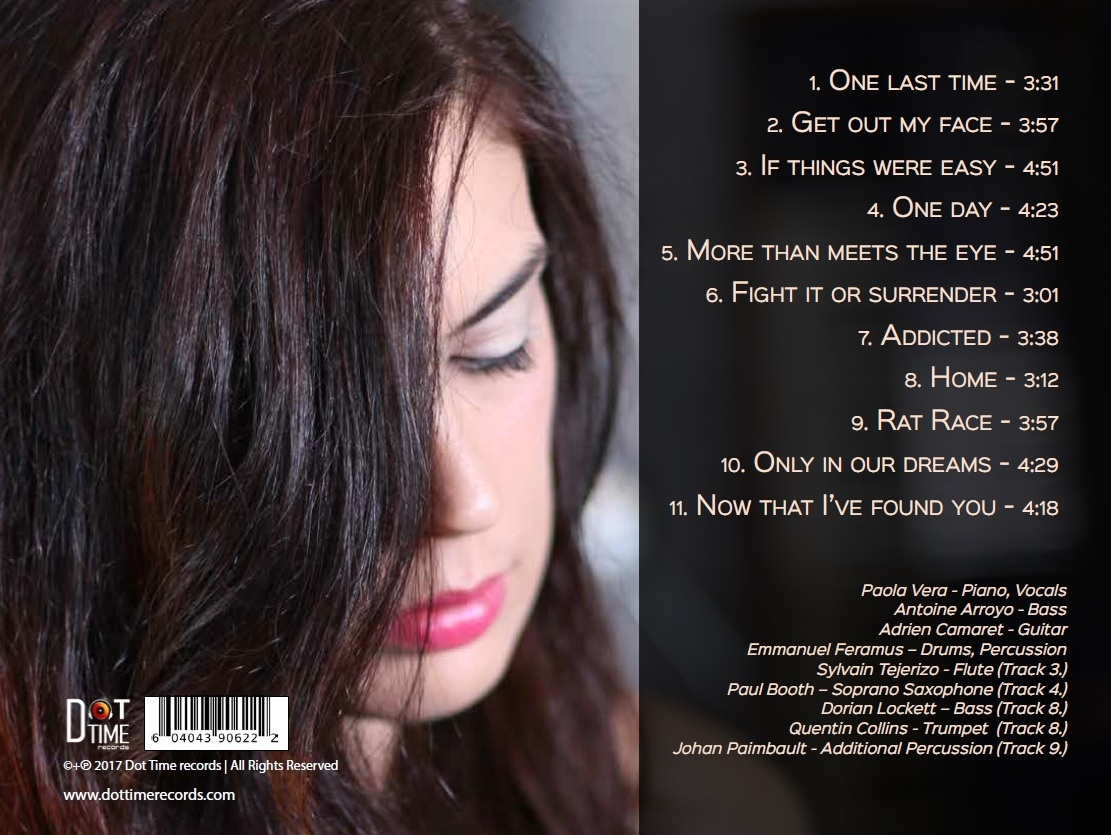 Purchase: PaolaVera.com Music  – (Editors note: Watch out for Paola's new single 'Rise Up' – out in December 2017)
Images: Patrice Gaudin, Francesco B'ozz, Nigel J. Farmer and (c) info: all rights go to original recording artist/owner/photographer(s)
YT Video: misspaolavera
Last modified: July 15, 2018