Spontaneity may well be the most important element of jazz expression… the immediacy of creativity in its purest and most adventurous manifestation. For the extraordinary pianist Jean-Michel Pilc, the live performance represents the pinnacle of that level of spontaneity. In his outstanding new release on Justin Time Records–Alive–Live at Dièse Onze, Montréal–Jean-Michel and his bandmates Rémi-Jean LeBlanc and Jim Doxas on bass and drums respectively, splendidly offer proof of this concept. In his liner notes, he describes this state as"improvising musicians in their natural habitat, the jazz club, playing music for the sake of music, never repeating themselves, and creating sounds that they will never replicate."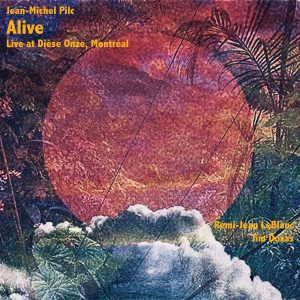 At its higher levels jazz tells vivid stories, and those told by the trio are fascinating, multi-nuanced,intricately woven tales of rich texture, color and unexpected plot twists. This concert, recorded in June 2021, marked the trio's first performance since the onset of the COVID pandemic."The music was vital, to us and to the audience,and we experienced the full gamut of human emotions."Reflecting this, the music travels roads that are remarkably winding and varied in steepness and direction, but always totally focused on the ultimate destination. Through this journey–as Jean-Michel goes on to say"unpredictability becomes evidence."As intense as the emotions may have been, the music is brilliantly crafted and totally cohesive–a testament not only to the mastery of the musicians, but also to the deep understanding and sensitivity to each other and the pursuit upon which they embarked as a unified force. It's also an example of collective improvisation at itshighest level."Since a while ago, all my concerts are totally improvised-no set list, nothing prepared, just let themusic lead the way. Icome on stage as a newborn, ready for a new life, a new journey, a new experience everytime. My bandmates are part of that experience as much as I am myself, every note they play becomes part ofthis life we are living together on the stage."
Collective improvisation is often dismissed as a method of haphazardness and serendipity, hoping that things may work out and expecting the audience to simply enjoy the adventure. But in the hands of superb musicians united by purpose, the results can be exhilarating, utterly captivating and tremendously uplifting. The music here contains endlessly delightful surprises woven seamlessly into the intricate fabric within the individual pieces themselves.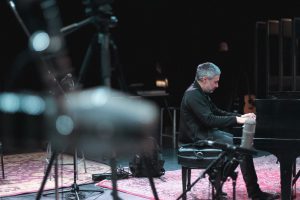 Two Miles Davis classics provide excellent examples… from the sheer simplicity of lyricismin Nardis, like a consistently evolving, but persistently gentle snowfall of filigreed delicacy; to the rumbling and rolling All Blues, escalating into a two-fisted romp that culminates in a scalding rapid-fire explosion of breath taking intensity and ferocity. The Hammerstein/Romberg song that became a jazz standard Softly, as in a Morning Sunrise passes through so many stages of musical evolution ,from its fragments of melody Tristano-ish opening through thunderous crescendos that never lose the sensitivity of the song, and culminating in a tantalizingly slow bluesy swing evoking the territories explored by Bud Powell and Herbie Nichols.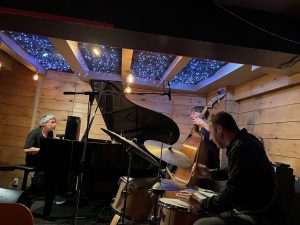 A pair of Pilc originals are also included–11 Sharp, a highly rhythmic, somewhat Monkishly grooved excursion, consistently evolving in melodic variety and emotional intensity; and the title piece Alive, an evocative, persistently explorative foray in gently insistent lyricism, which ends this wonderful album on a subtly provocative note. Music like this can only be achieved by such consummately impeccable musicians as these three gentlemen. LeBlanc and Doxas are not simply sidemen by any means, as Pilc's music demands far more ownership of the music by all the collaborators.
Throughout the album, the bass and drums solos are never just there to give them some playing space, but are fully woven into the textural fabric of each piece.
The concert was recorded in its entirely and the remainder of the music is available in digital form only. You can find the complete 2nd set on your favorite streaming or download site.
Last modified: April 13, 2022