While I receive many submissions for review at Jazz In Europe, I made first contact with Moncho Rios, after hearing a sample track via his YouTube Channel. I was immediately struck by his colourful relaxed guitar playing style which is visually represented on his CD cover photo.
Moncho must have wondered who this guy was asking to review his new CD via Facebook Messenger. Moncho did however graciously agree to send me the CD by post. The postal services from Puerto Rico was agonisingly slow, finally the CD 'Just Feelings' arrived safe and sound. The first thing I did was take a photo of the CD on my balcony and I sent it to Moncho, proving it arrived safely. 
A native of Puerto Rico, Moncho Rios self-produced 11 song album is hard to categorise as Moncho explores various Jazz guitar playing styles throughout the album. In fact the more I listened the more complex I realised Moncho's outpouring of himself is given over to this production.
You can hear and recognise influences of guitarist past and present that Moncho has obviously resonated with throughout his music career. Taking those influences and seeding them with his own expressive feelings, including his obvious deep love and appreciation of his immediate family and close friends. An authentic Love letter that he offers listener to share with him as deeply as the listener wishes to go.
Right from the start of the first track – 'El Duelo' – the music has you engaged. A really nice interplay between Moncho's clean guitar solo and the distorted guitar solo, performed by Raul Romero.
Within the first few bars of the second track you get a complete change of pace with 'Funk Kafe'. With no let up you move into a wonderful Latin vibe, titled ' Para Mis Hermanos'.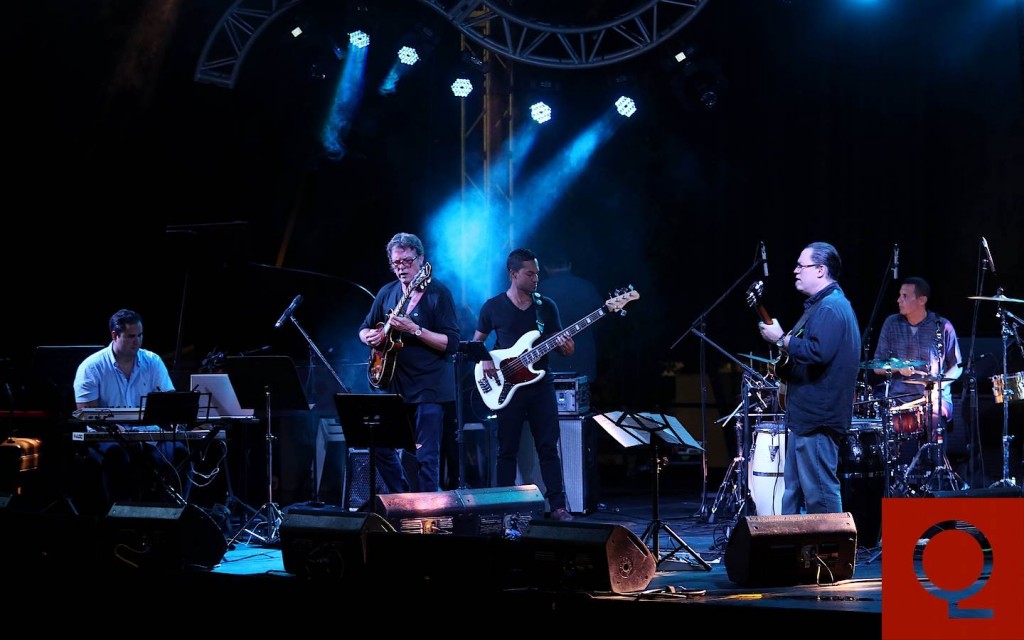 The enjoyment of this CD is its continual style shifts throughout the whole 11 tracks, which allows each track to stand alone. As I mentioned earlier there is a real authenticity of emotions – just listen to track 6 – 'Mother' I am sure you hear a younger Moncho playing to his mother. Perhaps he's discovered a Wes Montgomery LP and spent hours in his bedroom practising, and your hearing a recreation of a loving moment between them as he excitedly shared what he'd just learnt to play on his guitar as a boy.
I particularly enjoyed track 9. 'Esthela'. Recently with the late summer sun I went cruising with the roof down, doing my utmost to emulate a backing singer for Moncho or even George Benson or Norman Brown.
Track 10 is 'Guapo Blues' its like four blues tracks rolled into one. Listen out for the Hammond organ interplay – very nice.
The last track – 'Rios Funk' – leaves you in no doubt that Funk is alive and very well represented in Puerto Rico. In fact this is one of those tracks when you suddenly become conscious that you've been tapping along with your foot or hand from the very start! My body actually experienced office chair aerobics, yes I confess…
As first mentioned this is a self-produced album, 'Just Feelings' by the very talented Moncho Rios. An album of emergence, quality, great value and continuous discovery…
Musician:
Moncho Rios – guitars
Edgardo 'Egui' Sierra – bass & keyboards
Jose Ruiz – drums on tracks 3,7,11
Hector Mator – drums on tracks 2,4,8,9
Pepe Jimenez – 5
Efrain Martinez – 1, 10
Angel David mattos – keyboards on 3,4,7,8
Amuni Nacer – organ on 'Guapo Blues
Raul Rrodriguez – percussion
Rigo Collazo – timbales on 'Jessica'
Guest Musicians:
David Sanchez – saxaphone on tracks 3,5,8,11
Raul Romero – guitar on 'Cenizas'
Fidel Morales – bata drums on 'El Duelo'
Super special guest:
Eusebio 'Chebi' Rodriguez – guitar solo on 'Cenizas'
Photos: Raul Romero, Javier Santiago & Moncho Rios
Cover concept by Moncho Rios
Direct purchase link for: 'Just Feelings'
YT Video: bassplayer
Last modified: July 15, 2018