Recently we featured the new album by Chicago based vocalist Tracye Eileen titled "You Hit The Spot" on our new release Spotify playlist and the tracks we featured proved highly popular amongst our listeners. A month or two later, Jan Veldman reviewed the album and was also highly impressed.
Not long after this we received a mail from Tracye thanking us for the playlisting and review, something that's always appreciated here in the Jazz In Europe Bat Cave. Mailing her back to say that she was of course your welcome I also decided to include a suggestion that perhaps we should take the time to hook-up on Zoom for an Interview. That said, we finally found a slot that worked and the results can be read here below.
As with most of my interviews, I was interested to find out what sparked Tracye's journey in music. Tracye recalled that she had been singing almost all of her life but her true first steps into the world of music can be traced back to when she was 8 years old and auditioned for the third grade school play. There were doing the wizard of Oz and she was auditioning for the roll of Dorthey. She remembers that she was so shy that she couldn't speak loud enough however when it came to singing: "It was like, Oh my God, and the faculty was blown away." So to cut a long story short, she continued "I practiced the dialogue in my grandmothers basement and it was fine. But at school, no way. Anyway, they decided to change the scene and have Dorothy fall asleep and I would came in as a Fairy Godmother and sing Over the Rainbow. So, I guess that was the beginning.
Following this, Tracye continued to sing in the church choir and the high school band and it was here that she first came into contact with jazz. "That was the first time I ever sang some Billy Holiday" Tracye interjected. While Tracye wanted a career in music, she also didn't envisage a life as a "Staving Musician" so instead decided to pursue an academic career that would eventually land her in the corporate world. Eventually the call of music became to strong and Tracye enrolled in the Bloom School of Jazz in her native Chicago. On graduation, Tracye was given the opportunity to record and the result of this became her first release titled Love's Journey (2012). For an independent release "Loves Journey" proved quite successful leading to what would become a 6 year residency at Chicago's Buddy Guy Club.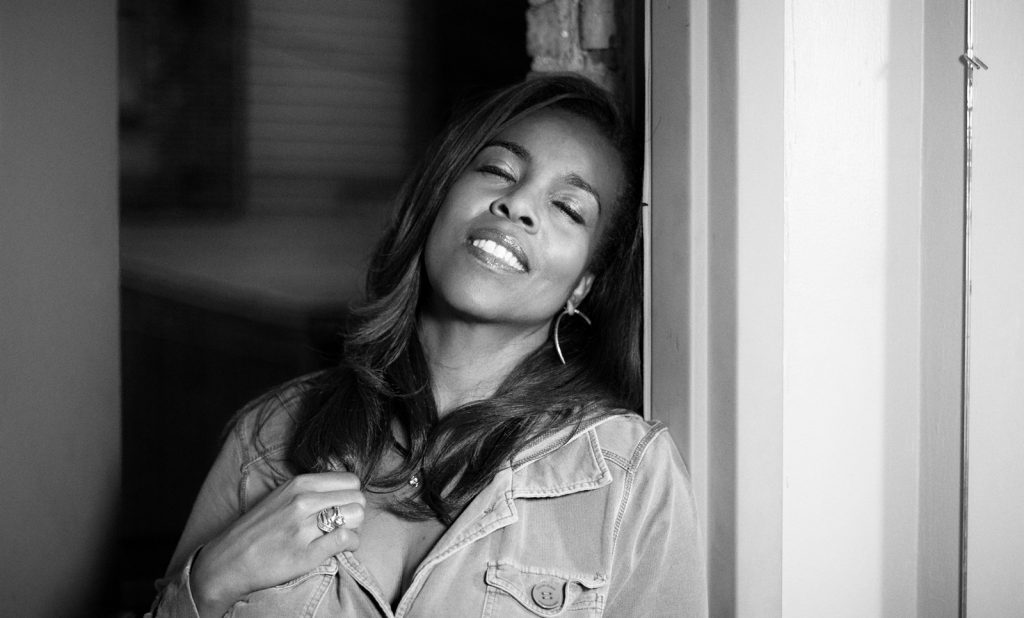 Tracye's first release was firmly rooted in the tradition and focused largely on repertoire drawn from the American Songbook however, for her follow up release, "Why did I say Yes" in 2018, Tracye and the band took a different direction and introduced more of a Soul/R&B feel. This album was somewhat edgier and allowed Tracye to step out of the confines of the standard jazz tradition with the result that she substantially widened her audience. Tracye didn't see this as a major change of direction, she explained "We still did a lot of the standard jazz repertoire but we introduced some really interesting arrangements of some soul tunes, as well as some covers of tunes from Steely Dan or Michael Franks but, I think the main pay off was not just a wider audience but, in that time the band really developed into a real ensemble verses just a backing band. I think you can really hear this on that album."
Tracye's third release was however a departure from the first two albums. Tracye was looking for radio play and together with her management decided to move more toward the Adult Contemporary genre. This time Tracye worked with a producer in Nashville and together they wrote a set of songs that were recorded with a session band. Then right around the time the album was set for release the Pandemic hit. However with all live performances cancelled this worked a little in Tracye's favor as for the first time the playing field had leveled, after all, no one was doing gigs. The album was released and proved successful with a number of tracks hitting the Billboard charts and gathering some substantial international airplay. however as things go, an album's life can only be sustained with live performances and with this not available Tracye launched an online show called "Meet Me In My Parlor" that proved to be somewhat of a internet hit, with thousands of people tuning in every Friday. Tracye went on to say "Doing that show had it's challenges and I can't believe I was able to keep it going for the entire pandemic."
As we all know the pandemic had a profound impact on almost all segments of society and not just the music industry. During the period many people took a step back and either re-evaluated their lives or as Tracye put it had an "Epiphany" and this was also the case of for Tracye. She explained, "Just after the clubs were opening up again my musical director, who had been with me almost 10 years, said 'Tracye – I've got the chance to move into music licencing and I really wanted to do this'. So he wanted to leave the band and he knew I also wanted to do other things, so around that time my agent said, Tracye I think it's time for you to go back to your roots."
This was the impetus for the new album "You Hit The Spot". Tracye immediately started to consider repertoire and who she wanted to play on the album. With the number of great musicians active in Chicago, this was not going to be a difficult task. Tracye had the concept to record the album with two ensembles, a straight trio for some repertoire and a larger ensemble to explore a number of songs in an expanded setting. Putting the trio together was the first step. Tracy explained, "I was able to get an amazing piano player, Dennis Luxion and drummer Linard Stroud was also available. My bassist who had been with me for almost 10 years, Paul Martin was available and filled out this line up.
Tracye recorded the live part of the album at PianoForte, a facility in Chicago that not only a studio but also a great performance space." We recorded five tracks on the album here, my goal was to have these tracks retain that spontaneity that you can only get during a live performances but still have a controlled environment for the best sound quality. However next to this Tracye wanted to record a set of tunes in the studio with a larger ensemble so she began to assemble the forces for this. "I needed to find an arranger and when a friend suggested that I see who might be available for the music faculty at Columbia University, I started to look around and eventually found four people that I thought I could work with. I eventually chose to work with Thomas Gunther and he did the arrangements for these tunes. We finally settled on recording these with the sextet. It was an interesting process as we didn't actually meet face to face until the first session, given that this was all done during the pandemic, I don't think this way of working was all that unusual, we spent a lot of time on Zoom and exchanging ideas by email. I really don't think this hindered the process at all. it actually went very smoothly."
The studio band was different to the live band and according to Tracye this was a conscious decision. "I really wanted these tracks to be a contrast to the live tracks but at the same time it was important to retain the consistency of the sound, so in a way it made sense to use different players for this" explained Tracye. The band consisted of Jeremy Kahn (piano), Jon Deitemyer (drums), Stewart Miller (bass), Steve Eisen (reeds), Raphael Crawford (trombone), and Victor Garcia (trumpet). Also for the project Tracye brought in Sasha Daltonn as Associate Producer who worked with Eileen on song selection and interpretation. Daltonn is a well-known Chicago-based jazz vocalist whose one-woman show, Sasha Sings Dinah!, enjoyed long runs in Chicago and Off-Broadway.
Eileen has always been attracted to the great vocalists from an earlier era, like Nancy Wilson, Ella Fitzgerald, Carmen McRae, Billie Holiday and Nina Simone because of their extraordinary ability to tell stories through music. Indeed, for Eileen, there is no difference between singing and storytelling, and she approaches a song much like an actor approaches a role. She analyzes each song by writing a narrative about it. Once she settles on the details, she tailors her vocals to fit the story arc of the song. Although Eileen's sound is reminiscent of her idols, her style is soulful, bluesy, and modern.
I was interested to know if Tracye had plans to tour in support of the album. "Well yes indeed, while I don't have concreet dates at the moment, dates are being locked in at the moment and I hope that I can announce some dates soon. My agent is also working on booking some dates for later in 2023 in Europe. It's always been a dream of mine to play in Europe with my own band. I've often read that throughout history African American artists have been really well received by European audiences. I've have toured Europe with a gospel choir, it was a ten city tour, mostly in Germany, Switzerland and Italy and I have to say I loved it. So, I hope we can get something together.
While Tracye is no stranger to writing, after all she shares co-writer credits on the "It's Time" album, I was interested to know what she has in store for the follow up to "You Hit The Spot" album and if this will contain original material. She replied "Yes, for sure. I really enjoy writing and while I love writing lyrics, I also enjoy developing melody and sketching harmonies. When I first started writing, I would have it all in my mind and then work with my pianist to nut it out, it was a great collaboration. With my last album before "You Hit The Spot" I co-wrote the material with the producer, he often came up with the hook and I'd write around it or, I'd show up with a sketch for the chorus and he'd write the bridge, it was a true collaboration as far as that goes. You know, the weird part about that album was that the songs ended up coming out like a trilogy that told a story, it wasn't meant to be that way but that's just how it worked out." I was interested to know what direction the new material would end up going, Tracye continued. "Well, I've given it a lot of thought and while I'd like to keep in in the style of those classic standards, I'd like to stretch it into some more progressive areas. I'll just have to see how the inspiration comes."
As often happens with the interviews I do, things tend to go off the rails and before you know it we've covered politics, solved the worlds problems and discussed subjects that have nothing to do with the task at hand. So in a vain attempt to bring some order to the proceedings, I asked Tracye to tell me what she still had on her bucket list. She replied "Well, one thing that I would love, is to do some Film and TV work. I've got no real ambition to be an actress, but for some reason, I would love to play a cameo role as the Jazz singer in a production. That might sound crazy but I'd love to do that. Also believe it or not, I also plan to establish a YouTube series and it's going to be called "Beauty at any Age". It's going to targeted to women and tap into the inner beauty through your passions and building confidence, so there are couple of the things I want to do. Also high on my bucket list is to retire overseas, somewhere with a better climate."
After some back and forth, we both settled on Italy. With "retire in Italy" also being an item on my bucket list, I suggested we should get together for a drink however the reality of that prospect is that by the time Tracye get's to retire in Italy, I will have, most likely, been pushing up daisy's for some time.
It was a great pleasure to speak to Tracye and I urge you to take a listen to her current release and catch her live whenever you get the chance.
Stream "You Hit The Spot here:

Last modified: January 14, 2023