Award-winning recording artist, instrumentalist, composer and arranger Natalie Greffel has just added a significant achievement to her already inspired portfolio – curator of the XJazz Festival. Born in Mozambique, raised in Denmark and living in Berlin, she brings a wealth of experience to the role and her vision for the industry is one that we should all follow.
As Natalie was reaching the end of her formal studies, the Founder and Festival director of X Jazz Sebastian Studnitzky immediately connected to Natalie's work while judging her final exam, booked her for performances and eventually asked her to join the team as a curator for this year's festival. The result was a visionary portfolio of artists. Stunning musicianship and artistry and a rarely seen beautifully diverse programme. We are all aware of the many discussions about gender balanced festival line ups across the world and the X Jazz festivals programming is arguably the most beautifully diverse schedule I have ever had the pleasure to see. But the gender and diversity balance is not only related to on the stage and there are few female curators. I spoke to Natalie about her role as one only a few female curators and if she felt any pressure.
I think it was more about black curators for me, as a black person. I think that in Berlin at least, and it's a harsh thing to say, but I think at least in music and jazz, it's a lot of white men playing music which, we're in Europe, so it makes sense. I had some experience of curating before and that's when I really started thinking about how do I want to curate, if I do curate and that was more about setting it up in a way that I was doing more than I should have, but just to make sure that the artists were seen. And that's something that I think also the people from the XJAZZ noticed and they were like, this is exciting, how she's like presenting artists… and so I'm just bringing that energy.
And what energy! Natalie is inspiration. Talking to her, you cannot help but get caught up in her excitement, passion and strength. For a musician, the process for being selected for a Jazz festival is something that is not always transparent and rarely openly discussed. There is little training for music curators, and it seems to be a learning on the job type of role. Natalie and I discussed her process and what her vision was.
 I centred on my own experience honestly. I've toured quite a bit and so I know what I would love to see and what I'm missing, and I think a lot of things can be changed. I think everybody is doing a great job, but I also think there needs to be more flexibility and more perspectives, it's important. And being a black person, a black queer woman in Germany, there are a lot of things that I often felt were missing. A way of working for me has been too really manifest it in my headfirst and then when I get asked to do things, I can think about that. Also you know most of my friends here, that are black, are also artists so we talk about this a lot, privately, so I bring all of that forward when I'm thinking about curating – what is it that is missing, what is that I'm not seeing and what is it that we want to see? So, for me it is a lot about trying to see – what have I seen here before that was great and where can I offer things that are different, you know?
Coming from a musician's perspective, Natalie is at one with the artists and her experience, as a musician has proved invaluable. She cares about the experience the artists have.
I don't know about other curators but for me personally I've been having meetings with them, I've talked with the people who are coming, I check in on them and I make sure that if anything is needed, they can contact me. I feel, as an artist myself – you have to write to the festival and then you get some kind of e-mail and you don't know who it is and for me I'm like, OK, actually I have nothing to do with that particular space but I'm still going to contact you because I know that a lot of artists that come through are not always feeling safe in different spaces and socially.
For the people I am curating and the people that I see coming through, I can reach out to and make sure that I put extra effort into making sure that they have information, or if they need something. I was just hanging out with Melanie Charles just now and I'm not curating her – I wish I did – because I know her but I reached out to her personally and I said if you need something, let me know, because you know that kind of relationship, it's important.
It's like a very delicate dance because usually if you complain about something then the festival , the next year will be like we're not booking you ever again… so that power dynamic is very available and I think for a lot of people and in this case, if we talk about women in this context, that can be very unsafe, black people and that also includes black women, that's a whole different demographic that comes together, trans people, so all of these people that actually coming to create things from a certain disadvantage, feel very unsafe and they come with the experience of having had very bad experiences. So, I'm trying to bring in my level of awareness into how I connect with the people.
Natalie's lived experience covers many areas and bring a wealth of knowledge. Born in Mozambique, she then moved to Denmark and now lives in Berlin.
The culture shock was real! I was raised my mother who is Mozambican and being raised by an African woman in a white society in Denmark, there are whole worlds going in each experience that my parents brought into my life. I think that it's kind of like a blessing and a curse at the same time because I'm pretty flexible in different, not all, cultures but many cultures but at the same time, there is also adapting and kind of getting lost in like who am I supposed to be? But that's just my experience and can be a little bit tricky but it helps me move through places faster definitely. I speak four languages now so that also makes it easy for me to move around depending on where I am. I tend to move into the places where I can speak in the language.
As well as curating the festival, Natalie has been working hard on her new release, which came out, almost immediately after the festival. There is a beautiful synergy within her role as a curator and her own music. Her passion for creating a safe and welcoming space for musicians as a curator comes from her own spatial awareness. I asked Natalie how about those two roles have influenced each other.
I've not really thought about that, but I think that comes together with the project that has just come out. I wanted to not only curate artists, I wanted to curate projects for myself. So, I created this series, constellations I call them, called New Pass, and I'm working with different black artists about the topics that we want to deal with.
I think there is a lot of my upbringing and my awareness was based in US, which is great, but also, being raised in Denmark, where was that narrative? And being in Germany…? It exists but I wasn't really introduced to it. I always felt when I was studying music, I go to school to learn jazz, which is black peoples music ,but then I'm taught by white people and if I want to go and do something that feels good to my connection as a black queer person, I have to go to the queer clubs but none of that music is in the way that I do. So, I was very torn about that space. I feel like I want to curate that space. We need more, and when I say we, I mean the artist themselves, we need more spaces to also deal with topics and music that connects to us. What questions do we have and usually don't get to deal with? Whatever set skills we bring into this; can we create music that deals with topics we want to talk about?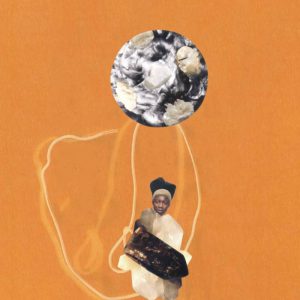 Natalie not only asks these questions essential as a curator but in her own music and her brilliant new release with the New Past collective is described as: 'Both political engagement and artistic practice, NEW PAST gathers an ever-evolving group of creatives to wield music as a powerful tool — bringing the artists involved and listeners alike to (re)learn our global and personal pasts, and strengthen our visions for alternative futures based on self-determination, diversity, and accountability…Through music that merges experimental electronics, troubling smooth jazz, compulsive rhythms, and more, this iteration of New Past weaves a remarkable musical and mythological journey to creatively interrogate how privilege influences the construction of our individual selves and society at large'
I asked Natalie about this fascinating project.
It's two EPS that become a CD, so it's like a construction and deconstruction. I think personally, I'm going to speak for myself because what we put into this is that anyone who explores it and has an exchange can make of it as they wish. I live in this privileged western society but I also have a lot of connections to my family in Mozambique  and I have a whole different universe in history that goes into those but how do I navigate that privilege and disadvantage… and also the coercion with certain types of systems that I'm not supposed to be part of but I still am. It's like influx intersectionality's of that space and so how can I talk about that in a way that is not intellectualised you know?  I just feel that we can learn from books but we can also learn through music, so how can I create things that have an emotional intelligence and how can I just let it come in a way that isn't too intellectualised but has a lot of depth to it.
We wanted to basically deal with the experience of privilege, whatever that feels like, because I feel that it's been very hyper intellectualised, and everybody has a kind of language for it but how do we feel it? So, we created like a universe if you will, realms that are inspired by northern mythology, which is my heritage also and created these musical universes for each God that we presented. Each God represents a privilege and kind of taking that experience of like the God complex and giving it different roles. If I can experience the privileged experience, of feeling privilege, how does that feel? How can I process that space? How does that sound like? How can I listen to myself, feel that space?
Natalie's new album is out now, and I highly recommend you not only explore it, but follow the whole portfolio of work of this incredible artist. Natalie Greffel is captivating, powerful and truly inspiring. These qualities come out of the depth of her understanding about her experiences so far and the questions that come out of those experiences that not only she wants to explore, but questions the world also needs to ask and hopefully one day, answer.
Natalie Greffel on Bandcamp
Natalie Greffel on Facebook
Natalie Greffel on Instagram
Photos provided by XJazz.
Last modified: August 10, 2022