Recently I reviewed German based fusion band SAMEKA's debut release, aptly titled "Introducing Sameka" on German jazz label Mons Records (Ed: read Simone's review here). Being highly impressed with the album I reached out to band leader Simon Zauels to find out more about this up and coming band.
Simone Gubbiotti: Hello Simon! Thanks for being with us today. Let's start with a conventional question: how did you start with music?
Simon Zauels: Hi Simone, thank you very much for having me. My parents are both classical musicians so at an early age they wanted both my brother and I to study classical instruments as well. At the age of six I started playing the cello and after ten years of cello lessons and playing in orchestras, I picked up the electric bass and from then on, fell in love with that new instrument and put the cello aside.
After gaining a few experiences in rock music, I discovered funk and subsequently jazz which later on influenced my decision to study jazz at a music college. Last year, I received my master degree.
SG: I've had a chance to listen to your album which has a lot of different elements into it. It's a factor I enjoyed a lot in your music, the combination of classical and oriental influences as well as Rock and Funk elements. What was your main influence during your musical training? Did you have a specific artist who inspired you more than others?
SZ: As I mentioned I grew up with classical music and even after switching to bass, I was still interested and spent a lot of time listening to classical music. I tried to adapt this language into my electric bass playing. As you can see on my YouTube channel, you would find me playing bunch of Bach pieces and other classical pieces. That would explain the classical elements.
Also, I´m a big fan of progressive rock music and artists especially Tigran Hamasyan who has the style of combining jazz and rock elements into his music. He is definitely a big influence to me.
Regarding the album's Arabic and oriental influence, I invited my very close friend, Hesham Hamra (who is an outstanding Oud player) to bring in the "flavors from the East". I have always admired the complexity of this music.
The first track on the album is "Actual Proof", a famous funk tune by Herbie Hancock. This track became famous with the release of the album "Thrust" by Herbie Hancock and the Headhunters. Another influence on this album is Chris Potter's album, "Circuits". I think I've listened to that album so many times that it got stuck in my head. Apart from that, I'm probably like any other bass player out there, I admire Jaco Pastorius and all the music he recorded with Weather Report.
SG: Just staying with this topic of the mix of genres, You mentioned Progressive Rock as an influence and I also noticed some cool elements from this genre on the album. Can you tell me a bit more about this choice?
SZ: Well, besides jazz and fusion music, I also like listening to bands like Tool or even Meshuggah. I´m really fascinated by those poly-rhythmic and poly-metric elements these bands use in their music and I was trying to bring a little bit of that dimension to my music as well. If you listen closely you will find some overlapping rhythms and metrics in the album combined with a lot of odd meters.
SG: In this project you are the leader. It's not always a common role for a bass player. How do you feel about this and what are the differences between being a leader or a sideman?
SZ: I think it´s the first time in my career that I´m in charge of the whole band. It is quite challenging and laborious but, it does pay off. I think the whole process and mistakes you make tend to teach you a lot, it makes me feel better for the future. Being a leader means responsibility and I´m the one responsible for the whole band and everyone else involved. If things don´t go smoothly then there's only one person to blame.
If I compare this to being a sideman, being a sideman feels like heaven! No seriously, I'm just joking. You get a call for a gig, you get the dates for the rehearsal and that's it. Your only task is to be there on time and prepare the music.
But I don´t want to complain. I've gotten messages from people telling me after listening to the album, that they are "… anxiously awaiting the LP…" what can I say, of course that really makes me happy and shows that hard work pays off but it also gives me the energy to move on. Which brings me to the fact, that I´m already planning and writing for the second album with SAMEKA.
SG: How did you come up with the idea of SAMEKA? And how did you choose your musicians?
SZ: SAMEKA was founded in 2019. I wanted to form my own jazz-rock/ jazz-fusion band in which I could play my own compositions. Back in the day, all musicians from the band were still living and studying in Mannheim, so I picked musicians from the music college where I was studying as well. First we just played in a trio formation with Antoine on piano, Tobias on drums and myself on bass. Then later, Antoine told me that he knows a sax and a guitar player who would both fit very well in the band. So we invited them in and since then the line up has never changed.
Coming from a more traditional jazz context, it's great having Tobias and Antoine in the band, both very versatile on their instruments and have played together in many different formations, this is something I think you can hear on the album.
With Daniel Buch we found a saxophone player who is playing a variety of instruments. On the recording, he's mainly playing the baritone saxophone but there are some tracks that he also plays the soprano as well as the aerophone. The aerophone could be explained like a synth saxophone, where you can play any digital sound we wish. It´s amazing and it brings so many colors to the music and to the arrangements. In Patrick Baumann, we found an electric guitar player who is coming from a more of a rock background but also studied jazz which makes him the perfect match for SAMEKA.
SG: One aspect with the album that truly impressed me is the texture of the arrangements and the use of some particular instruments on the album. Are there your arrangements or is this more of a collective process?
SZ: Yes, the musicians definitely have a large role in the arrangements. The process looks like this. I compose and arrange the tunes at home and writing everything down in my music software so that every musician would get their own lead sheet written for their instrument.
I import the midi file into my DAW where I can change midi sounds to virtual instrument plug ins for a better sound. In addition to that, I build a drum track to every tune. A few days or weeks prior the rehearsal, every musician would get the music sheets and audio file so that everyone has an idea how the music would sound.
Until this point everything is just on paper. Then at the rehearsal, I would see if my ideas and arrangements work or not. This is the time, where the arrangement would still change. The musicians would question things or would make suggestions, and then we try everything out until it works. Only then, when everyone is happy, I would finish the music sheets. On top of that, Daniel chooses which instrument he would specifically use in each and every song. If that would entail playing a variety of instruments in one song, so be it. I let them have the freedom to express their style in my compositions.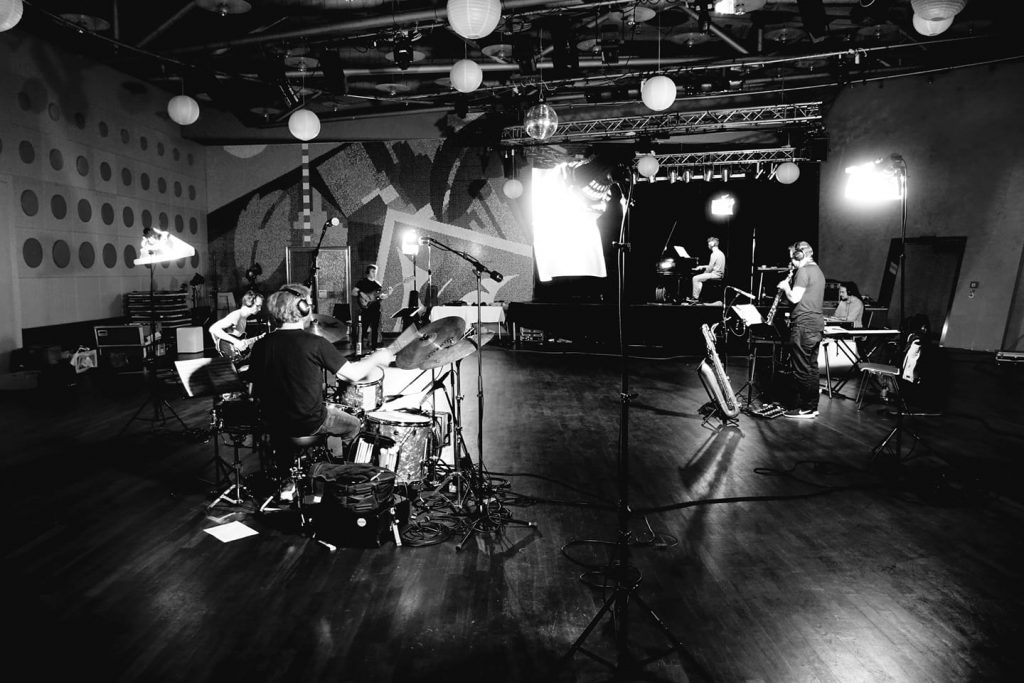 SG: And tell me more about the choice of certain instruments.
SZ: For my part, I play my 5-string bass as well as my fretless bass on that record. I chose to play the fretless bass on A Dark Horse and Oriental Dance.
In A Dark Horse, Daniel played all three of his instruments on that tune. Starting with the free opening intro, he picked the aerophone to encounter that mystical mood in the beginning. Later, when the main theme of the song approaches, he switches to the baritone saxophone and then switched again to his soprano to play his solo. At the end of the recording session, he even did some overdubbed layers where he doubled the main theme again on soprano sax to get a bigger sound.
In The Bog, Sameka and Amoniti we chose to let Daniel play the aerophone even in the main themes to get that synth melodie sound. Many times doubled with the melodie in guitar or even with oud. The combination of oud and aerophone is probably quite rare but we discovered, that it really sounds nice together. The oud brought new flavor and color to the sound of the band, especially on the two songs.
SG: I don't tend to ask these kind of questions as Jazz has never had a label and I don't like to attribute a label to the music, however, due to your versatility, in your personal opinion, what's the direction of Jazz in the future?
SZ: The thing I love about jazz is that it is very dynamic. It´s constantly developing, exploring, and expanding. Time has already tested Jazz, and it is here to stay, it's never stagnant. I think most Jazz musicians are influenced by all kind of genres, from pop, R&B or hip hop artists to rock and even metal music. There could be other genres that would come and go. Taking my band members for example, they all come from different backgrounds, but here we are together converging our energies to this album to prove that jazz is a versatile genre. It could be oriental, industrial, whimsical, energetic, hopeful, muddy, mighty, powerful, and it goes on and on.
SG: Are you taking the band on the road in the near future? And, what are your plans for the coming months with the band and in general for yourself?
SZ: Yes, we did a small tour in Germany and Luxemburg at the end of April. Starting with the big album release concert we did on April 23 at the Cultural Center das Haus, in Ludwigshafen. For coming dates you can checkout our website for updates.
I am also planning to go on tour with SAMEKA in Taiwan maybe at the end of this year or beginning of next year. In fact, we had already planned a whole tour from the north to south in Taiwan for spring 2020 and even got the confirmation from different jazzclubs in every big city. Then COVID hit and we had to cancel everything. So I definitely want to re-open this idea and make it happen.
In addition to that, I´m again in the process of writing new songs, so that we could record the second album quite soon.
For myself of course I´m still a sideman in different projects, which I really enjoy and I´m still working and making videos on my Youtube channel. Moreover, I´m planning to release a solo bass album soon, where I am playing classical pieces by Bach on bass. Stay tuned and thank you so much for having me.
More information on SEMEKA can be found on their website. For more information on the SEMEKS's debut CD "Introducing Semeka" can de found at the Mons Records website.
Last modified: July 4, 2022