Welcome to our new Women in Jazz Media series 'Something New with Esther Bennett'. Exploring new albums through conversation directly with the artist to share a little insight into their work. As one of the London Jazz scenes' most experienced, highly respected and widely loved jazz vocalists, Esther juxtaposes sensitivity and a sparky sense of humour in all her work and we are thrilled to have her involved in this new series to help platform new female led jazz releases across the world.
Australian harpist Tara Minton and British double bass player Ed Babar are to release their new album, Two for The Road, on January 28th, 2022, via Geoff Gascoyne's label Jazzizit. The release serves as a follow up to Tara's 2020 solo album, Please Do Not Ignore The Mermaid, on which Ed provided bass, and features a specially commissioned piece of art for the album cover by Paya Lehane. In our first article, Esther talks to Tara Minton about her new album 'Two for the Road'.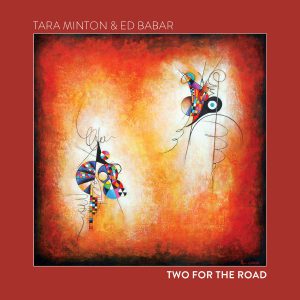 First things first, let's talk about you two. Tara; you're Australian and Ed is British. Where did you meet and when did you start collaborating musically?
We met in July 2013 at The Ashtead Jazz Club. I was invited to play as the guest artist and Ed was in the house band. The AJC is a truly wonderful club run by drummer Tom Early. We played some of my compositions, some standards and really got along. I sort of commandeered Ed and we've been playing together ever since. 
You have decided for this latest recording, to follow in the tradition of the jazz greats and make a duo album. What made you choose this format, what are the benefits and what, if any, are the drawbacks?
I have always loved the intimacy of jazz duo records – I feel like you can really hear the relationship between the musicians in the music. 'Beyond the Missouri Sky' is a classic. The harp and the double bass have such a complimentary, sonorous relationship – and the added bonus of being able to travel in one (rather large) car! In my past recordings I relied on piano as the main harmony instrument, so this was an opportunity for me to cast off my training wheels and take full responsibility for the harmony. Being so exposed forced me to confront the limits of my own playing, but it also allowed me a freedom I hadn't had before. It took a lot of work, but Ed is such a wonderful musician and has infinite patience and humour. It really was a joyful process. 
In the production of this album you have collaborated with British bass player Geoff Gascoyne and with the record label Jazzizit. Tell us about this collaboration and how different the experience has been compared to self-producing an album.
I cannot sing Geoff Gascoyne's praises enough! From the very beginning he sent repertoire suggestions and arrangements, attended rehearsals via zoom, was the most encouraging, creative presence over the three days of recording at Lightship 95 Studio and put such time and care into the mixing and mastering process. We became great friends working on this album. I've released music with labels before, and to be honest I found it frustrating. There was none of this frustration with Jazzizit – probably because Trudy Kerr is a wonderful jazz musician herself and understands the nature of the music we were trying to create. 
Let's talk about the song choices on the album. How did you make them and why? Is there an overall context?
We wanted the record to be a celebration of our friendship, love of touring and travel, but also a reflection of where we were. Geoff's composition "Life In A Bubble" seemed like a fitting choice to open and close an album that was recorded in the height of the pandemic. Pieces like "Games" by Dorothy Ashby and "On The Sunny Side Of The Street" are playful and reflect the joy of touring, whereas "The Shadow Of Your Smile" and "Jazz Autographs" capture the longing for loved ones who are far away. We chose a mixture of pieces from The Great American Songbook and what I am calling "The Modern British Jazz Canon" to draw a link between the old tradition and the contemporary British jazz identity – so Norma Winstone, John Taylor, even Paul McCartney were represented in the music we recorded.
You've chosen new and original material but also some timelessly classic jazz standards. I think it essential that as jazz singers and musicians we do this. Why do you?
I agree with you completely. There is simply no better education than listening to the old recordings and learning to play the standards. I will be a fan of Henry Mancini until the day I die. He was such an incredible composer. Fred Coots "You Go To My Head" – what a tune! We put our own spin on them, but that's the beauty of jazz. There is such scope to develop your own sound and identity within the old repertoire.
The nature of this album gives more space for the singer and the songs. What singers have influenced you and your style?
Thank you for picking up on the singing. Most people never get beyond the harp! Singers that have influenced me – Ella of course. Lisa Fischer is my favourite living vocalist. She is fearless. She explores all the sounds and textures of the human voice and is a master technically and artistically. (Lisa if you ever need a harpist, I'm your girl!) I got quite into Beady Belle through Geoff. She sings with real precision and presence. I will always adore Diane Reeves, Esperanza Spalding and Mahalia Jackson is a Goddess. Basically, I'm a "singer's singer." All the vocalists I've listed have an incredible range of textures and colours in their artillery. 
Tell us a little about how you work together. How much is pre-arranged? How much is intuitive and how much is improvised? Explain a little about the process and experience of how you work together as a duo.
Some pieces on the record like "Two For The Road" and "Jazz Autographs" were heavily arranged. Ed is an accomplished classical bassist as well as jazzer, so we explored ideas like unison lines between harp and bass or bowing that almost crept into "chamber music" territory. Then pieces like "Blackbird" were simply a chart (granted reharmed and rearranged) that we played and improvised over as you would any jazz chart. The pieces with Stan were the most free, probably why they're my favourites. 
Tell us a little about the musicians you chose and why each particular instrument for each particular track.
Stan Sulzmann guested on "Whirlpool" and "Dream Of The Elders" (renamed "What we Have To Be.") He's played with both John Taylor and Dave Holland (and also David Snell – the great British jazz harpist) and brought real depth to the session. Stan's compositions and sound have had a profound impact on my own writing and development as a musician, so we were very lucky that he agreed to collaborate with us on these tracks. Lilia Iontcheva is a dear friend and renowned Bulgarian percussionist. She brings such energy and positivity to everything she does – we had to invite her to play on "Games" and "You Go To My Head" and "The Shadow Of Your Smile". She is glittery, colourful glue. 
And finally, my signature question. Why do you think Women in Jazz Media and similar organisations are important and how important is it that we all platform female jazz artists and their work?
WIJM is doing incredible work. Jazz (the arts in general… the WORLD!) is a boys club, though it's slowly changing – progress which is certainly aided by organisations like WIJM who do such great work championing female and non-binary jazz musicians by sharing their work honestly and providing a platform and opportunity for growth. You've certainly supported me and I'm truly grateful. Thank you. 
The album launch for 'Two for The Road' is being held on January 27th at the award winning Green Note venue. Tickets here
Two For The Road is available to pre order here
To find out more and support the work of Tara Minton, please visit her website
To find out more about record label Jazzizit, please visit their site here
The stunning artwork for the new album has been created by Paya Lehane
To find out more and support the work of Ed Babar, please visit his website here
Photography by Andy Porter
Last modified: January 27, 2022