Bruno Micetic is not just a musician. When speaking with him you soon realize that he has the ability to change your state of mind and fill your day with plenty of cheerfulness. It's clear that his passion and enthusiasm for music projects throughout all of his activities within the music business. Not only is Bruno a talented guitarist, he is also an educator and founder of the Rijeka Guitar Center and artistic director of the Rab Jazz Festival on the beautiful island of Rab in Croatia.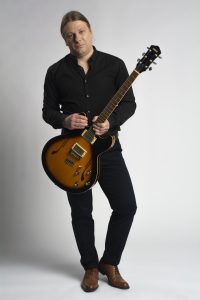 Our meeting came about via a mutual friend Marija Devic, who is currently researching and compiling a database of worldwide Jazz Festivals, Clubs and more recently musicians. Of course prior to my interview with Bruno I did some research and I have to admit I had no idea as to the breadth of his activities. First off, from a musical perspective I was intrigued as to the complexity of his activities and especially in terms of language. He has the ability to surf though different genres yet at the same time staying true to his own personal style. Bruno explained "Jazz is actually my foundation, my base to create music. The knowledge of harmony and in particular Jazz harmony helps me to combine the genres while moving toward the unknown. My last album titled 'Out of the shadow' (2020) is Fusion oriented but I have also recorded a couple of albums with an Hammond trio in a very traditional manor together with drummer Ratko Divjak and organ player Joe Kaplowitz."
When Bruno and I first spoke I was once again reminded of how small the world actually is, as it turns out, we both attended the same clinic in the same moment: Berklee College of Music clinics in Perugia during Umbria Jazz Festival in 1998. The difference being I attended this clinic by mistake (I had only just started my journey with the guitar) while Bruno had already developed a strong and well defined musical attitude. Bruno explained "I started to play guitar when I was 8 years old while still in the primary school. In 2008 I enrolled in the Jazz department at the Klagenfurt Landeskonservatorium. During my studies, even before I attended the conservatory, I had founded my first jazz quartet named Seaside performing at some good Jazz festivals such as the Jazz party in 2004, Liburnia Jazz festival in 2006, 2007, and 2008, and the Croatian Jazz Parliament. After graduating from college in Austria, I began teaching at the National University of Rijeka and started my own music school, Rijeka Guitar Center".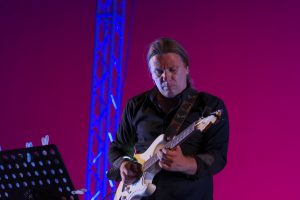 As out conversation continued I realized we had a great deal in common including our individual initiation with jazz. In my case my first real exposure to jazz was a concert played by Ornette Coleman (by the way during that clinic we both attended together in Perugia). I have to admit to my severe ignorance because I didn't understand even what day it was. In Bruno's case: "I was 16 at the time and with other young musicians we used to go to the Jazztime Festival in Rijeka. My revelation happened when I attended a Kenny Burrell concert at the Festival. I didn't understand a single note but I knew I wanted to play that way. At that time I was a metal guitarist!"
A number of years later Bruno became the founder of Rab Jazz Festival . The Festival takes place on a marvelous island situated in the western Adriatic Ocean. Its beauty has been recognized since Roman times when they used to call the island Felix Arba (Happy Arba): " We run the festival in the first week of September. I think it was the last Jazz Festival happening in Croatia for that year. I'm really connected with the Festival and the team working there and even tough it has been tough the last couple of years, I really have a positive view for the coming future. We already had a bunch of great artists coming to play. To name just one, I would say Stochelo Rosenberg. We want to expand our visibility in the future acquiring a more European dimension. I have many ideas for this in mind."
Due to limited space it's not possible to mention all of the projects Burno is involved with. For those who wish to know, a simple google search will shed light however I wanted to ask him, it will be very easy to find out for somebody interested but I asked him if he has a special project: " Oh yes! There's a recent one," explained Bruno. "In 2021 I started a unique project called "Melodies of national parks in Croatia" which combines audio and visual aspects providing a unique scenic experience for each national park and which is also enhanced by composition's that are inspired by the sonosphere of the nature present in the park. We played a concert at the Risnjak National Park supported by the Ministry of Culture and Media of the Republic of Croatia, Primorje-Gorski Kotar County, and the Risnjak National Park.
It was a great pleasure talking to Bruno and having the chance to be influenced by his smile and passion for music. I wish to meet many other musicians like this,  the industry really needs them.
DISCOGRAPHY
Keops – Keops (2012.)
BM Trio – Phantoms Whisper (2012.)
Milan Petrovi? Quartet – Dates (2014.)
Fat Manager – The Hood Fellas (2015.)
Keops – Lice sudbine (2016.)
BM Sekstet – Beauty Of Your Soul (2016.)
BM Sekstet – Beauty Of Your Soul – Live at Lisinski (2017.)
BM Quintet – Capturing the moment (2019.)
BM Quintet – Out of the shadow (2020.)
Last modified: February 27, 2023