Helena Debono and Saran Davies are two friends who came together to create new and exciting music. Crossing over their love for both classical and jazz music the pair have a unique and individual sound. With Saran being classically trained at the Royal Academy of Music and Helena's jazz training from Leeds College of Music, they are able to explore a world of music where both genres come together.
As part of our short series, we invited team member and fellow jazz artist, Esther Bennett to put five questions to some of the artists performing at this year's EFG London Jazz Festival as part of our Women in Jazz Media event at Toulouse Lautrec. In this final part of the series, Esther talks to Helena and Saran.
From South West London comes Helena Debono, a young Jazz/Soul/Pop vocalist who has been captivating audiences with her emotional renditions of Jazz standards and her own original music since she was a teenager. Her natural, effortless vocals have already received acclaim amongst the UK Jazz scene and leaves audiences wanting to hear more. Helena became the Female vocalist for The National Youth Jazz Orchestra (NYJO), and during this time she was interviewed for BBC Radio 3 "Jazz Now". She is now the Vocal Coach for NYJO. In the Summer of 2019 Helena was thrilled to perform with The London Gay Big Band at London Pride in Trafalgar Square. She has also performed with The Puppini Sisters.
Saran Davies has won numerous first-place awards as a soloist in many competitions and Concerto prizes for outstanding performance of the Elgar and Walton Cello Concerto. As an emerging session musician, Saran is quickly becoming successful in recording with new and upcoming artists such as SuRie (Eurovision 2018 UK representative) and successful pop band, Snowpatrol, making her debut album credit on their newly released album "Wildness". She was thrilled to have been invited to record with world-famous artist and musician, Nile Rodgers at Abbey Road Studios. She also gained her first experience recording with the London Symphony Orchestra at Angel Studios earlier this year.
What does Jazz and being a Jazz Artist mean to you?
HD: For me, jazz is all about telling the stories and keeping the tradition of jazz going whilst remembering where jazz came from. Jazz also allows you to explore, grow and experiment with new ideas which is what I love.
SD:  I didn't train in Jazz, I trained as a classical musician at the Royal Academy of Music. But I have a great love of Jazz music and artists, so to collaborate with Helena is super exciting. Working with this band of 4 exceptional jazz musicians has widened my understanding of this style of music and has inspired me to explore Jazz music and playing further.
What musical influences and experiences do you think shaped the artist you are today?
HD: For me, I am really influenced by the great American song book and artists such as Ella Fitzgerald, Sarah Vaughan etc. Some of the best experiences I have had had been working with other singers and learning from them. Finding out who they listen to and how they write music etc is so exciting.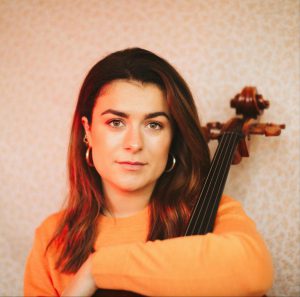 SD: I grew up surrounded by music and the arts. Having a mother that is so passionate about theatre and music really encouraged me to explore the world of the arts from a young age. I'm not one to listen to one specific genre. My own Spotify playlists can include Brahms to Beyonce to Chet Baker to Paramore to (shamelessly) Justin Bieber. I think ALL music has influenced me and shaped the artist I am today and that's why I love to collaborate with lots of different musicians and keep my musical experiences new, fresh and exciting.
What non-musical influences and experiences do you think shaped the artist you are today?
HD: That's a tricky question and I can't really put my finger on one, but I guess as you grow up you experience more in life and can bring your own stories and experiences to the lyric which makes your performance more emotive etc. I am also influenced by my friends and their situations etc.
SD: I am a passionate performer even without the cello. I have a great love for theatre, and so I think my involvement in that, from a young age has influenced my playing and continues to do so.
What do you think is important about the existence and work of Women in Jazz Media and how do you think it will affect and benefit the jazz world?
HD: I think WIJM is so important. It is absolutely vital to have groups like this championing female musicians on the scene and pushing boundaries.
SD: I think promoting Women in Music and Women in Jazz is a vital part of developing our industry. The opportunities that WIJM give to young budding female artists to showcase their talents is exactly what the industry needs.
What are you going to be performing for us on your WIJM London Jazz festival night?
HD& SD: For this event, we have been working on some of our favourite jazz tunes and also pop songs and making them our own. It has been so much fun working with voice and cello to create something new. We have a wide variety of arrangements of songs from almost ALL female artists, you can expect Olivia Rodrigo, Norah Jones, Stacey Kent, and I also give 'taking a solo' a go in one of the tunes, so keep an ear out for that!
To find out more about Saran Davies: Website
To find out more about Helena Debono: Website
For tickets to see Saran and Helena at the EFG London Jazz Festival: Ticket Link
Last modified: November 12, 2021