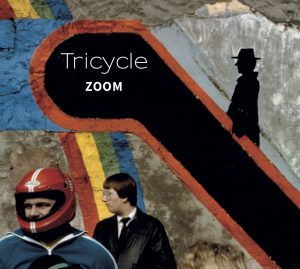 A tricycle has, as the name says, three wheels. The band Tricycle has three members, the leader and accordionist Tuur Florizoone, Philippe Laloy (sax and bass flute) and Vincent Noiret (double bass). So the name is a logical one for a trio. The band name indicates a unified connection and direction with all three wheels travelling in unison. And that's true for the accordion, bass and saxophone especially with the albums them track.
To continue the metaphor – when the musicians play solo's, the tricycle makes turns and unexpected manoeuvres. The listener is surprised by the route that the music takes. Tricycle started twenty years ago and now launches the CD "Zoom". The combination of accordion, bass and saxophone (alt and soprano) is not commonplace, but the sound colour of the trio is fantastic. Tuur Florizoone wrote all compositions (13) on the CD, and all three musicians collaborated on the arrangements. The result is an album with surprising music.
Tuur Florizoone played in the trio – Oliver's Cinema, led by Dutch master trumpeter Eric Vloeimans. A trio which also had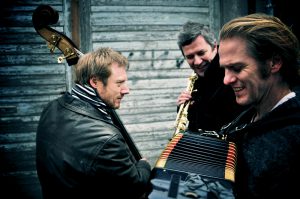 the unusual combination of trumpet, cello and accordion. I believe it not surprising that Eric Vloeimans chose Tuur Florizoone for his trio after becoming acquainted with Tricycle's artistic work. The accordionist is a master in a small band, his music mixes with the others, seemingly with great ease.
Most compositions on "Zoom" are played quietly. "Happy Sam" is one of the few songs that have the pace. Tricycle plays chamber music with subdued virtuosity of the three musicians. The album offers over an hour of listening pleasure. The trio plays jazz with influences from world music and classical music. From the close sound of the theme, one of the instruments emerges. "Oakland" is a good example of this way of making music.
The 6th song on the CD, "Ugo", can also be viewed below during one of their live performance. What a beautiful sound comes from Philippe Laloy's bass flute. Symphony for E.L. (In memory of Eva Leirman) is the longest number on the CD with more than 8 minutes. You feel the emotion from start to the end.
A comprehensive tour to promote the new CD will take Tricycle through the Netherlands and Belgium. There are also plans for a tour of the UK.
Artist website: Tricycle
Senior writer: Peter Beije
Photo credits: Tom Herbots – and (c) info: all rights go to original recording artist/owner/photographer(s).
YT Channel: tuur florizoone
Last modified: December 4, 2019