Drummer Jimmy Cobb is a 90-year old NEA Jazz Master that is still playing hard and keeping the groove with his trio consisting of Tadataka Unno on piano and Paolo Benedettini on drums. "Remembering U" was released in August 2019 and features the late, great Roy Hargrove on trumpet/flugelhorn and Javon Jackson on tenor saxophone.
Cobb is also the last surviving member of the sessions that created the 1959 Miles Davis jazz masterpiece "Kind of Blue," the most acclaimed and best-selling jazz album of all time. Born on January 20, 1929 in Washington D.C., Jimmy was mostly self-taught and formed a cornerstone to works by Miles, John Coltrane, Cannonball Adderley and many more. He also played on Miles' "Sketches of Spain", "Someday My Prince Will Come", "Live at Carnegie Hall", "Live at the Blackhawk", "Porgy and Bess" and many other Miles Davis recordings. Cobb played extensively with Dinah Washington, Billie Holiday, Pearl Bailey, Clark Terry, Dizzy Gillespie, Cannonball Adderley, Wes Montgomery, Sarah Vaughan, Freddie Hubbard…you name it!
"The trio came up with the idea of doing a tribute album," Cobb told me in this exclusive interview about "Remembering U". "The piano player had been doing some gigs with Roy. We were thinking about doing a CD honouring Roy, so that's what we did."
This historic release was also the last recording by legendary engineer Rudy Van Gelder. "Rudy said he thought I was one of the first guys to make one of his first recordings too. That was when he was working out of his mother's kitchen over in New Jersey. A long time ago," reminisces Jimmy.
"I met Roy in Texas when he was young. He was so young his mother would have to bring him to gigs," he adds. Hargrove played on Cobb's 2007 "Cobb's Corner" and also on 2009s "Jazz in the Key of Blue."
Serena, my daughter, wanted to make the record. (Serena Cobb is the producer of 'Remembering U'.) "I did the first song on that for my sister, entitled 'Eleanor'", which features Roy and Javon Jackson," adds Jimmy.
Cobb takes on the journey, "I lived in this neighbourhood where there was a lot of jazz being played. This friend of mine would come by and we'd play records. We would bang on the side of the tables with our knuckles with the rhythm of the music. I got interested in jazz because of him.
I picked the drums and I think it was just about being in the right place at the right time with the right equipment. The first road gig I did was with Earl Bostic. While living in D.C., there was a woman down the street that had a restaurant. She had a room upstairs and figured she could add some activity to the place, so she put a trio up there. That's where I started. Now Earl Bostic was looking for a drummer and he asked me if I wanted the gig. That was the first time anybody ever asked me to join up. So I met him in New York City for the gig….it was Dinah Washington and the Earl Bostic Band.
I met Cannonball Adderley on the road. We were doing a gig in Ft. Lauderdale and he was waiting outside of the hotel for us to show up. He wanted to get up to New York, so he was asking me questions about that. This was just after Bird had died. We got to be good friends. Eventually, I got the opportunity to join his band.
Cannonball introduced me to Miles Davis. 'Kind of Blue' was just another session. I always thought Miles' recording sessions were good. I just thought it was another Miles Davis recording that was going to be good. Here it is 60 years later! I don't even think the record label thought that. (laugh) Miles was in cahoots with Bill Evans and Gil Evans. He always wanted to try something different."
At age 90, it is amazing to watch Jimmy Cobb work his magic, keeping things moving. The fact that he's active to this day is a testament to his life style. "I think my longevity is due to a lot of the things – the guys were doing back then, I wasn't doing. Drugs and all that stuff, I never did that. That was the #1 help to keep me playing today.
To the young players out there today he leaves them with some words of wisdom, "Be interested and stay in school. Stay away from stuff that's going to hurt them. Stay in love with the drums and keep practising."


Jazz In Europe Magazine – Winter 2020 Edition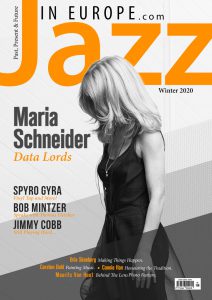 This article is an abridged version of the full interview that appears in the Winter 2020 edition of the Jazz In Europe print magazine.
Also included in this edition are interviews with Carsten Dahl, Bob Mintzer, Bria Skonberg and Connie Han. Darrell Craig Harris interviews Jay Beckenstein from Spyro Gyra. Our cover story features Maria Schneider speaking about her up-coming album "Data Lords" and this editions photo feature spotlights Dutch photographer Maurits van Hout.
You can purchase a copy of the magazine here.

Last modified: May 25, 2020