For those who have declared the recording industry is dead, yesterday Universal Music released their first-quarter earnings proving the industry pundits wrong.
Music Industry News reported that the organization is on track to achieve generating $10m per day from streaming. The other important takeaway for the report is that physical sales grew by 20.8% year-on-year in Q1, up to €193m ($219m). While it must be noted that this is a macro perspective across all genre's it does show there is life in the industry, in fact, UMG's total revenue was up 19.2% year-on-year at constant currency.
With, 61% of UMG's overall recorded music revenues in the quarter being generated by streaming platforms those who declare streaming as the "Enemy of the Industry" may want to rethink their position. While I agree fully that streaming has not panned out well for those genre's that have niche appeal (this includes jazz) I have never seen streaming as a concept as a negative thing. I do believe that the sales royalties paid to artists and labels by the platforms need to adjust to a more realistic level however the concept in itself has many advantages for content creators.
The pop world has long realized this and has adjusted their marketing strategies to take advantage of the opportunities provided by streaming, however in my experience, within the jazz world, this paradigm shift has yet to occur. The 2017 Buzz Feed report stated that over that year 91% of all jazz music consumed in the USA was via streaming platforms with the major share being generated on Spotify and YouTube. This should send a major message to jazz musicians and labels that streaming is the way forward and the time to embrace it and leverage the opportunities is now!
The other good news is that physical product is not dead. While it only makes up a small percentage of total music consumed the decline in sales seems to have stabilized and to a degree, the increase in vinyl sales over the last few years has contributed to this. What has changed in the physical market is the point of sale with a growing percentage of physical sales being "direct to fan". A number of musicians and labels have realized this adopting a strategy of making the music available on streaming platforms and adapting their marketing with the goal of generating plays while at the same time marketing their physical product direct to fans.
Bottom line is that the recording industry is not dead, it's just changed. Those that adapt will survive, those who don't will continue to complain!
Below is an excerpt of the article published on Music Industry News.


UNIVERSAL CLOSE TO GENERATING $10M PER DAY FROM STREAMING, AS Q1 LABEL REVENUES GROW 19.2%
Universal Music Group's recorded music operation turned over €1.208bn ($1.37bn) in the first three months of 2019 – up 19.2% year-on-year at constant currency.
Some €737m ($837m) of this money was generated by streaming, according to the latest financial results from UMG parent Vivendi, revealed today (April 15). That means that Universal's labels are now amassing approximately $9.3m per day from the likes of Spotify, Apple Music, Amazon Music and YouTube.
As such, streaming made up 61% of UMG's overall recorded music revenues in the quarter.
In a big story for retailers, UMG's physical sales grew by 20.8% year-on-year in Q1, up to €193m ($219m).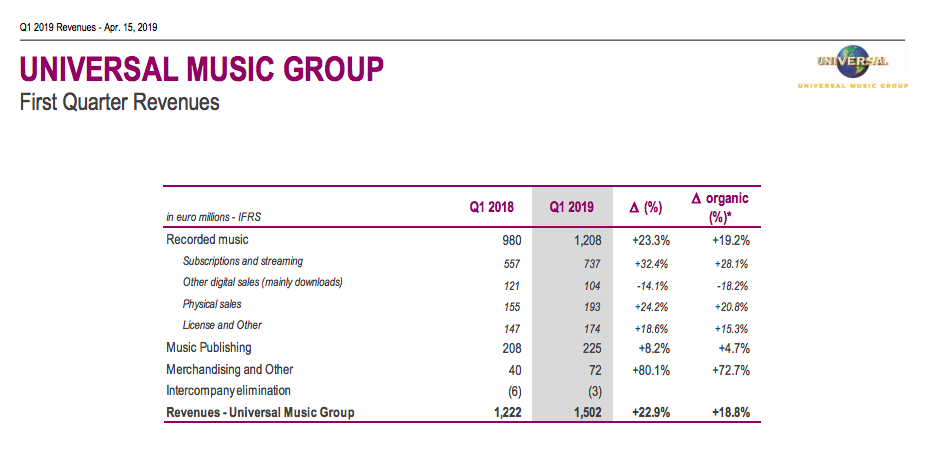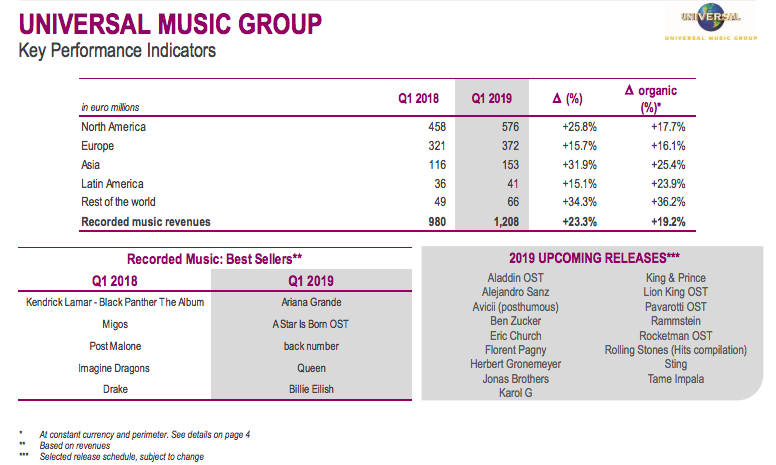 Following the acquisition of Epic Rights at the top of the year, UMG's 'Merchandise and Other' line generated €72m ($82m) in the quarter, up over 80% year-on-year.
Universal's biggest revenue-generating artists/projects in Q1 were (in order): Ariana Grande, the A Star Is Born soundtrack, Japanese power rock band Back Number, Queen and Billie Eilish (pictured).
Universal Music Publishing Group turned over €225m ($256m) in the quarter, up 4.7% year-on-year.
Universal Music Group's overall Q1 revenues – including recorded music, publishing etc. – rose 18.8% year-on-year to €1.502bn ($1.7bn), comfortably putting the company on track for another $7bn-plus year in 2019.
This meant that UMG made up 43.4% of Vivendi's total sales in the quarter, which reached €3.459bn.
Last modified: April 25, 2019