Tomorrow night at the Cutting Room in New York Miles Evans will lead the Gil Evans Orchestra in a celebration of those classic Monday Night sessions the Gil Evans Orchestra played at Sweet Basil between 1983 and 1994. The concert will also be the official launch of the bands latest project titled "Hidden Treasures – Monday Nights".
"Monday Nights" is not only the first studio recording of the Gil Evans Orchestra in over forty years, but it also offers some of the most audacious and electrifying music of the new millennium. Gil Evans passed away in 1988 however his sons, trumpeter Miles Evans and his brother Noah are keeping the flame alive with "Hidden Treasures," a trilogy of recordings of which "Monday Nights" is the first.
Evans was one of the most respected orchestrators in jazz history and his fabled collaborations with Miles Davis, including "Birth of the Cool," "Sketches of Spain" and "Porgy and Bess," set the gold standard for modern jazz arranging. Accordingly, Evans played a key role in the development of cool jazz, modal jazz, free jazz and jazz fusion. All of these influences are strikingly present on "Monday Nights," a particularly contemporary incarnation of Evans' music.
After a string of gigs that started in the late 70s, the Gil Evans Orchestra began a run of Monday night engagements in 1983 at the Greenwich Village club, Sweet Basil, which resulted in a number of successful live recordings by Gil Evans and the Monday Night Orchestra. After the passing of Gil in 1988, the gig continued sporadically until 1994 now led by Gil's son Miles. These Monday night sessions were legendary and featured many first-call New York players including David Sanborn, Alan Rubin and Tom "Bones Malone," and such musicians as George Adams, Hannibal Marvin Peterson and Howard Johnson.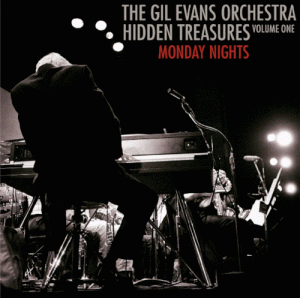 In the mid-1990's the Monday Night residency ceased, however, the band remained active with a number of Japanese tours, some special one-off projects including performances with Sting and in 2001 an extensive European tour. When I recently spoke with Miles he said those Monday Night sessions were very special, "We had some great musicians come down and sit in." He remembers "Miles Davis coming down to check out the band, Jaco Pastorius would often come down and sit in. When Sting was in town he's sometimes come and sing with us, they were just amazing nights."
Miles went on to say that this series of recordings has been produced to remind everybody of this special time in history. Volume one in the series features compositions that the Orchestra played live in the late 70s and early 80s. The following albums in the series are "The Classics," featuring modern renderings of Evans' original arrangements, including "My Ship," and "The Meaning of the Blues," and, the final release in the series, "Gil & Anita," named for the late jazz icon and his wife.
Editors Note: Keep an eye out for our feature interview with Miles Evans coming up in the early new year.
Concert details are as follows:
Date: Saturday 22 December 2018
Venue: The Cutting Room
Address: 44 E. 32nd St. | New York, NY, 10016
Times: Doors open 9:00 pm
Album Details:
Artist: The Gil Evans Orchestra
Title: Hidden Treasures Monday Nights Volume One
Label: Bopper Spock Suns Music Geo-34752
Release Date: December 07, 2018
Track Listing:
1. Subway | 2. Ll Funk | 3. I Surrender | 4. Groove From The Louvre | 5. Lunar Eclipse | 6. Moonstruck | 7. Eleven.
Line-up:
Kenwood Dennard – Drums, Mino Cinelu – Percussion Mark Egan – bass Pete Levin – keyboards, Miles Evans – trumpet Shunzo Ohno – trumpet David Taylor – Bass Trombone, John Clark – French Horn, Chris Hunter – Alto Sax, Flute, Alex Foster – Tenor Sax, Soprano Sax Darryl Jones – Bass (Tune 2), Matthew Garrison – Bass & Bass Solo (Tune 2), Vernon Reid – Guitar (Tune 2), Paul Shaffer – Fender Rhodes (Tune 2), David Mann – Alto Sax (Tune 2), Gil Goldstein – Piano (Tunes 1, 2, 5, 6), Delmar Brown – Synthesizer (Tunes 1, 2, 5), Charles Blenzig – Synthesizer (Tunes 2, 3, 4, 7), Gabby Abularach – Guitars (Tune 1, 4, 5), Jon Faddis – Trumpet (Tunes 1, 5, 6), Dave Bargeron -Trombone (Tunes 1, 5, 6), Gary Smulyan – Baritone Sax (Tunes 1, 5, 6), Birch Johnson – Trombone (Tunes 3, 4, 7,) Alex Sipiagin – Trumpet (Tunes 3, 4, 7), Alden Banta – Baritone Sax (Tunes 3, 4, 7).
Last modified: December 21, 2018