For readers of Jazz In Europe, keyboard player and producer Jason Miles needs no introduction. Our extensive interview with Jason last year proved to one of the most read articles published in 2017. In addition, last year Jason embarked on a major European tour seeing him perform to packed houses in most of the continents major venues. In April this year, Jason personally wrote an in-depth Op-Ed article titled "Observations from the road" relating his experiences during the tour. We are thankful to Jason that he offered these insights to life on the road in Europe, and as expected the articles drew a great deal of interest from our readers.
For those readers who may not be familiar with Jason and his work here is a little background. During his career, Jason has worked with most of the giants of the music industry including Whitney Houston, Michael Jackson, Aretha Franklin, Chaka Khan, Michael Brecker, The Crusaders, George Benson, Joe Sample, Grover Washington Jr., David Sanborn, Marcus Miller and this is just the tip of the iceberg.
Roberta Flack said, "Jason Miles has raised the level of excellence for the musicians who have had the good fortune of working with him, myself included. He has enriched the lives of the millions of people who have listened to the music he plays, the recordings he produces and the countless musicians he mentors and inspires."
This aside, it's Jason's work with Miles Davis that he is best known for. Jason was responsible for the bulk of the Synth work on the album Tutu and has been called the "third major element behind the sound of that album" of course meaning Miles Davis, Marcus Miller and Jason Miles. With the success of Tutu it's not surprising that Jason also played a prominent roll on Davis's follow-up albums Siesta and Amandla. Jason's relationship with Miles Davis was not limited to the studio, he became close friends with Davis often visiting him at home and helping him get to grips with electronic instruments, as well as co-writing some tunes with Miles.
Jason's recent two recording projects reflecting his work with Davis aptly titled "Kind of New" and "Kind of New 2 – Blue in Paris" can only be considered a great success gaining rave reviews and performances throughout the USA and Europe. However, not one to sit on his laurels Jason is now back with a new (Old) project revisiting the music of Weather Report. In April this year, Jason performed the project at the Berks Jazz Festival with great success. Last summer he followed this up with further shows at the Clearwater festival in Miami and at the Lake George festival in upstate New York.
In a recent Skype call with Jason, I asked him what sparked the project. "Well, the origins of the project go back to the album I did in 1999 called "Celebrating the music of Weather Report". I'd always been a huge fan of Weather Report, and back in the late nineties, I got a call from Jay Beckenstein from Spyro Gyra. They'd just signed a new record deal and as part of the deal, Jay was given the opportunity to record a solo album. Jay asked me if I wanted to do a track on the album, the funny thing is it had to be a version of Black Market with some other African tunes. Anyway, So I decided to do it and it came out crazy good, I had Marcus (Miller) and Omar (Hakim) on it with Jay, myself and Mino Cinélu. So long story short, we ended up doing a whole album worth of material and got a deal with Telarc."
Jason went on to assemble an all-star line-up for the album including, Victor Bailey, Randy and Michael Brecker, Steve Gadd, Marcus Miller, Joe Sample, Chuck Loeb and David Sanborn to mention just a few. The album was released in 1999 and received strong reviews in the jazz and regular music press. Jason Added, "You know, you also have the Weather Report police that just hated it, There were even some reviews on Amazon the said basically – die Jason Miles, but all in all most people really liked the album." As is common with All-Star projects, playing live is almost an impossibility due to scheduling, however, Jason was able to put together a band to perform the music live during a week-long residency at the Iridium in New York to packed houses each night. For these performances Jason was joined by Vinnie Colaiuta on drums, Mino Cinélu, on percussion, Mark Egan on Bass, Steve Wilson and Eric Alexander on sax and Chuck Loeb on guitar.
After these shows at the Iridium, Jason's production workload increased and in his own words "The album just kind of laid there". At the start of 2017, Jason received a call from saxophonist Jeff Coffin who had been working with the Dave Matthews Band (DMB) since 2008. at that point, the Dave Matthews band was preparing to take an extended break and Jeff suggested he and Jason look at doing something. Jason immediately thought of the Weather Report project, The idea of doing this again live had been on his mind for some time. Seeing fellow DMB drummer Carter Beauford who had played on Jason's "Miles to Miles" album was also free the three started to put together plans to resurrect the project. The band was then filled out with Mino Cinélu, percussion, Gerald Veasley bass and Karan Briggs on violin. Jason contacted John Ernesto at the Berks Jazz Festival and pitched the show and with the first gig locked in all was set to go.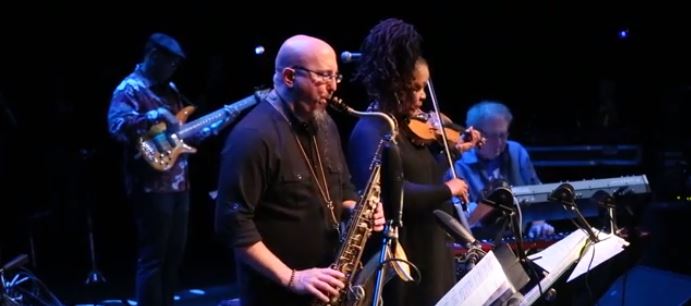 The Weather Report project is not just a "Tribute Project" as we know it. Jason's concept for the program is not just to play the repertoire as it stands. While it's a common term these days, the project re-imagines the music of Weather report through the eyes of today. I asked Jason about the concept, "Well we're not just looking to play this music as weather Report played it. It's all about the melody, we rearrange it, add some modern grooves and just take it where it wants to go, I think that's why it works."
I asked Jason if he had plans to bring the project to Europe. "Well, my European agents are working on it at the moment. I think it would be a great program for European festivals. What I'd really love to do is play this project in Europe as a sort of trans-Atlantic project where I'd bring over a few key players from the US and pick up some of the amazing musicians I know in Europe. I think this would add a whole new dimension to the project."
The Weather report project is not the only project Jason has been working on of late. Apart from his work as a producer, Jason has also been working on a Solo piano project titled "musical biography". The album has been recorded and Jason is looking at releasing this at some stage in 2019. "The album is more than just a solo album, it's actually part of an idea I've been working on for some time. I've been in this business for so long and have been blessed to have worked with some of the greatest artists of our time. I want to do this solo project in a small intimate setting, sort like the Classical Chamber Music vibe where I play some music and talk to the audience about the experiences I've had in this business over the years, I want it to be personal, autobiographical I suppose. for sure, I do have a story to tell. I could write a book but I'd rather do it this way, I've always preferred interacting with an audience."
With that said, I would have to agree. If there's one musician out there with a story to tell it's Jason Miles.
To find out more about Jason Miles visit his website.
Last modified: April 25, 2020