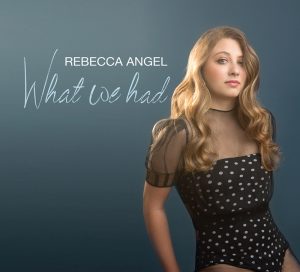 Rebecca Angel is fast emerging as a new jazz vocalist with a captivating voice which is already exploring different grooves. Not surprising when your raised in a well-known musical family. Rebecca has it all to play for, and her new EP demonstrates boundless possibilities.
The first track's interpretation of Hoagy Carmichael's 1956 Jazz classic 'Winter Moon' has a wonderful percussive intro from Mino Cinelu which immediately evoked my memories, which I likened to a fascinating mix between Martin Denny's Exotica track 'The queen chant (Li Liu E)', with the added intoxicating snake charming soprano saxophone of Haley Niswanger, it all cleverly sets up the introduction of Rebecca Angel and the sultry quality to her young voice.  This track is full of paradoxical lyrics "Winter Moon do you recall a night in June!"  The track is full of exciting and complex musical hints such as the harmonic movements played on the Fender Rhodes by the albums producer Jason Miles. A nice soulful chilled vibe which sets the album tone.
Rebecca is supported by some fourteen, yes fourteen fine International seasoned musicians with the icing on the cake being Rebecca's collaboration with Grammy winning producer Jason Miles who's produced celebrity artists including: Chaka Khan, Sting,  Vanessa Williams, Gato Barbieri, Michael Brecker, Freddy Cole, Al Jarreau and many more. Jason Miles also produced and arranged the exemplary track and the title of Rebecca's  album – 'What We Had'.
Rebecca certainly is a voice of her generation that has hints of her predecessors and possible influencers.  Her lyrics co-wrote with her father, trumpeter Dennis Angel and additional lyrics provided by guitarist Jonah Prendergast gives you an insight into Rebecca's mature head and emotions on young shoulders.
You also get to hear Rebecca's expressive vocalese  on the track 'Agaro Sim' (translated: 'Now Yes') original by Wanda Sá and Célia Vaz. For me this track demonstrates the versatility and future possibilities for Rebecca Angel as an emerging new Jazz vocalist.
I can assure you the tracks just keep getting better. I almost don't want to spoil your fun of discovery, but the Radio mix of 'Stand By Me' is fun and then Rebecca decided to add an Electro remix, a really modern and clever play with harmonies. You'll find you want to hum along!
The Ipanema remix of 'Jet Samba' superbly rounds off the third offering, from Rebecca Angel. If you wish is to immerse yourself south of the 43 latitude driving in your cabriolet almost like a pre-packaged resort vacation on the move. This album is really worth adding to your collection.
Rebecca Angel 'What We Had' new EP is available on digital from all major download platforms, and is also available on CD.
Artist: Rebecca Angel
Title:   What We Had
Label: Timeless Grooves Records RA143
Artist website: Rebecca Angel
Release date: August 03rd, 2018
UPC Code: 8888295763875
Track Listing and running time:
Winter Moon – 5:12
What We Had – 3:50
Agore Sim – 3:13
Fell Alive – 3:49
Stand By Me – 4:04 (Radio Mix)
Jet Samba – 4:02 (Electro Remix)
Stand By Me – 4:02 (Electro Remix)
Jet Samba – 4:31 (Ipanema Remix) (Samba Jazz happiness)
Jason Miles keyboards, Fender Rhodes, Moog bass, pads and precussuion. Denis Angel flugelhorn Gotfried Stoger flute Haily Niswanger soprano saxophone Sebastian Stoger cello Jonah Miles Prendergast guitar Christian Ver Halen guitar Ricardo Silveira acoustic rhythm guitar James Genus acoustic bass Reggie Washington bass Adam Dorn bass Mino Cinelu precussion Cyro Baptista percussion Brian Dunnie drums
Last modified: October 24, 2018