Jason Miles is an artist that has often been described as a chameleon. This is largely due to his adaptability in any musical situation he finds himself. While some may view this as a negative in the case of Jason Miles the opposite is true. No matter what project he has been involved with he brings his own distinctive sound and touch. Jason himself describes himself as a "hybrid producer and artist" and I believe this is right on the mark.
During his career Jason has worked with most of the giants of the music industry including Whitney Houston, Michael Jackson, Aretha Franklin, Chaka Khan, Michael Brecker, The Crusaders, George Benson, Joe Sample, Grover Washington Jr., David Sanborn, Marcus Miller and this is just the tip of the iceberg.
No less than Roberta Flack said, "Jason Miles has raised the level of excellence for the musicians who have had the good fortune of working with him, myself included. He has enriched the lives of the millions of people who have listened to the music he plays, the recordings he produces and the countless musicians he mentors and inspires."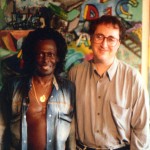 This aside, it's Jason's work with Miles Davis that he is best known for. Jason was responsible for the bulk of the Synth work on the album Tutu and has been called the "third major element behind the sound of that album" of course meaning Miles Davis, Marcus Miller and Jason Miles. With the success of Tutu it's not surprising that Jason also played a prominent roll on Davis's follow-up albums Siesta and Amandla.
Jason's relationship with Miles Davis was not limited to the studio, he became close friends with Davis often visiting him at home and helping him get to grips with electronic instruments, as well as co-writing some tunes with Miles.
In 2015, Jason released an album of music reflecting his work with Davis aptly titled "Kind of New". Last year he continued the project releasing "Kind of New 2 – Blue in Paris." This coming February Jason will tour Europe with his "Kind of New" project, so what better time to sit down with Jason and talk about the project, the tour and many other subjects.
Andrew Read: First of all, thanks Jason for taking the time to speak with us. In 2015 you released your "Kind Of New" project. The album received great reviews and I have to admit I've been playing constantly over the last week. Tell us about this project and where it came from.
Jason Miles: I was at Miles Davis apartment in 1988. We were doing the usual; talking music, watching TV, working on music. I said, "Miles I listened to Bitches Brew last weekend and man it is still really happening, you had the cutting edge keyboard players on the Fender Rhodes; Zawinul, Chick, Larry Young and Herbie on 'In A Silent Way". Who did you like the best on Rhodes?" He immediately says.."Keith Jarrett!, Jason, he is one funky motherfucker." I was like, wow he hated playing electric piano…still there wasn't a lot on Keith when he was with Miles.
Let's go to 2005 at the IAJE Conference in NYC. The late Bob Beldon sees me and says, "Hey Miles come back tomorrow I got something for you. OK then, so I go back the next day and he hands me a boxed set – Miles Davis "The Cellar Door Sessions", wow I had heard he found these legendary lost tapes and was working on them to be released. What a great surprise, I listened to all 6 discs and there was Keith on Fender Rhodes just killing it…super funky quirky vibe with Jack DeJohnette, Airto, Gary Bartz and Michael Henderson. I said to myself, why have we been ignoring the small electric ensemble – they were such a big part of bringing new audiences to Jazz back in the 1970s and beyond.
I decided then I wanted to do something and re-visit the vibe and concept I loved so much and that gave me energy to start this journey. I asked Ingrid Jensen to sit in with my Global Noize project one night and she sounded excellent and thought even though she doesn't really have a Miles Kind of vibe, when she plays I could lead her in the right direction as that is my job as a producer. I started to write music that reflected the vibe and also thought to pay tribute to the Cellar Door Band and do some Live tracks as well. I took a long time writing this and drives to Ingrid's house many times to create ideas for her to integrate.
Jason Miles "Kind of New" project Live at the 2015 Berks Jazz festival, joined by an all-star ensemble of Legendary saxophonist Joe Lovano, Ingrid Jensen, Trumpet, Jay Rodriguez, sax; Mike Clark, drums; Buster Hemphill, bass; plus special guest guitarist Lionel Loueke.
AR: On All About Jazz, Jeff Winbush said: "When your first or last name is "Miles" and you play jazz and you make an album duetting with a trumpet player and you call it Kind of New, you're opening yourself up to all sorts of assumptions and expectations." Jeff was of course eluding to the inevitable "comparisons" that would be drawn based on your work with Miles Davis. Was this in the back of your mind when you conceived the project?
JM: Well I don't care who you are, if you do something related to Miles, either covering the songs or creating something in his spirit you are going to be judged on another level. I know enough about Miles and spent enough time with him to know that I would never try to copy anything he did. I would always be conscious of what I was doing when it came to my respect and honouring him. I spent lots of time making sure it was fresh and "Kind of New". If you ever heard my album "Miles to Miles" it reflected the influence I got from him…I can live with the comparisons because it's your actions and it's the end result that counts.
AR: Your bringing the "Kind of New" project back to Europe for some dates in February and March. The album came out in 2015 and since it's release has had a number of incarnations in the line-up. Tell us a little about the project this time around.
JM: It's hard these days to actually always have a set band. Not everybody can tour and play constantly with the same guys..that would be great..I do always reach for the top and I am thrilled and humbled that I'm respected by some great musicians that I can call and see if they are into playing music on a number of my projects. Times change and I was thrilled that musicians like Theo Croker, Gene Lake, Reggie Washington and Jay Rodriguez would take this journey across Europe with me. I hope it's the first of many.
AR; Theo Croker will be joining you on the tour, he also appeared on the Kind Of New 2 album. Russel Gun has also played regularly on the project and on the "Kind of New" album, Ingrid Jensen played a prominent roll. With the project referencing your work with Mile Davis, it's obvious that the trumpet would play a central roll. Can you tell us your thoughts on this and how you view the trumpet within the bounds of the concept.
JM: The Trumpet is one of the most personal instruments you can express yourself on. When we were doing "Tutu", I asked Marcus what the objective was (besides making a great album) and he said. "To get Miles to play great melodies again" that stuck with me and when I thought about this project I knew that the Trumpet has to be one of the main voices. There are some good young players as well that I felt could also get with the concept. Theo was one of them.
AR: This coming tour is not the first time you've toured the project in Europe. Last year you followed "Kind Of New" up with the release "Kind Of New 2: Blue Is Paris." The album is in response to the 2015 Paris terror attack. Back in 2015, you were in Paris during the immediate aftermath of the attacks. How did it feel being in Paris at that time and how did this effect the music on the "Kind Of New 2".
JM: It was very different than being in the US. We've been programmed here to live in fear. Here I was in Paris after a devastating attack and the city still had a vibrancy and attitude that really had an effect on me. I came home and wrote the track for Blue is Paris. I sent it to Russell Gunn and he came up with a Great melody. I then remembered that my father gave me this album "Lullaby of Birdland" from 1954 which was that great song done 12 different ways by 12 different artists like Quincy Jones etc.. I thought wow, wouldn't it be cool to give this cool track to some different artists and see what they could do. Paris is a very inspiring city.
AR: I've asked this question a great deal in recent interviews and it's provoked some rather interesting answers so far, so here I go. What are your thoughts on the state of Jazz today and where do you see the future of the genre?
JM: I don't have a crystal ball to really give you an answer except to say that Jazz and music goes in cycles..Right now I listen to a lot of new releases of many artists and I hear many trying to complicate the music through arrangement and melody. I don't hear the strong melodies that I was always told is essential in jazz so it penetrates to the audience. Think about how much great music has been made based on strong melodies and everything built from there. I don't hear a lot of that but I do hear more music that I believe is over composed and over arranged. Music remains timeless through the melody. That's why songs you've been listening to for years and years still stay with you. Think about it. There are albums I have been listening to for my whole life that I still listen to… I can't say that for a lot of new music..I believe and many of my peers believe the same thing. I try to keep my albums strong with melodies..that's how I believe Jazz will survive in the future and hopefully prosper…we have to get younger generations involved in the listening process and have them be aware of the history of the music over the last 60+ years.
This concludes part one of this interview with Jason Miles In part two of the interview to be published next Friday, we touched on a number topics such as mentoring younger musicians, politics and jazz and how Miles Davis saved Jazz from dying to name just a few.
Jason Miles will perform in Europe opening at the Blue Note in Milan on the 25th of February. Full tour dates are listed below, for more information and tickets click here..
25 Feb 2018 – Blue Note Milano Milano, Italy
26 Feb 2018 – AQVA Mood Foggia , Italy
27 Feb 2018 – Duc des Lombards Paris, France
28 Feb 2018 – Duc des Lombards Paris, France
01 Mar 2018 – Ronnie Scott's Jazz Club London, U.K
02 Mar 2018 – Jazz Club Tonne Dresden, Germany
03 Mar 2018 – Zig Zag Berlin, Germany
04 Mar 2018 – Porgy & Bess Vienna, Austria
Joining Jason on his European Tour are Theo Croker – Trumpet, Jay Rodriguez – Sax, Gene Lake – Drums & Reggie Washington – Bass.
Jason's, "Kind of New" is available at Amazon | iTunes | JPC
Read part two of the interview with Jason Miles here.
Last modified: July 15, 2018