Every now and then a new artist emerges from the scene generating a substantial buzz and there's little doubt that London based saxophonist Emma Rawicz falls into this category. Last week, twenty-one-year-old saxophonist unveiled her latest creation, the enchanting album titled "Chroma," marking her debut under the prestigious German label ACT Records. Since here emergence on the scene Rawicz's artistic prowess has shone brightly, captivating audiences and critics alike.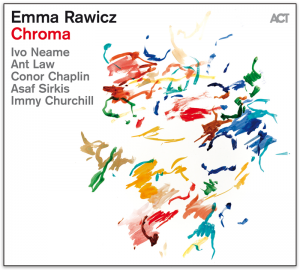 Rawicz, a North Devon native, has become a significant figure in the wave of Young British Jazz artists who have been igniting stages across the country and despite the challenges of Brxit also on the continent. Her journey, though young, has already seen remarkable milestones. Rawicz's grandfather, hailing from war-torn Warsaw, planted the seeds of her Polish heritage in British soil during World War II. With a lineage woven with resilience and passion, Rawicz's trajectory was set in motion.
The saxophonist's journey is as intricate as her melodies and has seen her taking charge of her destiny with unwavering determination. Notably, she orchestrated a triumphant seventeen-concert UK tour for her quintet and founded her own big band. With a fierce resolve, Rawicz graced the legendary Ronnie Scott's stage and clinched the Newcomer of the Year award at the esteemed 2022 Parliamentary Jazz Awards. Her prowess also garnered a Jazz FM Awards nomination and placed her as a finalist in the illustrious BBC Young Jazz Musician competition.
"Chroma," her inaugural opus with ACT Records, marks a milestone in Rawicz's rapidly evolving career. The album encapsulates her artistic evolution, serving as a testament to her growth as a musician and composer. Rawicz's tryst with music could be seen as destiny. At the tender age of seven, she began composing sketches for instruments close to her heart—the piano and the violin. As she reminisces, those early compositions were fleeting thoughts, not yet a coherent process. Jazz's siren call found her at fifteen, and her devotion to the saxophone ignited an unstoppable creative fire. Her tenure at Chetham's in Manchester, polished her skills and her time at The Royal Academy furthered this nurturing her talents as a performer, arranger, and composer and propelling her into the limelight.
Her eclectic musical palette encompasses a wide array of influences, from soulful singer-songwriters to legends including Joe Henderson and Wayne Shorter. Their essence reverberates through "Chroma," adding layers of depth to her musical narrative.
In the era of social media, Rawicz's innovation and creativity blossomed even during the challenging times of the pandemic. Instagram became her canvas, where she shared practice routines featuring her tenor sax, flute, and bass clarinet. This initiative, an offering during trying times, burgeoned into a digital community of nearly 50,000 followers, testament to the universal language of music she speaks.
Looking at the album at hand, "Chroma," a title steeped in significance, mirrors Rawicz's synesthetic experiences—where music becomes a prism of colors. A synesthete, she perceives music through an additional sensory pathway, transforming sound into a kaleidoscope of hues. "I can't do anything else while listening to music because there is always a sensory overload going on as I listen," Rawicz muses. Each track, save one, derives its name from lesser-known colors, opening a gateway into her unique perception of sound. The album contains eight compositions all composed, arranged and produced by Rawicz herself.
The ensemble accompanying Rawicz in this artistic journey comprises remarkable talents. Drummer and percussionist Asaf Sirkis, pianist Ivo Neame, bassist Conor Chaplin, and guitarist Ant Law join forces to craft a tapestry of harmonies. Vocalist Immy Churchill, a rising star and a close friend of Rawicz, lends her voice to the album, infusing every note with a rich emotional tapestry. Rawicz's leadership, rooted in embracing each musician's distinct identity, elevates the album's essence. She believes in allowing her bandmates to flourish in their musical authenticity, fostering an environment where creativity thrives.
The album's architecture, akin to a journey, weaves a thread through three renditions of the same twelve-bar tune, "Xanadu." The variations, each with escalating energy, epitomize Rawicz's ingenious approach. "Phlox," the opening track, features the rhythmic prowess of Asaf Sirkis, setting the tone for what lies ahead. "Rangwali" showcases the fusion of melodic conversations, featuring a symphony of instruments, including Rawicz's enchanting flute and bass clarinet. "Middle Ground," a mesmerizing piece, is a testament to the rhythmic chemistry between Neame, Chaplin, and Sirkis.
"Viridian" unfurls as a complex composition, resonating with echoes of legendary artists like Norma Winstone and Kenny Wheeler. The album's finale, "Falu," paints an optimistic landscape, celebrating the saxophone's multifaceted expression.
In the grand tapestry of modern jazz, Emma Rawicz emerges as a radiant star, and "Chroma" stands as a testament to her kaleidoscopic musical vision. It's not just about colors; it's an odyssey of emotion, a symphony of experience. Rawicz invites us into her world of boundless possibilities, a world where sound and color merge seamlessly, painting stories that linger long after the last note.
On September 1st, Rawicz will unfurl the colors of "Chroma" at the Jazz Café in London. And, on November 14th, she will grace the EFG London Jazz Festival at Cadogan Hall, sharing the stage with the illustrious Avishai Cohen. In the mean time "Chroma" has already hit the streats and is available through ACT Records on all streaming platforms as well as on CD and Vinyl.
Line-Up:
Emma Rawicz: tenor saxophone, flute, bass clarinet | Ivo Neame: piano | Ant Law: guitar | Conor Chaplin: upright & electric bass | Asaf Sirkis: drums, vocals | Immy Churchill: vocals
Track Listing:
01 Phlox | 02 Xanadu I | 03 Rangwa li | 04 Xanadu II | 05 Middle Ground | 06 Xanadu III | 07 Viridian | 08 Falu
Release Date: 25 August 2023
Format: CD | LP | Streaming
Lable: ACT Records
Last modified: September 5, 2023