Pianist, composer and educator Terence Collie released his last album, the brilliant TC3+, in 2018. A prolific collaborator, Terence performs and records with a wide range of inspired musicians as well as spending time as the director for the fantastic Mood Indigo Events, a live concert promotion and jazz band agency he founded along with the equally fantastic Janet McCunn. With four previous albums as a leader and countless projects as a collaborator, Terence Collie is an artist that brings eloquence and grace to everything he does, not least of which is his inspiring work as a composer and pianist.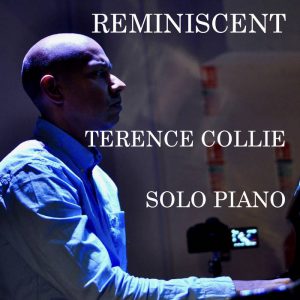 While the losses, anxiety and negative impacts of the pandemic must not be forgotten, it was also an incredible time of innovation for many in the creative industry with the forced solitude leading to intense writing periods for some and some wonderful online collaborations. Terence Collie's recent release Reminiscent, was recorded in January 2023, but the time he spent during lockdown collaborating with others, including two projects with vocalist Esther Bennett, Safe Places and Home Is Where The Art, created a path to this release, his first solo piano album. Recorded in one session at the Riverside Arts Centre, Terence set himself the target of self-recording and producing with the added limitation of no more than three complete takes of each tune before moving to the next piece.
The album is stunning. Terence gifts us with six original compositions along with new and refreshing arrangements of three jazz standards and the album really is such a gift. The opening track 'Ephemeral' is beautiful. At times haunting with a graceful underlying sense of sadness we can almost touch, it is of no surprise to hear that this was written with loss in mind 'The thought of losing others so close and imagining what life in the future would be like without one's "nearest and dearest". I think these feelings swelled in my subconscious'. Those feelings not only swelled, but they are also beautifully realised through this piece not only through the lyrical qualities of his playing, but by the expertise and intensity of his use of dynamics.
In complete contrast, the second track, 'And Again'  brings the groove with a fantastic bass line and a welcome hint of Dave Grusin.  Elements of funk and a masterful use of repetition through Terence's brilliant use of single notes keeping the movement constant, along with his use of 6 and 4 time signature changes. Love this track. The diversity of tracks on this album, which can sometimes be a challenge for a solo piano album is inspired and as a listener, we are drawn in and completely engaged throughout. There is something for everyone. Terrence explores Arabic vibes after binge watching the Netflix drama show 'Fauda' with 'Fauda Blues'  and presents a new version of his first lockdown composition of 'Hubble 30' which was originally released as a single in 2020 with a five musician line up to celebrate the 30th anniversary of the Hubble Space Telescope. Like the telescope, this track allows us to imagine, to question and consider what might be possible with reference to the challenges coupled with positivity.
The album ends aligned with how it began, with a beautiful and haunting track, and for some, Terence's arrangement of 'Don't Explain' will have an even deeper connection. Dedicated to vocalist Melissa Cantzlaar, who sadly passed away a few years ago, Terence's performance of this track is incredible and the depths of emotion he shows, the connections he feels and shares with us is quite simply beautiful.
Terence Collie is an artist who's work deserves to be celebrated and I hope that with this new album Reminiscent the eyes and ears of many more will be fully opened to appreciate this wonderful artist.
Released March 27, 2023
Terence Collie – Piano, Production
Barry Gardner – Mastering
Click here to purchase 'Reminiscent' 
For further information about Terence Collie's work, click here
Cover photo by Zoe White Photography
Last modified: June 17, 2023