Jolof is the sixth album by guitarist and singer Hervé Samb. Jolof refers to the kingdom of Jolof, founded by the Wolof in the 12th century and now part of Senegal. The jazz guitarist Hervé Samb draws from the rich musical sources of his homeland to the full.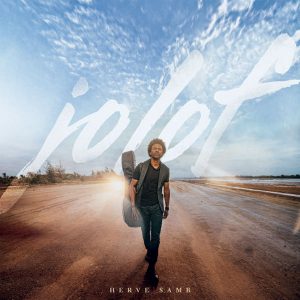 In ten compositions included in on this album, Samb takes a journey in search of his roots that has made him the musician he is today. During his career Samb has caused a stir both with projects under his own name and as a guest musician for such an exquisite circle of musicians including Marcus Miller, Oumou Sangaré and Salif Keita to mention just a few.
The mixture of the different styles presented on "Jolof" works very well, African rhythms from Senegal are skillfully merged with exquisite virtuoso guitar playing and very exciting improvisations. Above all, a special mention must go to Alioune Seck, the musician responsible for sabar percussion and tassu, both terms that I had to look up first. The word sabar from the Wolof language of Senegal means a percussion set and a king drum played with mallets or hands. Sabar percussion is the reason why Senegal bears the title "Republic of drums", the rhythms are indispensable in the music of Youssou N'Dour, for example. Alioune Seck is a rhythm magician here, driving the band forward but also influencing tracks like "Doole" Tassu.
Tassu is a forerunner of rap music, the spoken rhythmic text here is one of the African roots. Alpha Dieng is responsible for the vocals on most of the other pieces, he leads through the compositions in an insistent and rhythmically refined manner. Pathe Jassi on bass and Ndaw Macodou on drums complete the band. With Jolof, Hervé Samb has created an album that thrives on the tension between traditional grooves and modern sounds combined with an impressive palet of lyrical elements. His virtuosity on the guitar not only includes a great technical prowess, but is paired with great musicality and the experience one would expect of a musician of this caliber.
My personal highlights on this album include "Ñaan", a ballad with almost kitsch string accompaniment, unique vocal phrasing, catchy melodies and an impressive arrangement. I also enjoyed "Yàkki", a driving piece with exciting percussion solo spots.
All in all I found Jolof to be a highly impressive album from an accomplished musician that is no doubt at home in whatever setting he finds himself. Highly recommended.
You can stream the album at the link below:

Track Listing:
1. Jolof | 2. Song Ko | 3. Yàkki | 4. Làmp Faal | 5. Doole / 6. Ñaan / 7. Gëm Sa Bop | 8. Barbatòor | 9. Yow | 10. Senegaal
Line-Up:
Herve Samb – guitar, lead vocal, backing vocal | Alpha Dieng – lead vocal , backing vocals | Pathe Jassi – bass, upright bass, backing vocals | Alioune Seck – sabar percussions, tassu | Ndaw Macodou – drums
Release Date: 10. February 2023
Format: CD | Streaming
Label: Euleuk Vision
Distribution: Absilone


New Release Spotify Playlist
The Jazz In Europe New Release playlist features tracks from the new releases featured on Jazz In Europe. Updated weekly, this playlist is the perfect place to discover new music from the leading jazz musicians currently on the scene. We hope you enjoy this selection.
Last modified: September 10, 2023