Singer Allana Goldsmith and pianist Mark Baynes release E Rere Ra, their first album together on the Meow Jazz label on Friday 2nd September. The new release from New Zealand marries jazz with Maori language and folklore.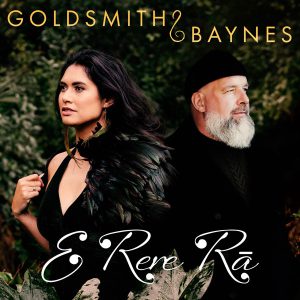 Now based in Auckland, Baynes grew up in Alton in Hampshire, where he played organ in the local church before going on to study with vibes virtuoso Gary Burton at Berklee College of Music in Boston. He moved on to New York, buoyed by praise from Burton, who said of Bayne's compositions: "So many jazz pieces I come across seem predictable, and in the same old territory, that I am surprised when someone truly fresh and original comes along."
In New York, Baynes studied with prominent pianists Hal Galper and Andy Laverne, a prolific recording artist who worked with Stan Getz in the 1970s. He later played with saxophonist Eric Marienthal, of Chick Corea's Elektric Band, and singer Andy Vargas, of Santana and since settling in New Zealand he has worked across the musical spectrum from hip hop artists to symphony orchestras.
His partnership with Allana Goldsmith has previously produced four singles, which feature Goldsmith singing in her native Maori language, and now E Rere Ra.
Goldsmith was first drawn to singing jazz by hearing Billie Holiday. She has subsequently sung with an Andrews Sisters-style harmony group and earned praise for her interpretations of songs including Eddie Harris' Freedom Jazz Dance before striking up a writing and performing partnership with Baynes.
A digital release, E Rere Ra was recorded with some of New Zealand's top musicians including Hikurangi Schaverien-Kaa (drums), Alex Griffith (electric bass), and Tom Dennison (double bass). It also features taongo puoro, the traditional musical instruments of the M?ori people, and horn arrangements by Mike Booth.
Goldsmith's lyrics draw on Maori culture with references to nature and the wisdom of Maori folklore.
''The title of the song Hei Kawe i a Au, for example, is taken from a whakatauk?, or proverb, that translates as 'Let me be carried by the easterly breeze,'" she says. "This is suggesting that we shouldn't be in a hurry, but to wait until the time and conditions are right. Which is good advice from the Maori ancients for living life today."
Last modified: September 2, 2022