The show must go on: Szczecin Jazz Festival presents tribute to Jazz on the Dnipro Festival. In a unique collaboration between Szczecin Jazz and Jazz on the Dnipro Festival, Ukrainian musicians-turned-soldiers perform a one-off concert in Poland to celebrate the persistence of partnership, peace, and jazz on August 9 at Lagów Landscape Park. Later in August, the event will be broadcasted via JazzCorner.com.
Almost six months into the atrocious reality of war in Ukraine, the reality of loss is horrifyingly apparent to the world. In an effort to protect what can be saved, while honoring the age old adage that 'the show must go on', Polish saxophonist and promoter Sylwester Ostrowski joins forces with longtime friend and artistic director Anna Russkevych.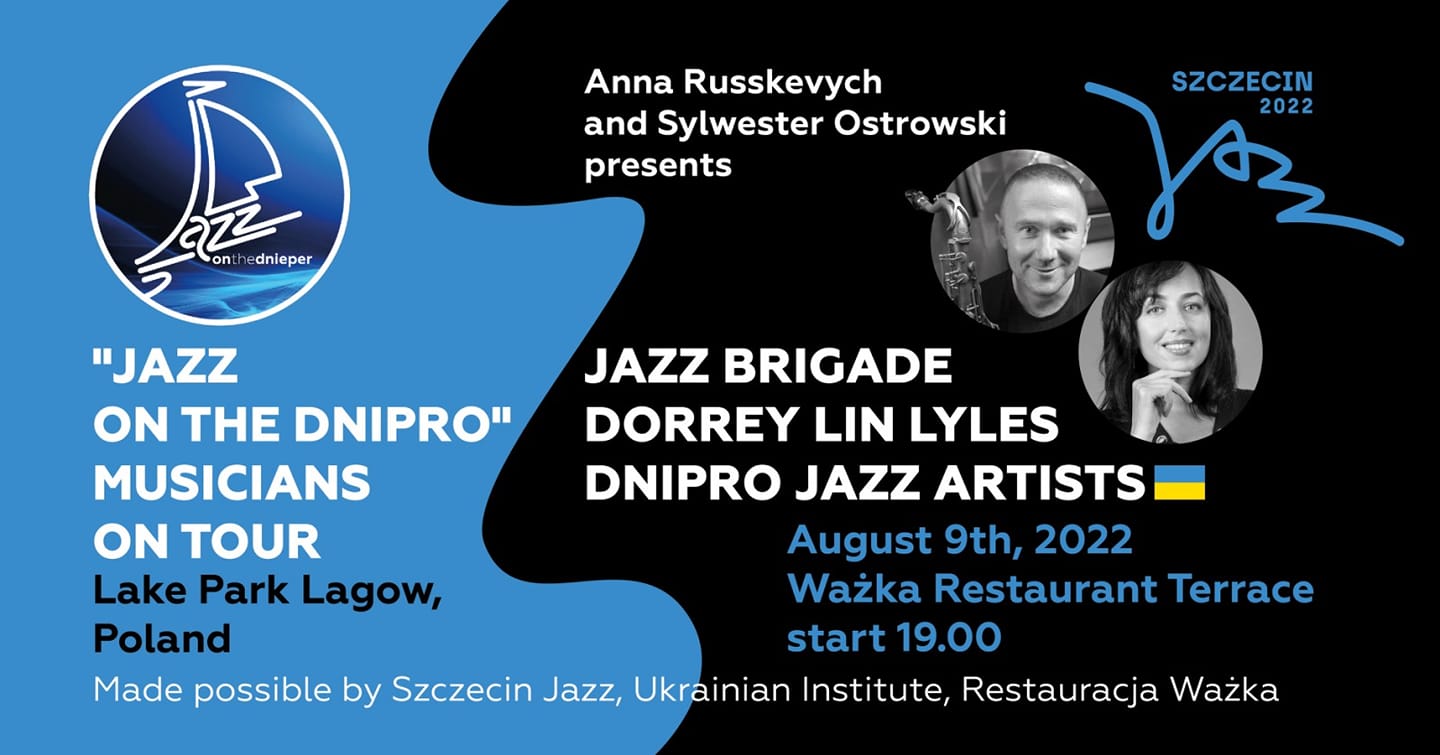 It is more important than ever to stand with Ukraine and let the Ukrainian voice be heard. For this occasion, Ostrowski and Russkevych not only present some of the acts they once brought to Dnipro, including Ostrowski's own Jazz Brigade and star trumpeter Freddie Hendrix, but take it a step further as they set out to include Ukrainian saxophonist Danylo Vinarikov.  Vinarikov graduated from the Dnipro Academy of music and currently holds a teaching position at the same institute. He's a member of projects such as Fusion Quartet (Ukraine), Breezy Rodio Quintet (USA) and in 2015 formed the Dark Side Trio, that would eventually evolve into Danylo Vinarikov Ensemble. In 2021 he was appointed as conductor and musical director of the Dnipro Philharmonic Bigband.
The Ukrainian festival Jazz on the Dnipro usually takes place around this time of year, in late July or early August. Having been forced to postpone this year's edition in light of current events, Ostrowski, who has been a regular performer and attendee in Dnipro, Ukraine for years, decided to bring the festival to Poland instead. Through a strong presentation of Polish, Ukrainian and American talent, Wazka Restaurant Terrace and its beautiful forest-surrounded veranda in Lake Park Lagów is the perfect decor to pay tribute to the undying spirit of Ukrainian jazz creativity.
The Jazz Brigade
Freddie Hendrix trumpet | Sylwester Ostrowski tenor saxophone | Miki Hayama piano | Jakub "Mizer" Mizeracki guitar | Essiet Okon Essiet bass | Owen Hart Jr. drums
Special guests
Dorrey Lin Lyles vocals & Jazz on the Dnipro artists Danylo Vinarikov, SerhiI Artemov, Olga Danchenko, Anastasya Medina, Kyrylo Revkov
Last modified: August 10, 2022