Pianist Christian Sands recently released his latest album on Mack Avenue Records titled "Be Water". Christian is no stranger to Jazz In Europe, in fact, he was featured on the cover of the first-ever Jazz In Europe print magazine back in 2018 and a feature interview with Peter Jones appears in the Summer 2020 edition. Personally, I've been following Christians development as an artist and after first hearing this recording it was abundantly clear that this young musician has fully arrived artistically, both as a pianist and as a composer.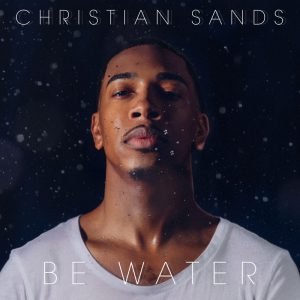 In the "Making Of" video produced to accompany this release, Christian stated that "motion" is the basic concept for this recording and I could not agree more. This recording is a master-class in perpetual motion. The title "Be Water" refers to a quote from Bruce Lee, and refers to water being an element that takes on the form of any vessel that contains it. This water analogy is highly apt as the music on this recording flows like the liquid itself, constantly adapting to the harmonic and rhythmic structures.
The album opens with the aptly titled track "Intro", a piece that can only be described as cinematic in texture beginning quite pastoral and building in urgency before opening out into a broad cinematic landscape. There's no doubt this track grabs your attention yet without giving anything away about the rest of the material on the recording. The track "Sonar" follows and answers any questions raised in the intro about what type of album this is – this is a jazz album. In "Sonar", performed by the trio, Sands immediately shows that he has fully reached maturity as a pianist displaying superb technique and a strongly defined melodic vision. This track constantly weaves its way around a number of complex melodic themes. My gut feeling tells me this track is highly structured yet at the same time conversational. The complex form flows naturally sweeping the listener along with the current.
The first of the two title tracks, "Be Water 1", follows adding Marcus Strickland (Tenor Sax) and Sean Jones (Trumpet) to the mix. This track establishes the theme of the album, opening with the Bruce Lee quote and clearly defining the water analogy that forms the entire concept for the album. In the interview with Peter Jones mentioned above, Christian speaks in detail about the concept behind this album and is well worth a read.
The second title track "Be Water II" could not be more different to "Be Water 1". Set almost as a French waltz, the track features a somewhat impressionistic sound-scape scored with the addition of a string quartet. This piece is reminiscent of the early work from French composer Ravel yet undoubtedly with its own unique twist.
While I enjoyed the entire album there are, in my mind, a number of stand out tracks such as "Drive", featuring Marcus Strickland on Tenor Sax and overdubbed Bass Clarinet. It's difficult to put your finger on this one, it is, without doubt, multi-layered in structure and has an almost schizophrenic depth to it and I don't mean that in a negative fashion, truly captivating! Secondly, the albums only cover, Steve Winwood's "Can't Find My Way Home", is, in my opinion, one of the album highlights. This track has been covered by a number of Jazz Artists in recent times. Two such versions that come to mind are by vocalist Paul Jost and the Fusion Band Spyro Gyra. This song would appear to be fast becoming part of the repertoire. Christians version while soulful and propped full with pentatonic licks subtly ventures outside adding some welcome harmonic and melodic interest yet at all times retaining the character of the piece. It should also be mentioned that the track also features a well-crafted intro and solo from Bassist Yasushi Nakamura.
The music on this recording is rather eclectic yet by no means disjointed. There is a consistent thread running through the album that invites you to sit and enjoy the whole program rather than just cherry-pick tracks. There are many layers to this recording and with every listen, more magic reveals itself. The performances are top-notch and Christian is audibly at the top of his game. This truly is a must-have album.
Track-Listing:
1. Intro 3:40 | 2. Sonar 7:12 | 3. Be Water I 5:57 | 4. Crash 6:03 | 5. Drive 8:16 | 6. Steam 7:42 | 7. Can't Find My Way Home 7:13 | 8. Be Water II 5:59 | 9. Still 9:02 | 10. Outro 3:23
Line-Up:
Christian Sands: piano (all tracks); keyboards (1); voice (1); Fender Rhodes (1, 2, 3, 10); Hammond B2 (5)
Yasushi Nakamura: bass (all tracks)
Clarence Penn: drums (all tracks)
Marvin Sewell: guitars [Telecaster T57, National Resophonic Guitar Style O, Lowden model S-10 acoustic guitar, Custom Slide guitar] (1, 5, 9, 10)
Marcus Strickland: tenor saxophone, bass clarinet (3, 5, 10)
Sean Jones: trumpet, flugelhorn (3, 10)
Steve Davis: trombone (3, 10)
String Quartet (8): Sara Caswell – violin 1, Tomoko Akaboshi – violin 2, Benni von Gutzeit – viola, Eleanor Norton – cello
Release Date: 17 July 2020
Format: CD | Vinyl | Digital
Label: Mack Avenue


New Release Spotify Playlist
The Jazz In Europe New Release playlist features tracks from the new releases featured on Jazz In Europe. Updated weekly, this playlist is the perfect place to discover new music from the leading jazz musicians currently on the scene. We hope you enjoy this selection.
The best way to keep up to date with all the latest releases is to follow us on Spotify. Just click the button below.
Last modified: September 10, 2023