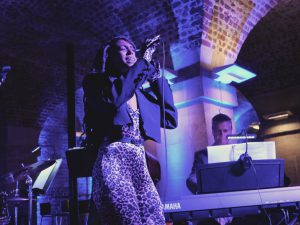 Exploring the importance of the many different types of partnerships in Jazz and the magic they can create, was the subject of an article recently published to celebrate International Jazz Day. These partnerships can come in many forms and having recently attended the Crypt Lates at St Martin-in-the-Fields with Alex Webb presenting Freddie Benedict & Lulu Pierre I was again reminded of how inspired relationships can produce truly outstanding results.
The Crypt Lates events are managed by TALENTBANQ, a fantastic organisation who work as live booking agents, event managers, concert promoters, venue managers and so much more. Ray Jones, one of the founders and often referred to as 'Mr London' is truly inspiring. His passion, joy and energy for live music literally exudes from every pore and the work he does for the musical community, must not be underestimated. I will explore this further in an upcoming interview with Ray, but for now I will just say that if Ray Jones is involved, you are in for an absolute treat.
This was my first time attending the Crypt Lates events at the stunning St Martin-in-the-Fields and I really was blown away. Built in 1726, right in the heart of London, it is a stunning venue from every angle. The staff were enthusiastic and welcoming, the lighting was gorgeous and the packed audience were literally buzzing. Ray Jones introduced the evening and it was impossible to ignore the excitement and joy that exuded from him. It was contagious and the energy was very real.
Pianist, arranger and songwriter Alex Webb works with a wide range of wonderful vocalists and tonight, as part of his New Jazz Voices series, he was presenting Freddie Benedict and Lulu Pierre, supported by Hamish Moore on bass and Charlie Hutchinson on drums.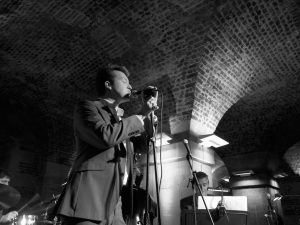 Freddie Benedict, a choral scholar at Kings College London and Trinity Head Chorister opened the night with the classic I Got You Under My Skin. It was impossible to ignore the obvious Frank Sinatra comparison, but nothing wrong with sounding like Frank! Freddie's velvety vocals and smooth audience interaction immediately transported you back in time drawing us in with many classic standards including 'Witchcraft', 'Every Time We Say Goodbye' and 'One Note Samba'. His version of 'One Note Samba' was especially impressive and throughout the night he wowed us all with his ability to sing in multiple languages – he is quite the linguistic – and the audience loved this. He blended the perfect amount of humour throughout his performance and when he asked if anyone in the audience could speak Portuguese, and someone said yes, the panic in his face caused much amusement.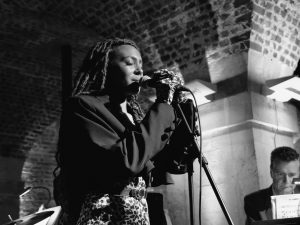 Moving away from some of the jazz standards, Lulu Pierre brought something new and exciting to the evening. Alex Webb's fantastic arrangements allowed Lulu the space to make a clear statement – she has arrived. I, along with the audience were truly amazed to hear she only been singing for one year. Her interaction with the audience allowed us an insight into her song choices and style and she explained she was taking us on a 'sonic journey' with some surprise covers. 'Just Be Good To Me', a classic 80s hit, originally performed by the S.O.S Band, was completely transformed and given new life. Bassist Hamish Moore was exceptional throughout the night, but his solo in this song was delicious. Lulu also treated us to a new arrangement of Betty Carters 'Beware My Heart' and her father's suggested song 'Social Call' all performed beautifully, paying homage to the legacy jazz vocalists but integrating her own unique style. Alex Webb must be congratulated on his fantastic arrangements and it is his truly inspired arrangements that allowed the space for both of these artists to take vocal ownership of the material and create something new and fresh while celebrating the legacy of the material.
Tonight, for me, exemplified the beauty of true collaboration. Great venue, supportive and enthusiastic hosts, inspired arrangements, excellent performances, and an understandably full and excited audience. More of this please.
Click here to find out more about TALENTBANQ
Click here to find out more about Alex Webb
Click here to find out more about Lulu Pierre
Click here to find out more about Freddie Benedict
Click here to find out what's on at The Crypt
Photos by Fiona Ross
Last modified: May 12, 2023