German based guitarist Frank Kaiser has just released the first album from his new project titled "Kaisers New World" that features Valentin Butt on bayan, the Russian variant of the accordion. In the press release that accompanied this album Frank described his music as a "playground for adults", I would have to agree, when you dive into what is happening on the album you can only conclude that this is quite a sophisticated set.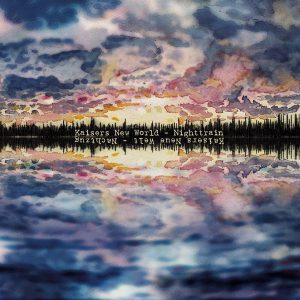 The album, available via Calygram records is available on CD, Vinyl and all streaming planforms, consists of 8 tracks, all written and arranged by Kaiser. Joining him on the album is, as mentioned above, Valentin Butt on bayan together with bassist Lukas Growe and rounding out the quartet is Hans Otto on drums. First opinions matter and the first thing that struck me with album was the beautiful sonic quality and specifically how the guitar and bayan blend to create quite an amazing sound field. The second thing the struck me from a performance point of view was how Kaiser and Butt seamlessly share melodic and harmonic ideas, seeing this is the first recording from this new project this level of telepathy is quite stagering. Take the unisono lines at the end of the title track "Night Train" for example, you would almost think these two are related!
Before we get into the music in depth, let's take a look at the back story to this recording. A number of years ago Frank felt the need to look for something new, a new sound and direction to take his music in. Frank explained that in his view "New things come into the world primarily through encounters, encounters with people, with generations and with cultures." This new quartet featuring the accordion in the harmonic role emerged from just such an amalgamation. Frank went on to explain "I was looking for another chord instrument, that was not a classic jazz instrument in that sense. I thought of accordion or even bandoneon as an option to wring out new facets in my music, to spice up or even sweeten it with a taste of world music. I also thought that perhaps this would appeal to those who weren't necessarily jazz fans before. The search for the right player was difficult, but in the end, a chance meeting with Valentin Butt from Berlin delivered exactly the sound I was looking for."
Originally from the rural German province of Thuringia, Frank explained that he has always been influenced by nature, however what seems to drive is music can be found at the intersection of spirituality and intellect. This music does have a spiritual feel that took this listener on quite a journey through Kaiser's vision of his new world. The music is also highly intellectual yet at the same time extremally accessabel, this is a difficult balance to achieve however this quartet seem to mastered this art in spades. The renowned musicologist, Dr. Adrian Kleinlosen of the University of California described Kaisers music as "…often polyphonic; where the individual voices sometimes act independently of each other or intertwine in such a way that they combine to form a complex structure." I would have to agree with this and as I alluded to earlier, while complex there is an air of simplicity that not only makes it accessabel, it seems to grab the listener and transport them to another place.
The album opens with "Septomanie". This track opens with a Metheny-esque rubato guitar introduction before opening out into a strong middle eastern flavored 3/4 groove. I loved the way that the the melody was taken both in the guitar and bayan giving the illusion that this was played by a single instrument. Both Kaiser and Butt both deliver excellent solo's but it's the rhythm section that truly shines on this track. With an opening like this, what more do you need.
"Schlaflos in LE" is a completely differently animal with more of a rock feel yet at the same time, specifically due to Butt's contribution, almost evokes the feel of a French chanson. "1001" obviously refers to the Middle Eastern collection of tales known as the One Thousand and One Nights. This track features special guest Karolina Tryballa on vocals and opens with a spoken word passage in Polish. It's in my opinion almost impossible to describe this track in words however it is without a doubts one of the most interesting tacks on the album. The way the composition builds is done extremally well, a masterclass in tension and release.
I particularly enjoyed the albums title track "Nighttrain". Opening with sound of a train and moving to a feel with the same rhythmic groove, this track features an infectious melody that's caried throughout the track in different incarnations. Franks guitar playing is prominent on this track using the full range of sounds at his disposal and as mentioned above the unisono passages at the end played by guitar and bayan are highly impressive.
As you can deduce from all this I enjoyed Kaisers New World's "Nighttrain" a great deal. The compositions are varied in style yet there is a constant thread running throughout that makes this a very attractive album indeed. The musicianship is exemplary as is the sonic quality of the recording. Both Frank Kaiser and Valentin Butt work superbly together creating a highly attractive soundscape and Lukas Growe and Hans Otto form the perfect rhythm section to complement.
With Nighttrain Frank Kaiser has indeed created a new world, I highly recommend this album.
Track Listing:
1: Septomanie | 2: Schlaflos in LE | 3: Nighttrain | 4: 1001 | 5: Wellen | 6: Black Mustang | 7: 100 Possibilities | 8: Leipzig Tango.
Line-Up:
Frank Kaiser: Guitar | Valentin Butt: Bayan | Lukas Growe: Double Bass | Hans Otto: Drums | Karolina Tryballa: Voice (Track 4)
Release Date: 10 March 2023
Format: CD | LP | Digital
Label: Calygram
You can purchase the CD and LP now on Bandcamp. To stream the album on your favorite platform, click here.
Last modified: June 11, 2023