The instrumental trio Azymuth modernized the sound and style of Brazilian jazz with their electronic instruments, angular arrangements and ingenious synthesis of jazz, funk, rock and samba. After the passing of founding keyboard player José Roberto Bertrami in 2012, Alex Malheiros (bass) and Ivan "Mamão" Conti (drums) recruited synthesizer samurai Kiko Continentinho to the trio as it continued to build on their sound, now in their fifth decade of pushing the boundaries of their beloved samba.
Between 1969 and 1973, these musicians all born the same year in 1946, started playing together as in-demand session players, sometimes just two of them and often all three of them on larger sessions. They quickly found that their musical chemistry produced a sound that was greater than the sum of their respective parts. At the root of their collaboration were their shared influences, namely American jazz and a mutual appreciation for the foundations of Brazilian music. As session musicians, the trio's telepathic tightness, subtle funk lines and melodic mastery elevated Erasmo Carlos' classic Sonhos E Memórias 1941-1972 (1972) and helped Marcos Valle deliver his finest album, Previsão Do Tempo (1973).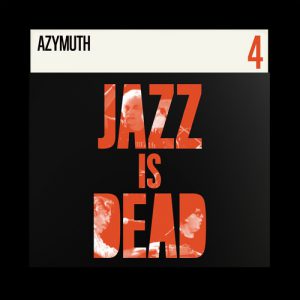 In 2020, the iconic trio partners with LA-based collective Jazz Is Dead for Azymuth JID004. "This album is one of the most interesting rides I've ever been a part of," says Younge. "In the '70s, Azymuth took psychedelic rock, soul, and jazz and made it authentically Brazilian. Together, we've pushed this concept even further for a new generation of record collectors."
As a trio, Azymuth hit their stride in the eighties pioneering a modern, adventurous fusion of jazz, rock and funk all the while never losing the scent of samba. By the mid-nineties, just when it seemed like the band had lost their momentum, they received a much-needed boost and acknowledgement from DJs, musicians and dancers in London as favourites of the thriving Acid Jazz scene that also helped to resuscitate the careers of fellow Brazilian musicians Marcos Valle and Joyce. Meanwhile, adventurous DJs and beatmakers, such as MF Doom, Flying Lotus and Roni Size found inspiration and novel sounds to repurpose from the trio's classic recordings. In 2008, Ivan Conti joined forces with L.A. underground hip-hop royalty, Madlib for a collaborative album credited to Jackson Conti called Sujinho.
"Saying it was an honour and pleasure to make an album with Azymuth is a huge understatement. To the crate diggers of the Jazz & Hip-Hop kind, Azymuth's music is very important. They are the soulful jazz side of Brazil with a dash of psychedelic blended in and a whole lot more. They are incredibly talented giants walking amongst us and they are very humble," says Shaheed Muhammad. "I feel as if Adrian and I barely scratched the surface of what's possible with Mamão, Alex and Kiko. The 004 albums came together with ease. Watching them play the songs with so much vigour and delight taught me the importance of loving what you do. We hope that people will make this album a part of their regular rotation and I look forward to when we can kick it with Azymuth again."
"A Redor do Samba" is augmented by Younge and Shaheed Muhammad, while the legendary trio of Ivan "Mamåo" Conti, Alex Malheiros and Kiko Contentinho dance around the rhythm—as the song title suggests—with one foot in jazz-funk and the other in their native musical language of samba. Saxophones, wah-wah guitar and synthesizers trade runs over the trio's bedrock groove as the group moves in unison from the meditative outer orbit of the samba to its frenetic and propulsive core.
The Jazz Is Dead team also wondered, What if the Mizell brothers and Gary Bartz teamed up with the Brazilian giants of jazz-funk in São Paulo in the mid-seventies? That notion is portrayed here on this album with "Sumaré." Anchored by Alex Malheiros' buoyant bass, this slinky sermon is named after the verdant and altitudinous neighbourhood of São Paulo, likely a great place to take in a sunrise. A standout track from the historic collaboration between the iconic trio, Younge, and Shaheed Muhammad, The song is reminiscent of the dreamy instrumentals Azymuth recorded early in their career (when they were named Azimüth) using their musical instruments to draw outside the lines with colours called: Funk, Jazz and Polyrhythm.
Jettisoning his synthesizers for acoustic piano on "Pulando Corda," Kiko Continentinho kicks off this skipping samba-jazz tune, dancing along to the syncopated samba beat of Ivan "Mamão" Conti's drums and Alex Malheiros' bass line. If Marcos Valle hadn't already laid claim to recording the soundtrack to Brazil's version of Sesame Street, Vila Sesamo, this song, which translates to "skipping rope", could have been the theme song. Adrian Young & Ali Shaheed Muhammad colour the joyous melody with dancing marimba, pulsing Hammond B-3 organ, staccato wah-wah guitar and pertinent percussion.
On this unique Jazz Is Dead recording with Adrian Younge and Ali Shaheed Muhammad, the trio once again demonstrates their ability to elevate their collaborators while also showcasing their distinctive sound, continuing to redraw the boundaries of Brazilian jazz, futuristic funk and their beloved samba.
The album will be released in all formats on the 23rd of October. You can preview some tracks at Bandcamp and/or pre-save on your favourite streaming platform here.
If you would like to know more about the Jazz In Dead collective check out the video below and visit them at their website here.
The label's philosophy cam be summed up in the text the accompanies the video above. it's well reproduced below. I personally think it's well worth a read and a few minutes to ponder.
"Music exists in movement and change, but before any part of it can be pinned down for analysis, it has often moved and taken on a new face. The transformation is often driven by culture as forward-thinking people avoid the proverbial paths in search of revolution. Even though our pioneers prophesized that the revolution would not be televised, the message has permeated. It's spreading like wild fire and leaders are defined by those that speak first: Jazz Is Dead.
The pluralism behind the mutiny is stark, but the reality is trapped in the eyes of us that fleeted the scene years ago. With Jazz Is Dead, a new musical denomination is born, reversing the damage done to the genre. Yes, jazz speaks to all, but the message was no longer being recorded with reverence to the processes of the past; the dissonance of our movement is serving as the undertow for change.
Music is the universal language and we are the interpreter of sound, a message that has been lost in transcription. Under Jazz Is Dead, younger artists are elaborating upon conversations started decades ago; jazz icons are utilizing vintage equipment to create new masters with Adrian Younge and Ali Shaheed Muhammad; the same equipment that recorded their coveted catalogs. The vitality embedded in the new masters epitomizes our quest for new life in music: Jazz Is Dead."


Previous Jazz Is Dead Releases.
Last modified: November 2, 2020