ArtistShare Records was founded in 2001 and is widely accredited as being the first online "Fan Funding" platform. Recently, I had the pleasure of speaking in-depth with founder Brian Camelio to discuss the label, its history, vision and a great deal more. Since its inception, ArtistShare projects have garnered countless awards including over 30 Grammy nominations leading to 10 Grammy Awards. However, while this is impressive in itself, there is a great deal more about ArtistShare that makes this label remarkable. Before we get into speaking about the label itself let's take a look at the man behind it.
roducer, entrepreneur and musician Brian Camelio is considered one of the fathers of crowdfunding. As a musician, Brian studied Orchestral Composition at Clark University and later at the University of Vermont and spent over 15 years as a touring musician. His long term friendship with guitarist Jim Hall led to Brian producing most of Jim's albums in the later part of his career including "Hemispheres", the 2008 collaboration with Bill Frisell and the 2010 release "Conversations" with Joey Baron. As a self taught programmer Brian launched his first internet business in 1998 creating an online funding portal for non-profit organisations. While this enterprise was not a success, the wisdom gained from this laid the basis for ArtistShare that would launch a few years later. On his personal website Brian wrote "In 1998, I taught myself to write software. Later, I built the entire ArtistShare platform, database, audio/video delivery system and desktop application from scratch, I thought it would be fun and it was."
I asked Brian about his motivation for starting ArtistShare. His answer goes a long way to demonstrating just where this free thinker is coming from. "Well at the time, I was living near the Upper West Side of Manhattan and many of my friends such as Chris Potter, David Binney, Jim Hall and, of course, Maria Schneider were all saying how much of a hard time they were having with the industry and, in particular, the labels. At the time the industry was still trying to come to grips with the digital revolution and I was concerned that these, and other great musicians, might no longer have the opportunity to record the projects they wanted to do. I started to think about ideas that potentially could help and eventually came up with the concept of ArtistShare where the fans pay for the recordings up-front, we cut out the middle man and we give the fans access to the creative experience. You know, maybe it's because they are my friends, but I always thought that these are some of the most interesting people around and fans should experience this aspect of the creative process as well. In my mind there's nothing better and nothing more interesting than watching the creative process and this is how the ArtistShare model came about."
Brian went on to say "In fact, Maria was actually my first client and although she was sceptical at first, once we had gone through the numbers she agreed and that's how we started to work together. It was largely through working with Maria and others that I hammered out the details of the ArtistShare model. I spent hours just talking to them, back and forth, what are you comfortable with, what are you not comfortable with and eventually we had it."
Today it would be almost impossible to count the number of albums that have been released and funded to some degree via crowdfunding however, back in 2001 this concept was innovative. All of the current Crowdfunding platforms, including IndiGoGo, Kickstarter and Go Fund Me have adopted to some degree aspects of the ArtistShare model. Yet, it's important to note that what the current platforms provide is just one small aspect of the ArtistShare model. ArtistShare is a label and looks after the entire project from initial artistic concept through to production, distribution and marketing. The other platforms focus only on the funding aspect. After this the artist is on their own.
As I mentioned in the introduction to the article, ArtistShare productions have had over 30 Grammy nominations leading to 10 Grammy Awards. Impressive to say the least for a small label that has only been around for less than 20 years. I asked Brian about some of the most memorable projects on the label. "Well, it's a tough question but the first one that comes to mind is Maria Schneider's "Concert In the Garden It was our first project back". in 2003. That was back in the time when we didn't even know if the model was going to work, well, I knew it would work but, I didn't know how well it was going to work! It won a Grammy®. in fact it was the first album to win a Grammy® that was crowdfunded. You have to remember crowdfunding didn't exist back then so this was unique. But, even more unique was the fact the the album wasn't available in retail stores. I think, for me, that was the most memorable, it proved that the model works.
The second most memorable, and forgive me for all those I've not mentioned, would have to be the album I produced for Jim Hall with Scott Colley and Lewis Nash called "Magic Meeting". It was the first record I produced for Jim and it was recorded at the Vanguard. That whole experience was amazing, you know, it was really one of those New York jazz moments. I also have to mention Maria's album "Sky Blue". That also won a Grammy®. I remember when it was nominated we called the person that came in as the ArtistShare executive producer and asked him if he wanted to come to the Grammys with us. He was thrilled beyond belief and I remember watching the look on his face when Maria won and walked up on stage to accept the award. Well I can't describe it, you know. It has to do with the people, the fan interaction, that's what it's all about. It's making these connections and to be honest that's what makes it memorable.
Hearing this story reminded me of a anecdote that Brian shared in an earlier conversation we had December last year. Brian told me of an incident where he received an email from a customer that had ordered one of Maria Schneider's albums via the ArtistShare website. Something had gone astray and the customer had not received the album he had ordered. Brian saw that the customer lived just miles from Maria's home in New York State. Brian immediately called Maria and explained the situation and Maria promptly jumped in the car and personally delivered the replacement album. Seriously, that's how you create a super fan. But it's more than this, it's a commitment to the connection between fans and the artist that sets ArtistShare apart.
Perhaps one of the most significant relationships on the ArtistShare label has been with Jim Hall. Jim and Brian go back a long way and in fact Brian produced the last 6 albums that Jim made. Brian joked that producing Jim was not a hugely difficult task and largely involved finding an idea that Jim liked, making some phone calls and then showing up at the studio and making coffee! Brian also added that after the sessions, Jim was fully hands off. Brian would then mix and master the albums and present him with the finished product. All joking aside, some of these later albums can be seen as some of the best Jim made in his entire career. Brian pointed out in particular the album "Hemispheres", that Jim did together with Bill Frisell as being memorable. I asked Brian how this album came to be. After all, these are two guitarists that are diametrically opposed from a stylistic perspective.
With all that said, I'm sure the label will continue to move the goal posts within the industry. This industry needs creative Free Thinkers and Brian Camelio certainly falls into this category.


Jazz In Europe Magazine – Spring 2020 Edition
This article is an abridged version of the full interview that appears in the Spring 2020 edition of the Jazz In Europe print magazine.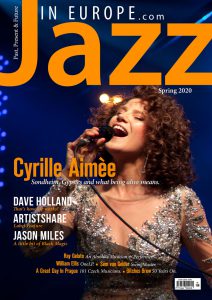 Also included in this edition are interviews with Cyrille Aimee, Ray Gelato, Dave Holland, Jason Miles and Sem van Gelder. We take a look at Bitches Brew, 50 years on. Tony Ozuna presents us with a look at the Czech jazz scene from it's origins behind the Iron Curtain to the present day. This editions photo feature spotlights British photographer William Ellis.
You can purchase a copy of the magazine here.

Last modified: July 19, 2020